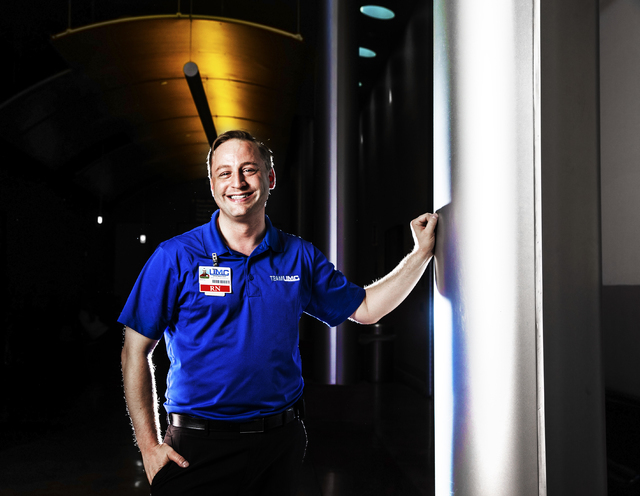 It sounds like one of those only-in-Vegas cliches: nursing by day, opera by night.
But for Skip Galla, that's life.
By day, he's a a registered nurse, specializing in infection prevention at University Medical Center.
After hours, he's artistic director of Sin City Opera, overseeing a company with the motto "Yesterday's Opera Today" — and a mission to bring opera to new audiences.
The latest example of that opera-for-all philosophy: Sunday's "Literature to Life: An Operatic Journey."
The final performance in the company's free "Opera in August" performances at Summerlin Library, the program includes "How Clear She Shines," a chamber opera by UNLV Opera director Linda Lister adapted from the writings of Anne, Emily and Charlotte Bronte.
In addition to the Brontes' "Jane Eyre" (Charlotte) and "Wuthering Heights" (Emily), "Literature to Life" also features music inspired by "Dangerous Liaisons," "Les Miserables" and "Peter Pan."
Although some might consider Galla's split focus between medicine and music incompatible, he sees a connection.
"In so many ways, it's the same work," he says, taking a break from both pursuits in the central Las Vegas home he shares with his fiance, Strip pastry chef Jai Katipunan. "It's about healing people — and it's about giving back to the community."
Galla, 36, has been part of Sin City Opera since its first production more than seven years ago.
Then new to Las Vegas, he was performing in a Vegas Fringe Fest musical — the medically themed "Pandemic! A Killer Flu-sical" — and met fellow performers who told him, "'After this, we have to go to opera rehearsal.'"
He joined them at that rehearsal, which was "literally, a group of people in somebody's living room," he says.
His new friends, bemoaning the lack of "performing opportunities for classical singers," had decided to present English composer Henry Purcell's baroque opera "Dido and Aeneas."
When Galla asked " 'Who's the director?' " he found himself saying, "'Oh, I guess I'll do it.' It was the epitome of 'Hey, kids, let's put on a show!'"
That first show — staged in the fluorescent-lit room of a massage school, featuring performers wearing toga costumes fashioned from bed sheets — attracted nine audience members, only "one of them not related to us," Galla says.
"It was godawful," he acknowledges, but "we didn't care." For Sin City Opera's "core group, there was a service to be rendered."
Even now, "we still talk, always, about" that production, he says. "We're proud to have started there. We never try to be what we're not."
Galla's road to Sin City Opera — and UMC — began in his native Pennsylvania.
Even though his mother and grandmother were nurses, "it hadn't actually occurred to me to be a nurse," he says. Instead, he thought he would either be a dentist or a mortician.
That is, until he started singing in high school, doing "quite a bit of choral work" and veering off "this track of science-y fields." When it was time for college, he told his parents, "'I'm an artist — I want to follow my heart and do music.'"
That he did, attending the University of Hartford's music school in Connecticut — at least until the school cut its opera program and his teacher departed, prompting him to return home to Pennsylvania and his previous job, flipping burgers at McDonald's.
His grandmother, who had spent more than 30 years in psychiatric nursing, encouraged Galla to take a job as an aide at the hospital where she worked. He figured he'd get paid for six weeks of orientation, during which he would look for another job.
"By the end of the first week, I was in love with the work," he says, describing the start of a journey that eventually led him to nursing school.
"For the first time in my life, I felt a sense of usefulness and meaning," Galla says. "It turns out, I had a gift for caring for people — a gift I didn't know that I had."
Although "I thought my gift was music," but in nursing he encountered "people who were grateful for what I had to offer. I didn't even know I had something to offer."
Despite a few detours that led him to China (where he taught English), Germany and New York City ("my poor parents — God love them for hanging in there," he says), Galla eventually found himself in Las Vegas and back in nursing.
At UMC, Galla educates patients, their families and hospital staffers about preventing infections, from common ones (including methicillin-resistant Staphylococcus aureus, or MRSA) to such potentially deadly threats as Ebola.
His 8-to-5 job means Galla can rehearse from 6 to 10 p.m. — "and then I stay up until 1, working on national antibiotic stewardship recommendations," he says.
"I have a very busy mind," he says, and he loves having both pursuits to engage that mind.
"The means are different, but the end result is the same."
Read more stories from Carol Cling at reviewjournal.com. Contact her at ccling@reviewjournal.com and follow @CarolSCling on Twitter.
Preview
Who: Sin City Opera
What: "Literature to Life, An Operatic Journey"
When: 2 p.m. Sunday
Where: Summerlin Library and Performing Arts Center, 1771 Inner Circle Drive
Admission: Free (702-507-3860)