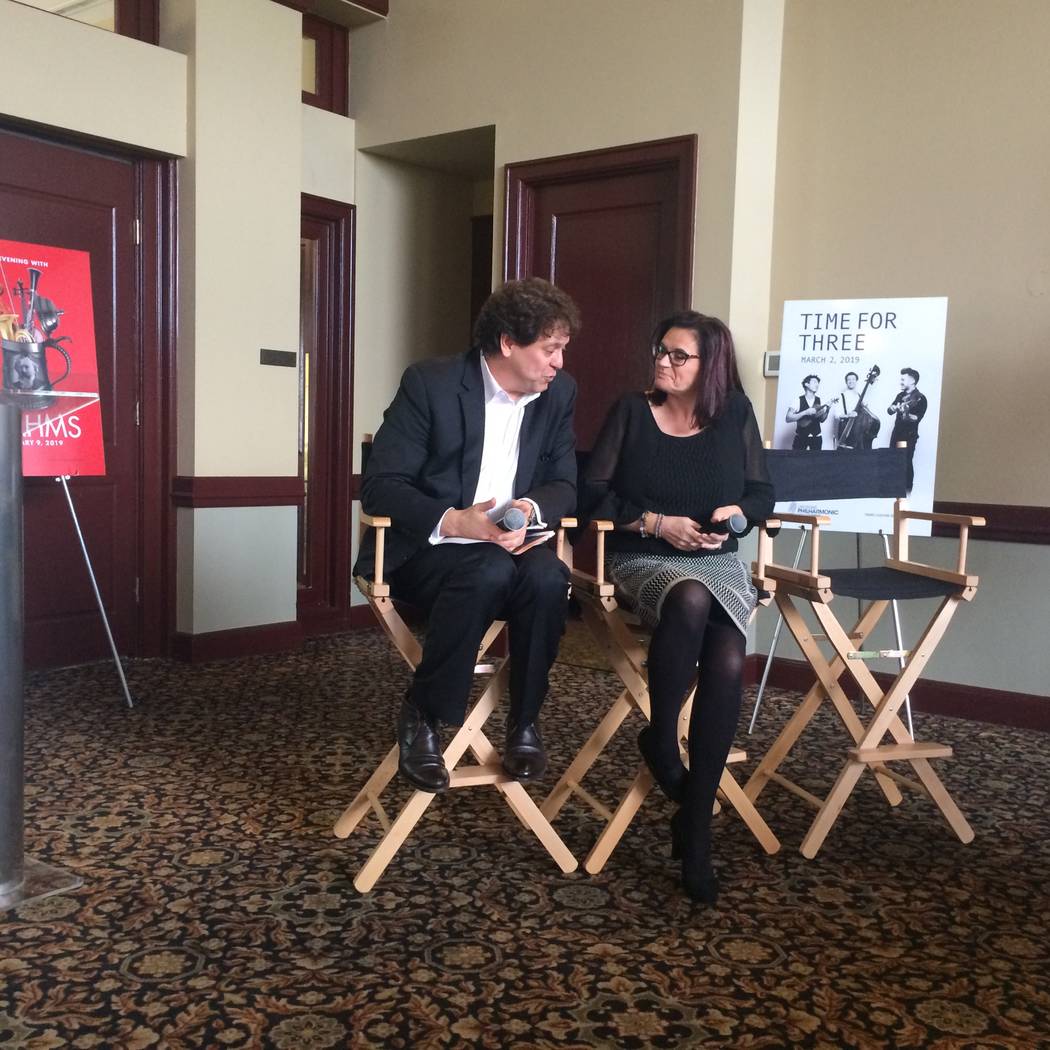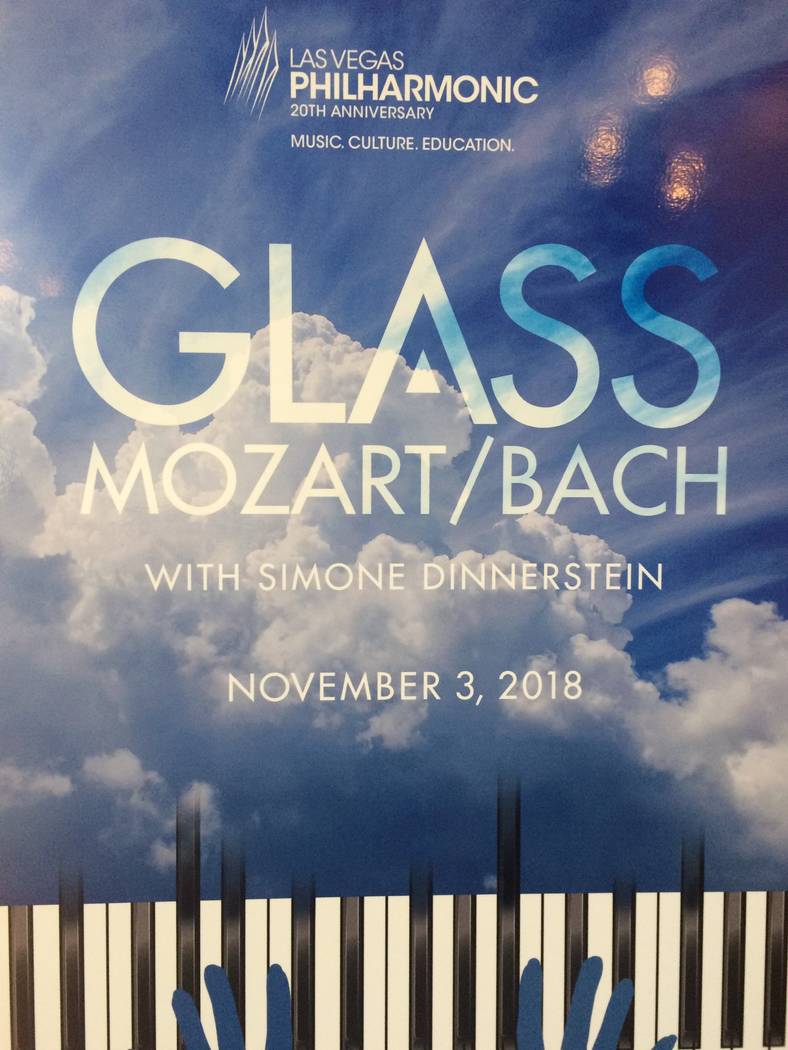 Something old, something new — and something to celebrate.
That's the Las Vegas Philharmonic's upcoming 20th-anniversary season, which orchestra officials announced Thursday at TPC Summerlin, where the Philharmonic will present an Independence Day concert-and-fireworks program July 4.
That's the something old. Two decades ago, an Independence Day concert with a hastily assembled orchestra marked the debut of what would become the Las Vegas Philharmonic.
The something new includes the premiere of a new piano concerto by celebrated composer Philip Glass, which was commissioned by a consortium of orchestras — including the Philharmonic — for pianist Simone Dinnerstein, whose performance of Bach's Concerto for Keyboard No. 7 in G minor inspired the composer to write it. The pianist will perform both works Nov. 3 at The Smith Center's Reynolds Hall, the Philharmonic's concert home.
Other season highlights range from a live performance of Bernard Herrmann's "Psycho" score — in conjunction with a screening of Alfred Hitchcock's 1960 classic — to another "Music of John Williams" program featuring music from "Close Encounters of the Third Kind," "Star Wars" and more.
The week-long "Music Unwound" collaboration between the Philharmonic and UNLV, which began last year, returns with "Dvorak in America," exploring not only the composer's work (including his "New World Symphony," written in New York) but his influence on other composers.
Next season's Philharmonic repertoire includes everyone from Leonard Bernstein to Johannes Brahms and Ludwig van Beethoven, whose inspirational "Ode to Joy" — part of his Symphony No. 9 — will conclude the 20th-anniversary season in May 2019.
Philharmonic music director Donato Cabrera, who introduced the 2018-19 season, got "more excited" about the lineup he planned as he introduced each concert during Thursday's presentation, he said. "I thought, 'Wow, we've come up with a pretty fun season.' "
To Philharmonic concertmaster De Ann Letourneau, who also will perform as a soloist with the orchestra next season, the 20th-anniversary lineup "feels as though we've arrived," she commented. "Every concert has meaning to the musicians."
Letourneau was one of the musicians, 20 years ago, who played at that First Fourth of July concert. "It's hard for me to believe I've been here 20 years, making music," she notes.
Richard McGee, who conducted that first concert — and will conduct the Philharmonic's Dec. 1 "Classic Holiday" concert — recalled conversations with Harold Weller, the Philharmonic's founding music director, "about someday maybe trying to collaborate and get an orchestra going."
That someday turned into July 4, 1998, when Weller called McGee "in a panic" in late June, telling him, " 'We've got nine days — Fourth of July is open at Hills Park. Do you think we can get an orchestra together?' And I said, 'Suuure.' "
After that ragtag beginning, "the only issue was, 'OK, how do we keep it going?' " McGee remembered. "I think it is so amazing we're at the 20th anniversary. … I just think the future is very, very bright for the orchestra."
The 2018-19 season lineup
The Las Vegas Philharmonic celebrates its 20th-anniversary season with an eclectic lineup that features music by everyone from Ludwig van Beethoven to Leonard Bernstein.
The complete concert lineup (all concerts are in The Smith Center's Reynolds Hall unless otherwise noted):
■ Sept. 15 — The season opener salutes Bernstein with his "Candide" overture and Symphonic Dances from "West Side Story," along with Tchaikovsky's "Romeo and Juliet" Overture-Fantasy (inspired by the same Shakespearean tragedy that also sparked "West Side Story") and Rachmaninoff's towering Piano Concerto No. 2, performed by returning guest artist Joyce Yang.
■ Oct. 6 — Just in time for Halloween, a cinematic double feature, with the Philharmonic performing Bernard Herrmann's spine-tingling score to Alfred Hitchcock's classic 1960 chiller "Psycho."
■ Nov. 3 — The premiere of composer Philip Glass' newest piano concerto, and Bach's Concerto for Keyboard No. 7, spotlighting guest soloist Simone Dinnerstein; Mozart's "Cosi fan Tutte" Overture and his Symphony No. 40 in G Minor round out the program.
■ Dec. 1 — "A Classic Holiday" showcases seasonal melodies by, among others, Tchaikovsky (an except from — what else? — "The Nutcracker Suite") to Philharmonic trombonist Nathan Tanouye; singers Kristen Hertzenberg and Travis Cloer join the Las Vegas Master Singers and guest conductor Richard McGee.
■ Jan. 12, 2019 — Another heaping helping of "The Music of John Williams," including soundtrack favorites from "Close Encounters of the Third Kind," "Raiders of the Lost Ark," "Jurassic Park," "Star Wars" and more.
■ Feb. 9, 2019 — "An Evening With Brahms" continues the Philharmonic's multi-year focus on the composer's works, featuring his Symphony No. 4, Academic Festival Overture and Concerto for Violin and Cello, the latter performed by orchestra members De Ann Letourneau and Andrew Smith.
■ March 2, 2019 — Time for Three (violinists Nick Kendall and Charles Yang and double bass player Ranaan Meyer)join the Philharmonic for genre-busting musical jaunts from Bach and Brahms to the Beatles and beyond.
■ April 6, 2019 — "Music Unwound: Dvorak in America," a week-long series of events presented in conjunction with UNLV, closes with Dvorak's "New World Symphony," his Scherzo Capriccioso and Horowitz and Beckerman's "The Hiawatha Melodrama (after Dvorak)."
■ May 11, 2019 — The 20th-season finale features Beethoven's Symphony No. 9 — and its "Ode to Joy," performed by international soloists, the Las Vegas Master Singers and UNLV Concert Singers — and continues the American German Cultural Exchange Fellowship as violinist Thomas Reif performs a Mendelssohn Violin Concerto.
In addition, the Philharmonic's Spotlight Concert Series (in The Smith Center's Troesh Studio Theater) presents a trio of intimate chamber concerts: "An Evening of Works for Brass" (Nov. 15), "The Passion and Romance of the Harp" (March 21, 2019) and "The Harmony of 14 Strings" (April 18, 2019).
The Philharmonic also presents a "Star-Spangled Spectacular" July 4 at TPC Summerlin, including a concert and fireworks.
Season tickets for the Las Vegas Philharmonic are now on sale; single ticket sales will begin over the summer. For more details, visit www.lvphil.org.
Contact Carol Cling at ccling@reviewjournal.com or 702-383-0272. Follow @CarolSCling on Twitter.