Las Vegas Philharmonic celebrates July 4th and 20th birthday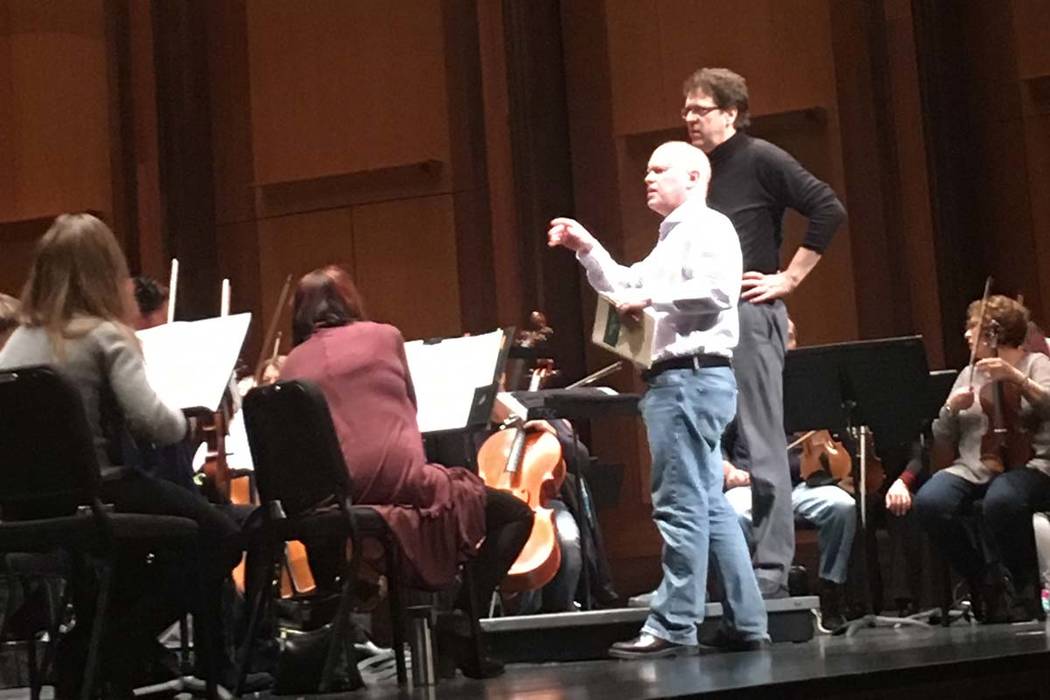 It all began with a bang.
And Wednesday, two decades later to the day, the Las Vegas Philharmonic returns to when, and where, it all started: the Fourth of July, in Summerlin.
Before the orchestra launches its 20th-anniversary season at The Smith Center in September, the Philharmonic celebrates its 20th birthday — and America's 242nd — with an Independence Day concert-and-fireworks program at TPC Summerlin.
It's the first time in five years that the Philharmonic has staged a Fourth of July concert; the most recent one, in 2013, took place at The Smith Center, with fireworks and family festivities outside in Symphony Park.
Wednesday's "Star-Spangled Spectacular" harks back to the orchestra's first concert, when a hastily assembled orchestra marked the debut of what would become the Las Vegas Philharmonic.
In late June 1998, Harold Weller — the orchestra's founding music director — called colleague Richard McGee "in a panic," telling McGee, " 'We've got nine days — Fourth of July is open at Hills Park. Do you think we can get an orchestra together?' " McGee recalls. "And I said, 'Suuuure.' "
Flashing forward two decades, Wednesday's concert marks current music director Donato Cabrera's first Fourth of July with the Las Vegas Philharmonic.
When it comes to programming a Fourth of July concert, it's "a little bit of everything," Cabrera says. "I think outdoor concerts should be like a variety show." Or, to use a very Vegas analogy, a buffet of "what is great about American music. It shouldn't be just Broadway, it shouldn't be just patriotic tunes … it should be all of the above."
To that end, Wednesday's concert will feature everything from John Philip Sousa to John Williams — the latter represented by the rousing "Raiders of the Lost Ark" march.
On the Broadway side of the street: songs from Leonard Bernstein's "West Side Story" and more, with guest vocalists Maren Wade and Eric Jordan Young joining the orchestra for, among other favorites, "Summertime" from "Porgy and Bess" and "The Impossible Dream" from "Man of La Mancha."
Among the treasured melodies, the program also makes room for a less familiar selection: "Summon," a movement from "Unconquered," a symphonic tone poem by Las Vegas-based composer Michael Torke that has "a patriotic flavor," according to Cabrera.
Capping the event: accompaniment for the evening's Zambelli fireworks presentation. "There's no greater ensemble that can do this music," the conductor says.
Especially on the 20th anniversary of the Las Vegas Philharmonic's debut, he adds. "It's such a wonderful confluence of events."
Contact Carol Cling at ccling@reviewjournal.com or 702-383-0272. Follow @CarolSCling on Twitter.
Music, fireworks and more in store
The Las Vegas Philharmonic's "Star-Spangled Spectacular" promises music and fireworks on the Fourth of July.
But there's more in store at the event, from food and beverage options to family activities, before the concert begins at 8 p.m.
General admission tickets ($10 each, or $25 for a four-pack) provide lawn access for music, fireworks, food and beverage vendors, along with free water and cooling-tent access. No coolers or outside beverages are allowed; attendees are encouraged to bring blankets or low-back chairs for lawn seating. Personal sun umbrellas are permitted but must sit on top of the lawn.
Reserved lawn tickets ($125) and VIP packages ($250 each) are available. Event proceeds will benefit the Folded Flag Foundation and the Philharmonic's music education programs.
Las Vegas composer's call to arms
Las Vegas Philharmonic audiences are getting used to the sound of Michael Torke's music.
The orchestra performed the Las Vegas-based composer's "Ash" during its 2016-17 season; February's "Sounds From Twilight" concert included Torke's "Sylvan." (Nevada Ballet Theatre's season-finale world premiere, "Until December," also featured Torke's music.)
Wednesday's "Star-Spangled Spectacular" spotlights "Summon," the first movement of Torke's four-part symphonic tone poem "Unconquered."
The Philadelphia Orchestra premiered "Unconquered" in 2016 to celebrate the 50th anniversary of the performing arts center in Saratoga Springs, New York; it hasn't been performed elsewhere, Torke says, which will change with Wednesday's Philharmonic concert. (The Philadelphia Orchestra's recording of "Unconquered" debuted in May.)
The "aspirational" piece was commissioned by a local banker who to reflect the history of Saratoga, Torke notes. That history includes a pivotal 1777 Revolutionary War battle; the upstart Continental Army's victory over the British convinced France to enter the war.
And that "kind of changed the course of world history," Torke says.
Launched by a trumpet fanfare, "Summon" summons up the sound of a call to arms before expanding to involve the orchestra in what becomes a contemplative, then resolute forward march.
Its presence on the Las Vegas Philharmonic's Fourth of July program seems a natural, Torke says, given the piece's history — and the fact that Independence Day is a day "when people want to hear orchestral music."