Las Vegas playwright tackles topics from comedic to absurd
January 9, 2018 - 9:56 am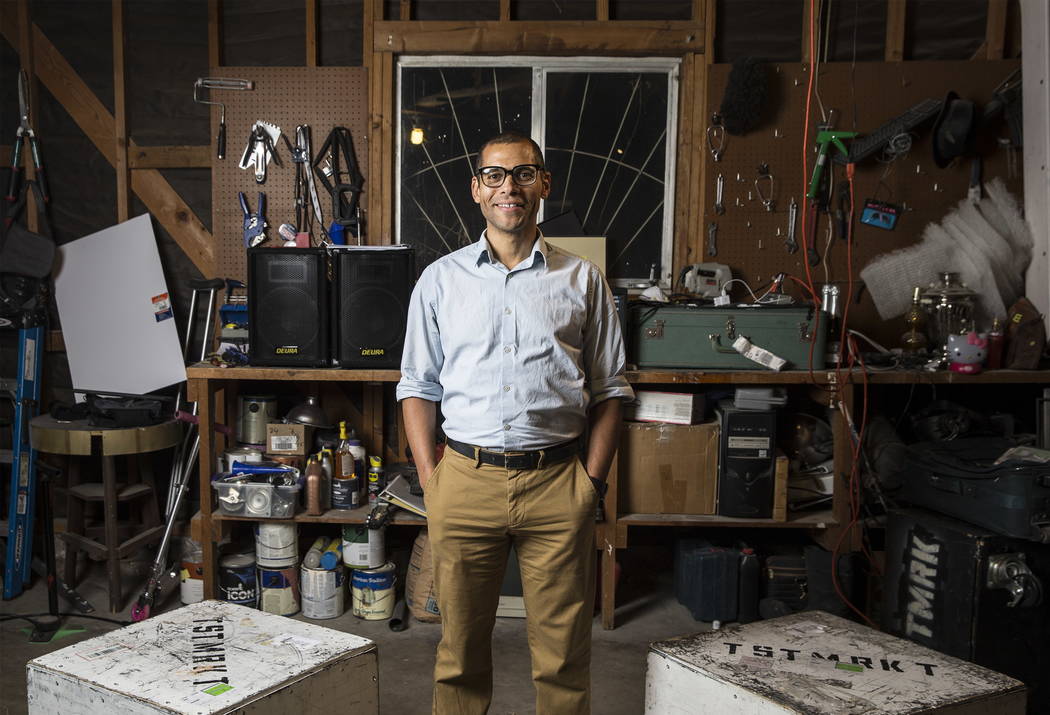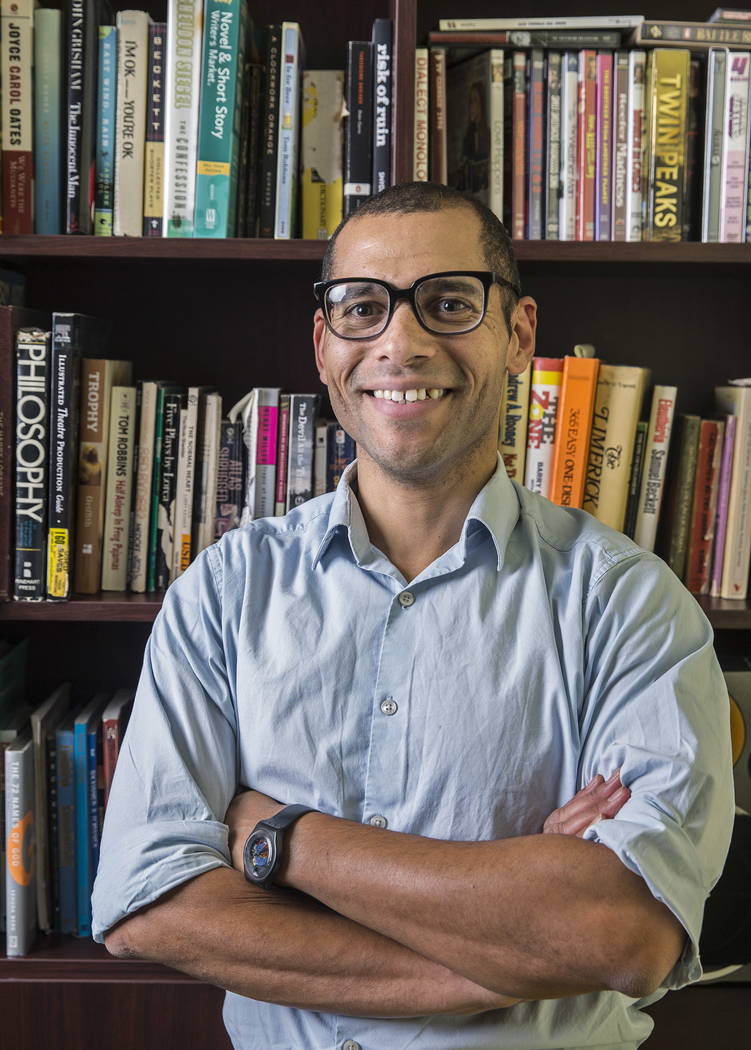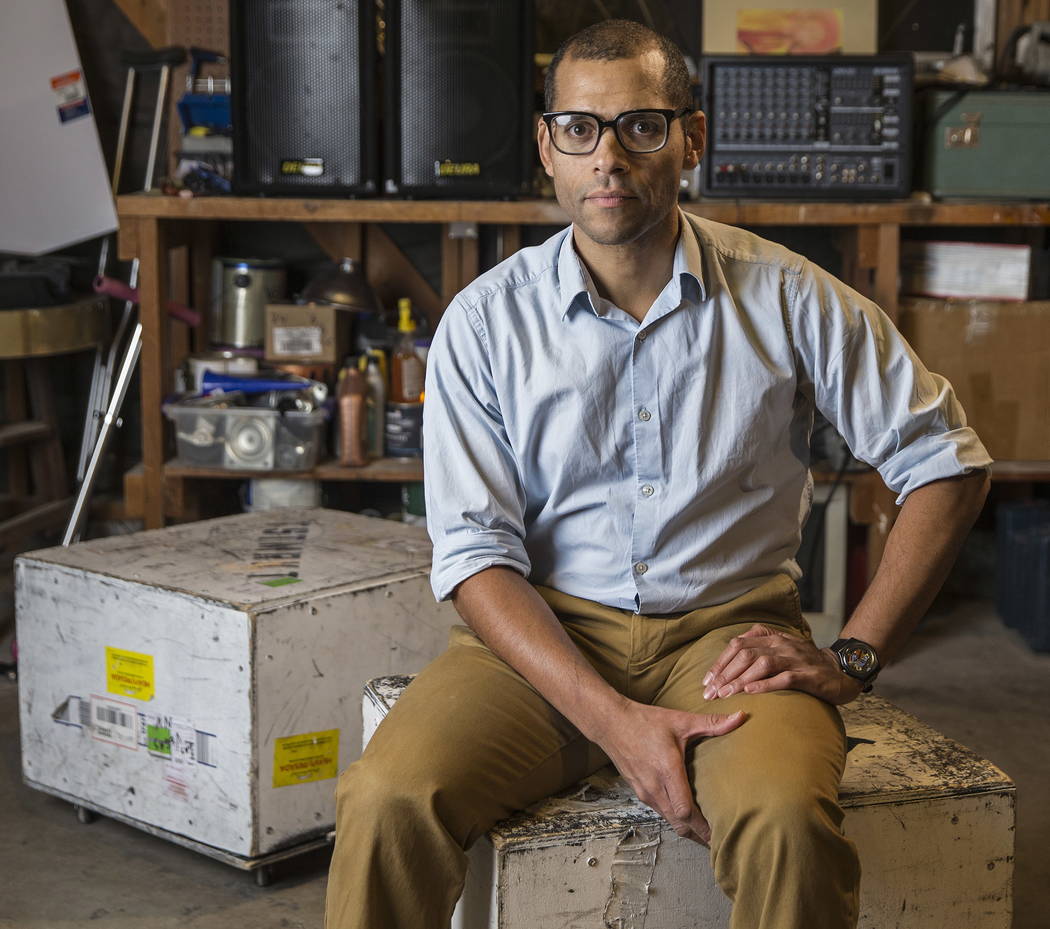 Behind the keyboard, he's no Neil Simon. After all, Simon never penned anything remotely resembling "Die Mother (expletive) Die." Yet 43-year-old playwright/actor/director Ernest Hemmings has been one of the steadiest (read: persistent and creative) figures on the Vegas community theater scene since he arrived 17 years ago from Cleveland.
Once anchored at downtown's former Social Experimentation and Absurd Theater (SEAT), today Hemmings steers his roving Test Market troupe (nicknamed "Tstmrkt") through venues around town: host theaters, warehouses, churches, even garages — anywhere he can find a stage.
Whether he's flame-throwing (the aforementioned "Die"); bouncing off the walls of sanity (the outrageously profane "The Shanda of Rabbi Schlemazel"); exploring dark themes ("Cancer Dog," about a woman throwing herself an end-of-life party); decimating the capitalist ethos ("The Proletariat"); going fast and funny (sketch comedy); or attempting to keep an absurdist genius alive in our culture (overseeing Vegas' former Samuel Beckett Festival), Hemmings' voice is fiercely original.
What motivated your move to Vegas?
I came to Las Vegas to drink myself to death. I was having this (Charles) Bukowski-esque moment. It was my first divorce in Cleveland. I was in my 20s, my ego was super-damaged. I got rid of all my furniture, got on a Greyhound bus, and didn't plan on going past a week here. Would you believe I've never seen "Leaving Las Vegas" (in which Nicolas Cage's character does exactly that)? I'll call it up on the Contour later tonight. But Vegas ended up saving my life. I found life in the desert.
Test Market once had its own space downtown. Does the area's renaissance mean that could happen again?
It's tougher now that downtown's been redeveloped or gentrified. Now (available space) has gone up exponentially, and the availability has dropped because the Downtown Project has purchased a lot of these vacant buildings.
What do you consider some of your most "out there" plays?
Definitely "The Shanda (Yiddish for "shame") of Rabbi Schlemazel." I was always taking these Yiddish classes in Cleveland when I was in the process of converting. Fast forward to Vegas. (Myself and a writing partner) had the initial idea to do the whole play in Yiddish. Then somehow we came up with the premise of the play, which is this orthodox rabbi who falls deeply in love with a black-magic transvestite. I wrote that thing in a day. It was hilarious and ridiculous. The casting was the most fantastic part, because two of the kids were Palestinian, the mom was Saudi, but no one in the cast was a Jew. But the pronunciation was perfect!
Do you still consider yourself a renegade playwright?
Not anymore. Now I think in comparison to everything else I'm pretty normal and tame. There is a lot of brainy stuff that's going on, but the shock value stuff, I don't want to tread on those waters at this age. I'm deathly afraid now of entering into what I call wince theater. There are times where I have in the past, like when I did "Die Mother (expletive) Die." I did it on purpose and we sold tickets, but I think now people are desensitized.
So where is your creative mindset now?
Trying to make the shock more the shock of thought than the shock of, "Hey, here we are naked on stage." In "The Proletariat," it's three characters around a desk. It's about the plight of the working class, not a sexy, exciting topic. But at the end of every single performance, at least two or three people go, "YEAAAH!" So it's like, "OK, success." You're packing the house with a corporate play. Or "Cancer Dog," which is a relatable topic, it's funny, dark as hell, but not setting the stage on fire.
Do you think we'll see a rise in "protest theater" in the Trump era?
There's so much absurdity in real life now, but the only political theater I've seen so far has been on television. Now would seem to be the time to do something original and creative but we had more protest plays during the Obama administration than we do right now, which is weird. I don't know if it's because of fear, or profit reasons.
With the internet and streaming services, is it harder to get people out of their homes to see live theater?
Theater has to be more of a community gathering spot now. You're going out not just to be entertained but getting a group experience out of it. That's what's pulling people in. The Test Market shows, they turn into a kind of party after the show is over. Everyone is milling about, having some beers out of the back of somebody's car, and chitchatting, and they all got that same experience. That's the main reason why theater is still hot. We have the cathartic moment in unison. This is what the Greeks used to do. We're going back in time.
Ringtone: "Cola Bottle Baby" by Edwin Birdsong. "Whenever it goes off, it puts a smile on my face."
Indulgence: Pumpkin pie. "It gives me acid reflux like a madman, a total nightmare on my esophagus, but I can eat an entire one in one sitting."
Vacation destination: Playa del Carmen in Cancun. "It's got the sandy beaches and you can get hospital drunk the entire time and people take care of you. It's like Vegas, except your hands never touch your pocket because it's all-inclusive."
Movie: "Manhattan." "Oh, wow, maybe I shouldn't say that now. There are so many reasons why that's terrible now."
Playwright: The late Peter Shaffer ("Amadeus," "Equus"). "He's able to be brilliant without being stuffy or pretentious and that's a real hard trick to pull off."
Life motto: "Don't let anyone watch you (screw) up."
Phobia: "Daydreaming in traffic, because I daydream a lot. Sometimes I get to a location and I have no idea how I got there."
Musician: Kevin Barnes, lead singer of indie rock group, of Montreal . "He can play every single instrument, kind of like the modern Prince. He is super-underrated. … I think they are the Beatles reincarnated."
Contact Steve Bornfeld at sbornfeld@reviewjournal.com. Follow @sborn1 on Twitter.