Las Vegas students uncover hidden talents in sculptor's classes
January 30, 2017 - 7:51 pm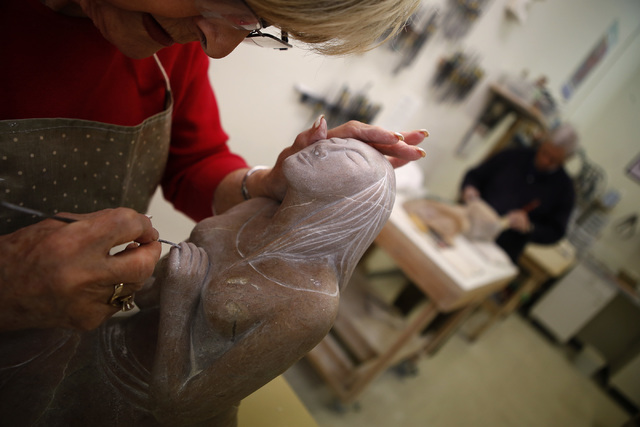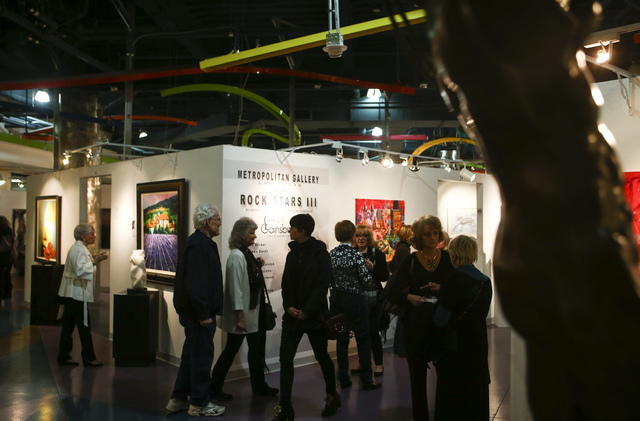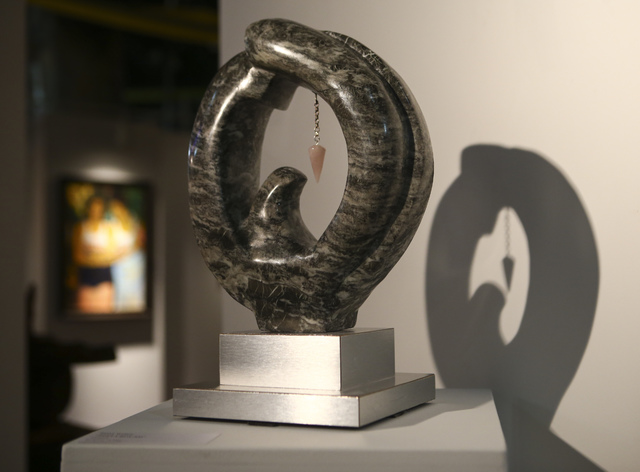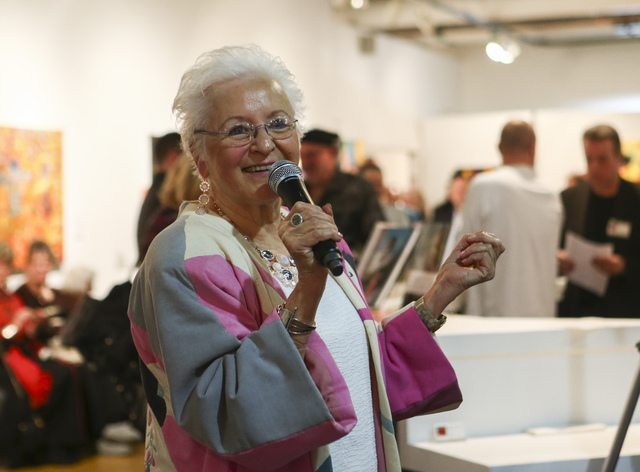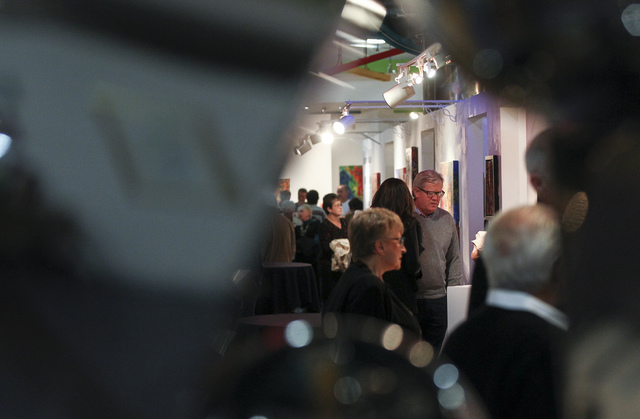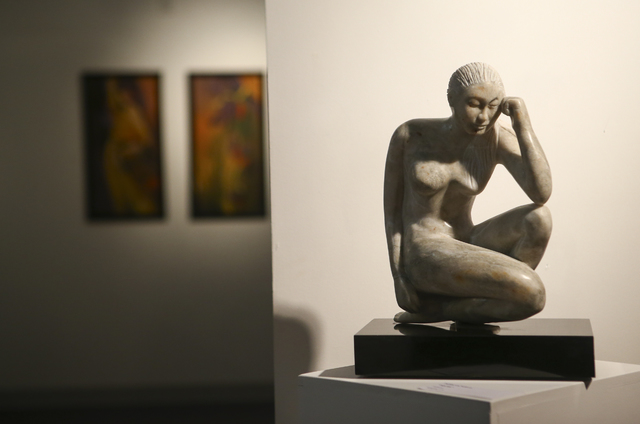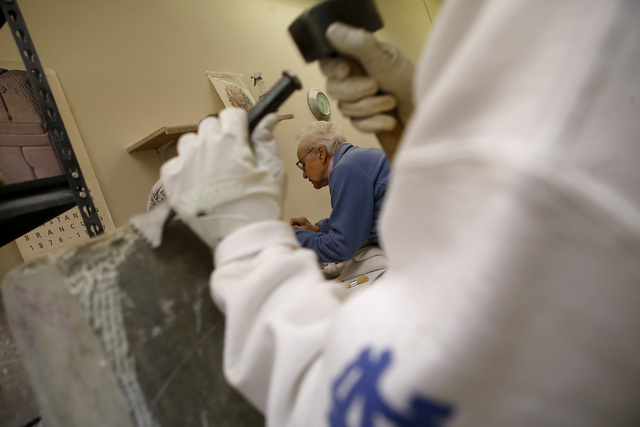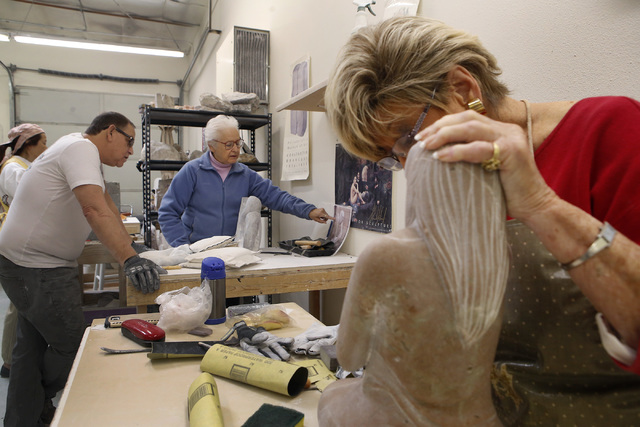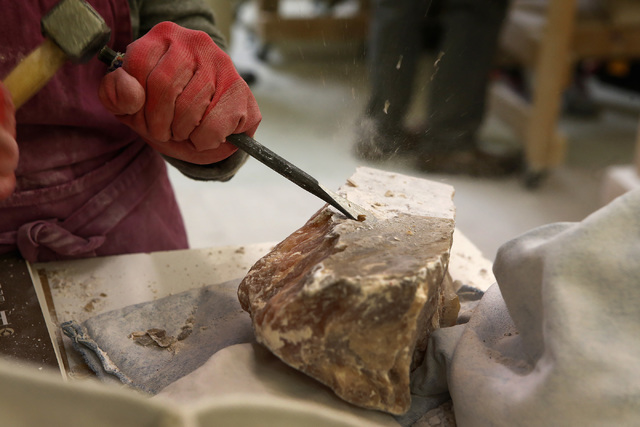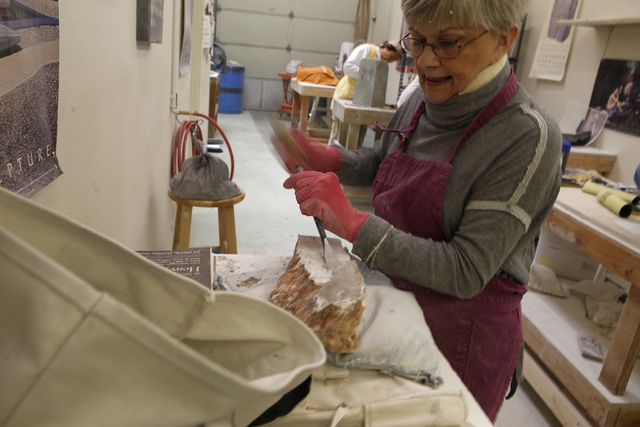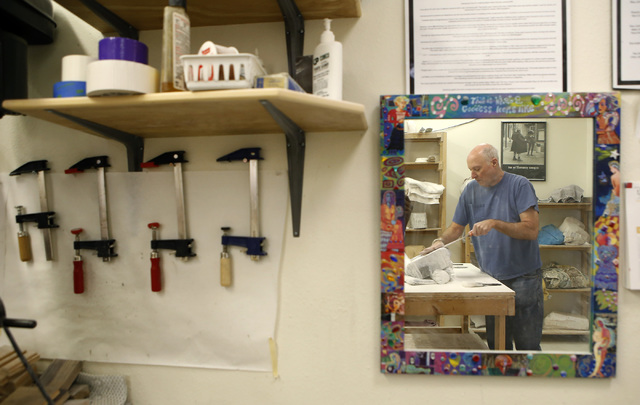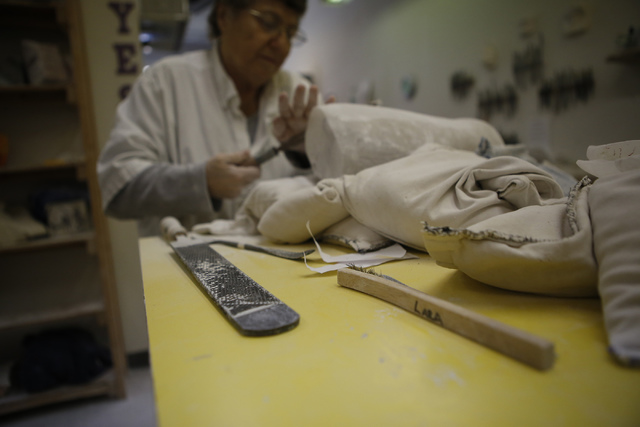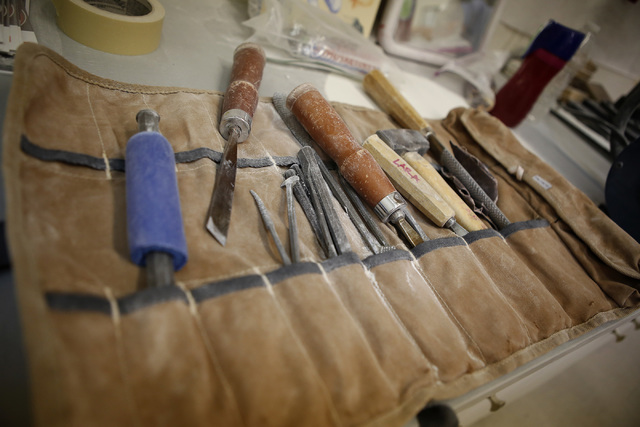 Sharon Gainsburg's stone sculpture studio sounds like a construction site. Of the several students in the day's class, some wield whirring power tools while one woman is just beginning to chip away the corners of a rectangular block of alabaster with a hammer. Others slide steel files across their stones, piles of fine white powder accumulating on their tables.
Most come to the studio, hidden in a squat tan complex alongside tile stores and a jiu jitsu gym between Interstate 15 and Las Vegas Boulevard at West Oakey Boulevard, once a week for a three-hour session. At this pace, some of the works in progress could take as long as a year to complete.
Gainsburg, a white-haired woman with bright blue eyeliner, walks among the pupils, many of whom are of similar age. A prolific sculptor with decades of experience, she's exhibited her own work throughout the country and helped her students see their pieces on pedestals as well.
This month, the students' hours of chipping and filing culminate in an exhibition, "Rock Stars III," at the Metropolitan Gallery in the Neonopolis mall downtown. The collection, which opened Thursday and will run through Feb. 24, gathers more than 30 carvings by both Gainsburg and her students. The rugged hunks of stone have been transformed into twisting abstract masses and realistic renderings of kneeling women or birds, some by artists with only a year of stone carving experience under their belt.
PAVING THE ARTISTS' WAY
Many came to stone carving through Gainsburg's 12-week course, "Unblocking your Creativity" at UNLV's Osher Lifelong Learning Institute. Whatever their previous media or method, they'd fallen into a creative void.
"I had never done any other kind of art, and I was stuck on a couple of songs I had been working on for years," says Carl Weller, a singer-songwriter who found stone carving about six years ago. "I'd come back to them and I didn't know where to go with them. Two weeks after I started her class, I finished them."
Using Julia Cameron's "The Artist's Way," students flex their artistic talents, or, in the case of those who end up in Gainsburg's stone-carving class, discover ones they didn't know they had.
Of the students who've come from this class, some believed they had no innate skill as visual artists prior to having a stone in front of them. But under Gainsburg's tutelage, they've been able to uncover, or at least develop, a proclivity for art. "If you're not born with it, she kind of instills it in you," says student Susan Weintz.
Gainsburg gently suggests newcomers' next steps and helps more experienced students reveal in the stone what's in their mind's eye. She teaches that the stone is alive — if they're attentive, the students can determine which way the stone should curve and deepen.
Each student begins by creating an abstract sculpture and focusing on creating certain shapes in the rock. "They become more relaxed and they really start getting an understanding of the material," Gainsburg says.
Then, when they're a few sculptures in, they can try their hand at realistic subjects, some choosing to make human bodies and faces, fish or even a penguin.
"As a teacher, I so appreciate what she does because you get the person who's in here for the first day or people who've been here five years, and she's going all around dealing with all kinds of levels," says Lara Kalt, a student of Gainsburg's for five years.
Because each movement with the file or hammer is literally set in stone, students learn to let go of perfectionism. Even if a section of their sculpture cracks off, that's nothing some glue can't fix.
"One thing that I have found in this class is that it takes you out of the habit of perfection, that I really can, whatever it is, I can make it something else," Weintz says.
'THAT'S WHAT ART DOES'
Gainsburg took on students to begin with at the recommendation of another teacher as a way to better her own craft. By helping students work through challenges in their work, the thinking went, she could more clearly tackle her own.
At the time, she lived in New Jersey and had been carving stone for three years. She recruited her first student after making an announcement in an exercise class. From there, she built a teaching business through word of mouth, attracting some students who traveled for two hours to reach her class. That was 25 years ago.
Twelve years ago, she moved to Las Vegas at the urging of her daughter. She was hesitant, given the following of students she'd built in New Jersey. Rebuilding her business in a new city at age 62 didn't seem feasible.
"She said, 'Oh Mom, you've done it once, you can do it again,' " Gainsburg says.
But looking at the exhibition at the Metropolitan gallery, you'd never guess she was at one point a Vegas transplant without a roster of emerging artists coming up under her direction. Twenty-seven students have pieces on display, some of whom have been working with her for eight years.
In her Saturday class, which is mostly made up of working professionals as opposed to retirees, Gainsburg likes to ask students whether they've thought about their job at all as they were carving. The students usually surprise themselves by answering no.
"And so they leave with such a sense of accomplishment and calm, because they needed this to balance," Gainsburg says. "And that's what art does."
Read more from Sarah Corsa at reviewjournal.com. Contact her at scorsa@reviewjournal.com and follow @sarahcorsa on Twitter.
Preview
What: "Rock Stars III,"
When: Noon to 5 p.m. Wednesdays through Saturdays, through Feb. 24
Where: Metropolitan Gallery in the Neonopolis mall, 450 Fremont St.
Admission: $5