'Last Five Years' brings off-Broadway cast to Las Vegas
October 31, 2014 - 12:17 am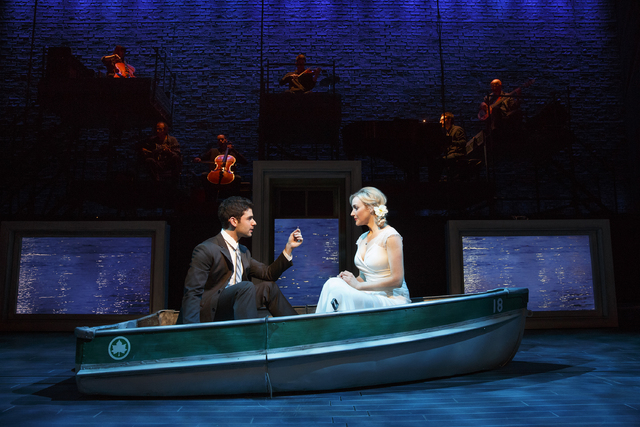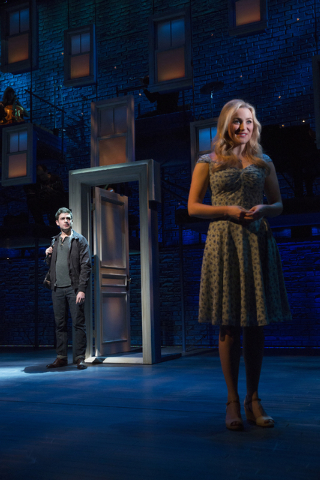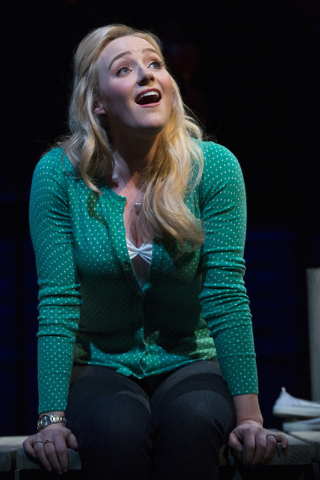 You never forget love at first sight.
Not even when the object of affection is a play rather than a person.
That's exactly what happened to Dr. Keith Boman when he saw "The Last Five Years" — six years ago at the College of Southern Nevada's Cheyenne campus — and vowed to bring a professional production to Las Vegas.
Given Boman's Smith Center connections — he's vice chairman of the board of directors, not to mention the namesake of the center's Boman Pavilion, home to Cabaret Jazz and the Troesh Studio Theater — you might expect to see "The Last Five Years" at the downtown performing arts complex.
Instead, this "Last Five Years" — which reunites the two-member cast of 2013's off-Broadway revival — arrives Thursday at UNLV's Judy Bayley Theatre as part of the Nevada Conservatory Theatre's current season.
As "a very intimate, personal show," Bowman explains, the musical "doesn't work" at The Smith Center's Reynolds Hall, which seats more than 2,000, or in Cabaret Jazz or the Troesh, neither of which tops 300 seats.
But, with 550 seats, UNLV's Judy Bayley Theatre proved a "perfect" fit, notes Boman, who spent more than a year setting up the production. "UNLV has jumped onboard like a rider at a rodeo."
On paper, "The Last Five Years" may sound like just another variation on the typical boy-meets-girl, boy-loses-girl romance.
Yet there's a twist to this tale of two 20-something New Yorkers. Rising writer Jamie Wellerstein (Adam Kantor) recounts their relationship from beginning to end, while Cathy Hiatt (Betsy Wolfe), a struggling actress, traces the couple's time together from bittersweet end to hopeful beginning.
Throughout, "there's maybe a minute of dialogue," Wolfe explains. "I consider it a three-person show. Music is very much the third person."
And the music — by Jason Robert Brown, who won Tony Awards for his "Parade" and "Bridges of Madison County" scores — "is so lyrical and hauntingly beautiful it sucks you in from the moment they start playing," Boman says.
Beyond the power of the score, "these characters and this story are so relatable" to "anyone who's ever been in love, everyone who's had their heart broken," according to Kantor.
Both Kantor and Wolfe were surprised — and happily so — to make their Las Vegas debuts reprising their "Last Five Years" performances.
"I don't think many people think about a two-person musical about divorce and love and loss" as a Vegas natural, Wolfe acknowledges.
"When I think of Vegas, I think of big, splashy, huge musicals," she adds." Yet "there's something really beautiful about bringing a show like this there."
The show's road to Las Vegas began (where else?) in New York.
Along with Kantor and Wolfe, the show's New York contingent includes music director Andrew Resnick, who conducted the off-Broadway revival (and its subsequent cast recording). He'll also be in Las Vegas, conducting the Las Vegas musicians who'll perform Brown's score.
In Las Vegas, Boman tapped Philip Shelburne — whose directorial credits range from the Excalibur's "Tournament of Kings" to numerous Super Summer Theatre musicals — to direct the production.
Shelburne, in turn, invited a favorite collaborator — Midwest-based designer Gregory Crane — to come up with a new set. (Crane designed "Tournament of Kings" as well as many of Shelburne's Super Summer Theatre productions, including "Crazy for You" and "The Drowsy Chaperone.")
The new set design emphasizes the show's "concept of time" with a projection of "a big clock on the floor," Shelburne explains. With half of the clock's face featuring Roman numerals and the other Arabic numerals, "it's two different ways of looking at the same moment."
Speaking of time, the show's limited rehearsal period — three days in New York, four in Las Vegas — means "we won't be reinventing the wheel," Shelburne adds.
"We couldn't do this production if we hadn't done it before," says Wolfe, who had planned to use vacation time from the Broadway run of "Bullets Over Broadway" to perform "The Last Five Years" in Las Vegas. ("Bullets" closed in late August, eliminating Wolfe's scheduling squeeze.)
And while "the mentality of 'it's not broke, don't fix it' exists," she points out, "as my life changes and I gain perspective, this show changes for me. It's been a joy to get to re-explore it."
Although "we're putting this together obscenely quickly," Kantor admits, "it'll be an exciting challenge. I'm excited to see how a new physical life might show us new shades of these characters."
In addition, this "Last Five Years" will enable Las Vegas audiences to experience the original musical a few months before a movie version (starring "Twilight's" Anna Kendrick and "Smash's" Jeremy Jordan) hits screens Valentine's Day weekend.
Kantor predicts the movie will enable the show to "go beyond a theater cult fan base" and expand its appeal, just as Brown's latest musical, an adaptation of the 1992 big-screen comedy "Honeymoon in Vegas" — complete with Flying Elvi — tests its Broadway mettle. (Previews begin Nov. 18.)
After a dozen years (and more than 3,000 performances around the world), "The Last Five Years" has long since proved its appeal.
"It's a phenomenal piece of work," Boman says, "that I think everyone's going to fall in love with."
Just as he did.
Contact reporter Carol Cling at ccling@reviewjournal.com or 702-383-0272.
Preview
"The Last Five Years"
8 p.m. Thursday; also 8 p.m. Nov. 7-8, 2 p.m. Nov. 8-9
Judy Bayley Theatre, UNLV, 4505 S. Maryland Parkway
$30-$50 (702-895-2787, www.unlv.edu/pac/tickets)