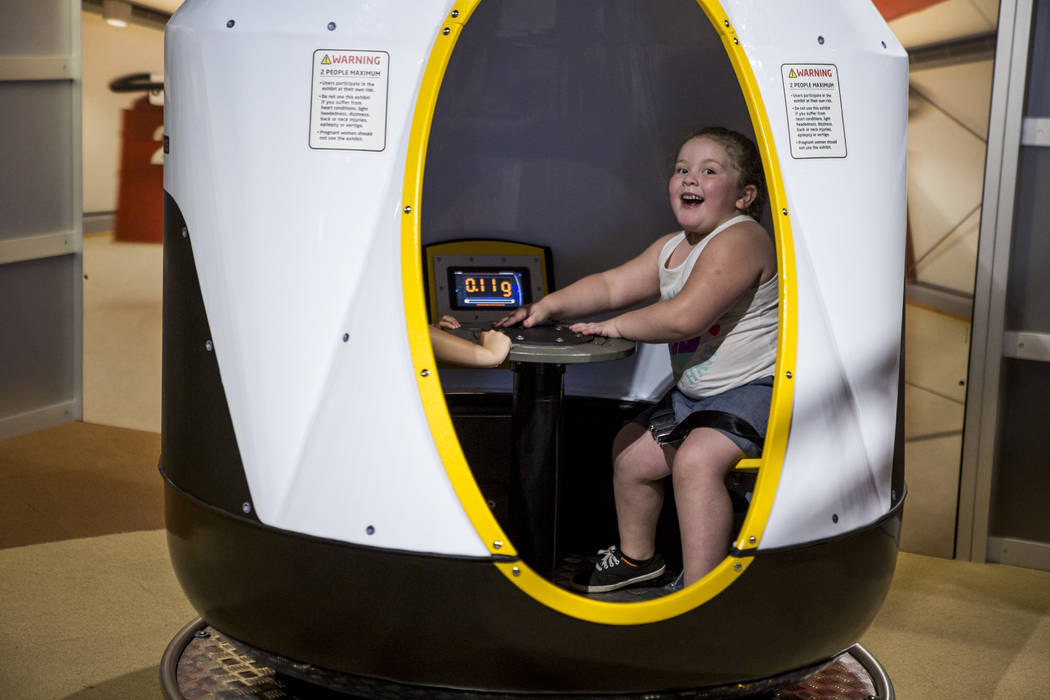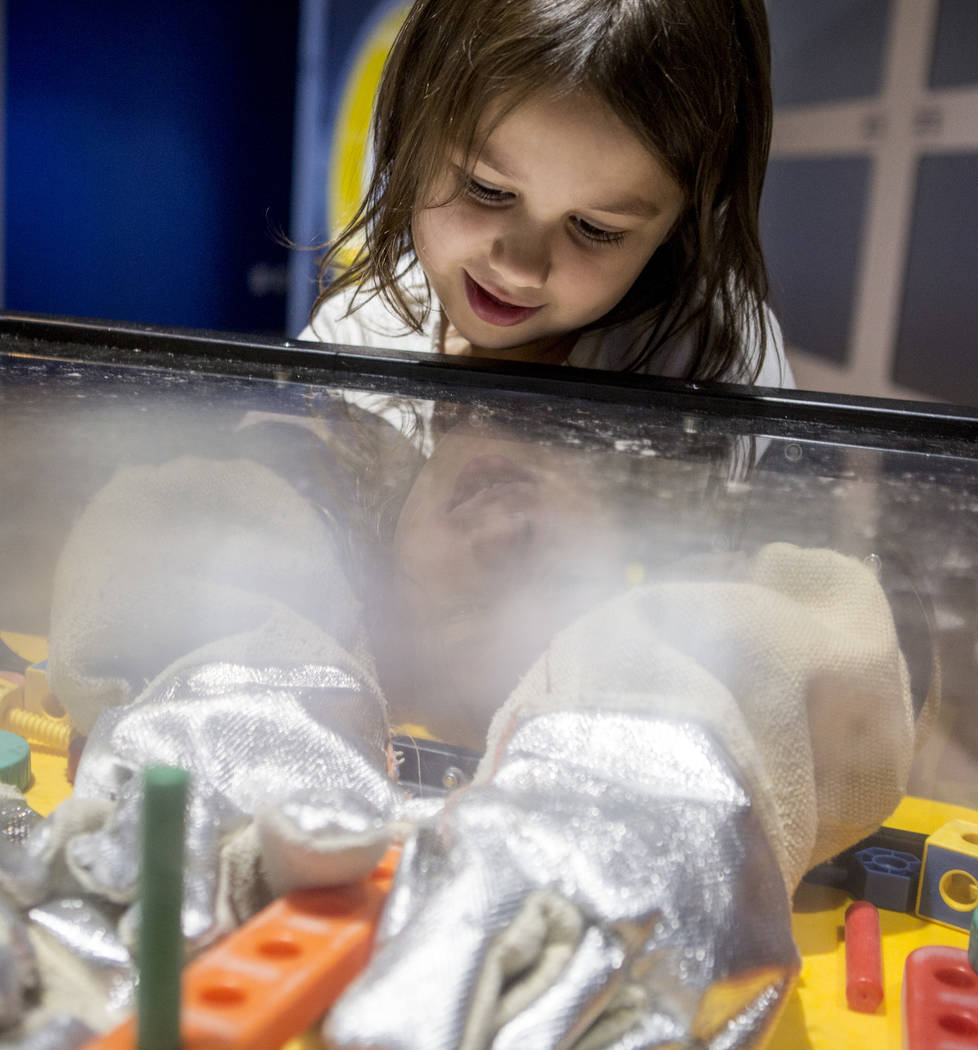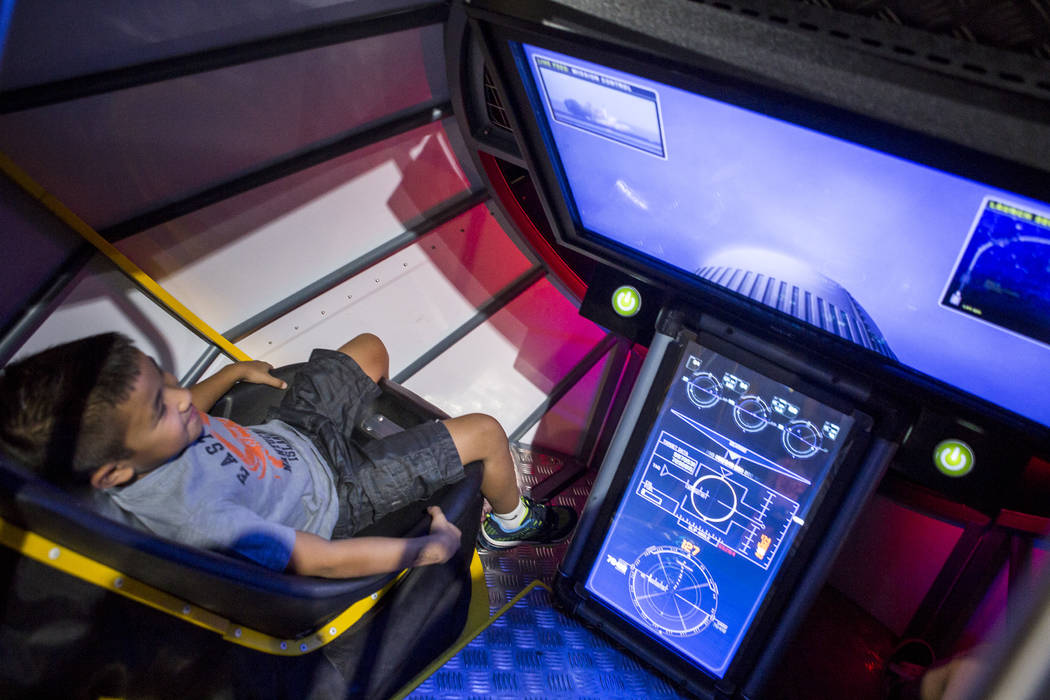 Cookies are not an astronaut's first choice for dessert.
That's because how the cookie crumbles in space differs from the way it crumbles here on Earth.
In space, microgravity creates a condition in which people or objects appear to be weightless. In the case of cookies, crumbs can float everywhere and affect key pieces of equipment or simply create a nuisance.
The downside of cookies in space is just one of the discoveries that await families at the Springs Preserve's newest exhibit "Astronaut" in the Origen Museum. The Las Vegas exhibit opened earlier this month to offer families and others an out-of-this-world experience.
"The focus behind the exhibit is to show folks what it takes to be an astronaut," exhibit curator Aaron Micallef said. "It doesn't focus so much on the cosmos and the physics of space, but really it talks about the physical strain on astronauts, both in space and what happens to them before and after."
Those ready to take on the adventure can start their journey by trying on a flight suit or climbing aboard a rocket to experience a space launch through the use of visuals and vibrations.
Attendees also can use a mock Geiger counter to test rock samples for magnetism and radioactivity.
Other interactive activities include launching a projectile and riding a centrifuge to learn firsthand about the effects of rapid rotation.
Cool rides and space toilets
"I like the cool rides," 8-year-old Amelie Apfel said. "There are a lot of cool things to play with in here."
Local mother Nicole Savino also praised the exhibit's offerings.
"I love how interactive this exhibit is," she said. "I can let my kids run and learn about what it takes to be an astronaut."
A few displays focused on physical training because gravity in space means astronauts don't use their muscles as much, which can cause weak muscles and fragile bones.
Another section is dedicated to space food.
"Eating in space can be a tricky experience," the display sign reads. "Your food floats away if you don't stick it down and must last for months without a fridge. Food is chosen carefully for taste, nutrition and shelf life."
"We love it here," Jennifer McCambridge said. "This isn't just fun for my daughter, it's fun for me, too. This is like a live Discovery Channel. It's interactive and you learn so much."
Attendees also find out about what it's like to sleep in space, how to use a space toilet – which includes more restraints and vacuums than normal — and the use of reclaimed urine for drinking water, food preparation and washing.
The touring exhibit was designed by the SciTech Discovery Centre in Perth, Australia, and produced by Imagine Exhibitions, Inc.
"The unique thing about this exhibit is that it focuses on both communication and teamwork," Micallef said. "It what is needed to survive and thrive in space and inside the international space station."
Contact Sandy Lopez at slopez@reviewjournal.com or 702-383-4686. Follow @JournalismSandy on Twitter.
Preview
What: "Astronaut"
When: 9 a.m. to 5 p.m. daily through Sept. 17
Where: Springs Preserve, 333 S. Valley View Blvd.
Admission: $4.95-$9.95; $10.05-$18.95 nonresidents (702-822-7700, www.springspreserve.org)