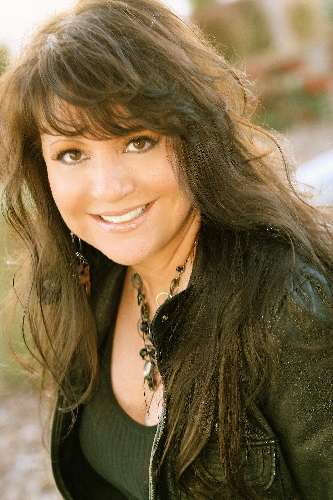 Our city is about to fade into her rearview mirror.
Losing a Prima is no small setback here, especially to those whose old-Vegas memories still shine as bright and vibrant as the neon that once lit up the Sands and the Sahara, where another Prima was the prince of the city.
"I'm getting ready to move back to New Orleans in November, so this is the last chance for people to see the show I've been doing," says longtime Vegas stalwart Lena Prima, whose dad, Louis, famously made this town his jazzy plaything back in its heyday, a style the Bayou-bound performer will take back to the city that birthed, nurtured and eternally embraces jazz.
"There's more opportunities for my style of music," she says. "There are French Quarter fests and jazz fests and Mardi Gras, so much stuff going on."
Blowing a musical kiss to Las Vegas, Prima will perform "A Concert for the Community" on Saturday at the Winchester Cultural Center. Backed by her six-piece band, Prima, 47, will belt out original songs from her CD, "Since the Storm," that was dedicated to Hurricane Katrina survivors — including "Silly in the Middle," nominated for best jazz song of 2010 at the Hollywood Music in Media Awards — plus a tribute to the rollicking repertoire of her father, who died in 1978 when his daughter was 15.
Here, Prima fields questions before pulling out of the Vegas music scene:
Question: Are there less opportunities here to perform the jazz you love?
Answer: There's only a few of us doing the vintage-style stuff, and there really isn't a place to do it. The bookings here for live music are not as much as it used to be. That's why I wanted to do this concert before I go. It's terrible the way arts programs are getting cut. People still want to go out and see shows. It's sad, growing up here and seeing the change.
Q: Is the diminishing of jazz a loss to Vegas?
A: I'm not sure about that because of the way it's changed as far as the Strip and young people going to clubs. I don't know if they want to see vintage-style or retro-style entertainment.
Q: Have you thought about venturing into a more modern style?
A: I'm really into the jazz, the swing; it's really me. In New Orleans, there's still such a demand. Ever since the Saints won the Super Bowl, the spirit of that town has really been rejuvenated.
Q: Why are you calling this "A Concert for the Community"?
A: Just to promote the community cultural centers all over this town that provide entertainment for the neighborhoods because their budgets have been cut so much, they're struggling. Also for us entertainers, where are there venues for us to do our shows? It's good for the venue, good for me, good for the people.
Q: In addition to your music, which of your dad's hits will we hear?
A: I'll be including a medley of New Orleans songs my dad made famous, and a lot of his big hits people enjoy hearing — "That Old Black Magic" and "I've Got You Under My Skin" and "Just a Gigolo" and the Italian songs, "Buona Sera" and "Angelina" and "C'e La Luna."
Q: Can you pull off "Sing Sing Sing" — the big-band scorcher your dad wrote and the Benny Goodman band turned into a classic with Gene Krupa's legendary drum solo — with a six-piece band?
A: Oh yes. Our drummer, Mark Adams, he does a really great drum solo on that. He's very funny and animated and really enjoys taking the solo.
Q: What other artists left a lasting impression on you growing up?
A: I loved Tom Jones, that big voice. And I loved Judy Garland and Peggy Lee and Anita O'Day and Frank Sinatra.
Q: Your dad was such a gregarious fellow, did he have people like that around a lot at your home?
A: Gosh, yes. Sergio Franchi came, and Harry Belafonte, Harry James, Al Hirt, Debbie Reynolds, Frankie Valli, Jack Jones, Jimmy Durante, so many people.
Q: What went on — any juicy stories?
A: There was just such a happy vibe. My mom (Gia Maione, Louis' fifth and last wife) cooked, and Tony Bennett came over frequently for dinner. So much joy.
Q: Your dad was a larger-than-life personality, but also an important figure in jazz. But does it seem that his humor was interpreted by some "guardians" of jazz as a lack of musical seriousness?
A: Exactly right. That's what he was perceived as in the jazz community. He's such a big part of our music history in jazz and so amazingly talented, but because he was an entertainer and did funny bits and took sad songs and made them into happy, fun songs, he sort of got eliminated from some jazz worlds.
Q: Did he encourage you musically?
A: He always had my younger brother and myself onstage with him. He'd give us bits to do. We would sing and tell jokes. It was like we were always onstage. He got so much joy out of seeing us having fun onstage. I believe he'd be really happy with what I'm doing.
Q: Were you saddened by the closure of the Sahara, where your father performed so often, as did you?
A: I can't stand it. It's these places that you cannot go and walk in the same place where Frank Sinatra walked, and my dad. It's a shame. All that stuff meant so much to me. To see it be gone, it's sad.
Q: Some children of big stars want to escape their shadow — did you?
A: No, because I do what I want anyway. I love my dad's music, which is so joyful. It connected me more to who my dad was because people share with me their memories of him. It taught me about my father as an adult. I only knew him from a child's point of view.
I'll always sing some of his songs. It's always been great to say my dad was Louie Prima. It's my legacy. I'm proud.
Contact reporter Steve Bornfeld at sbornfeld@ reviewjournal.com or 702-383-0256.
Preview
"Concert for the Community" starring Lena Prima
2 p.m. Saturday
Winchester Cultural Center, 3130 S. McLeod Drive
$15 in advance, $20 Saturday; 702-455-7340
ClarkCountyNV.gov/parks