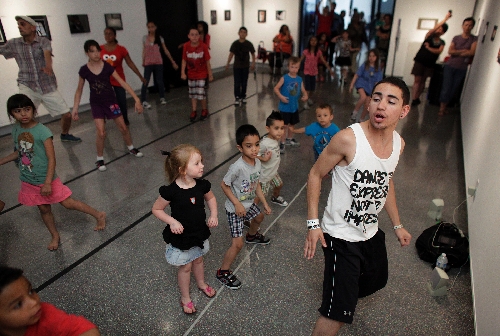 So, you think you can dance? On July 28, you'll find out.
That's the date for this year's National Dance Day, but the Las Vegas-Clark County Library District is helping Summerlin youths get into the groove in the weeks before the event by hosting free weekly hip-hop street dance classes at the Sahara West Library, 9600 W. Sahara Ave., through July. The idea is credited to Kimberly Clanton-Green, the library's branch manager.
National Dance Day was created by Nigel Lythgoe, executive producer and a judge for the "So You Think You Can Dance" television series. Congresswoman Eleanor Holmes Norton, D-D.C., a longtime proponent of healthy lifestyles, introduced a National Dance Day resolution to promote dance education and physical fitness across the U.S.
National Dance Day is a grass-roots initiative to encourage the nation to get moving, and the edict complements first lady Michelle Obama's campaign to fight obesity. The event occurs annually the last Saturday in July.
This day, May 16, the Sahara West Library class was led by Kay Lee of Tunay Street Dance Studio, 1118 S. Main St., which is known for its hip-hop street dance instruction.
Lee said it was the idea of the studio's owner, Jojo Peralta.
"He wanted to establish the studio's name and what we do, which is try to be a positive role model for kids," Lee said. "You know how Vegas has a horrible title, like Sin City, we're always trying to make it a positive outlet for younger kids, to steer them on the good road … (and) not doing drugs or other not-so-positive things."
The ultimate goal is to make a videotape and submit it to the appropriate body in celebration of the National Dance Day.
Marcela Chiarandini, scheduling specialist for the library branch, said she learned a thing or two from the first two practices, including a tendency by attendees to crowd one another.
"We put lines on the floor because the kids seem to (gravitate) toward the instructor," she said.
Chiarandini said the class size keeps growing.
Not all the participants are children. A handful of adults joined in at the back of the room and tried the moves.
Jeane Smith said she got involved with flash mob dances and was looking for another outlet for dance.
"I moved out here around Thanksgiving from L.A., where I retired from a really stressful government job and … I've been looking around for other forms of dance, and I saw the flier in Windmill Library," Smith said. "I'm like the only adult, but I don't care. It's just a lot of fun."
She said it was inspiring how the dance studio was giving back to the community.
Georgie Velinov said he likes dance.
"This is my inside love. I feel electricity and power and peace when I dance," he said.
As the song "Save Me" by Nicki Minaj filled the large room, Lee started things off with a warm-up. It soon led to repetitive dance steps as he got participants used to the choreography.
Not everyone was an attentive student. One little girl kept running back to her grandmother for reassurance that she was doing a good job. Another little boy was more intent on crabwalking along the floor.
At one point, Lee demonstrated an intricate dance combination using an eight count.
"So, it's right foot, open, left foot, open, hop to side right," he said, "then left, then right, six, seven, eight, got that?"
There was silence.
"No," a little girl called out.
The class ended with making a circle, and anyone who felt the vibe could take center stage and show off their street dance moves as the others clapped in time to the music.
The first class saw an estimated 60 people show up, with about 75 at the second and 58 at the third.
If people keep coming and the class keeps growing, how will that affect the outcome?
"It will be amazing just to show how many people from different age ranges want to come out and dance," Lee said. "Hopefully it will be more of an inspiring thing, just to have them come out and have fun. Everyone's a beginner. It's just to have fun."
The library plans four practices in June and four in July. All are slated from 5 to 6 p.m. Wednesdays through July 25, except for the July 4 class, which will be July 3. The hourlong classes take place in the art gallery.
For more information, call 507-3631.
Contact Summerlin/Summerlin South View reporter Jan Hogan at jhogan@viewnews.com or 387-2949.
Hip-hop street dance classes
The Sahara West Library, 9600 W. Sahara Ave., plans to host four hip-hop street dance classes in June and four in July in preparation for National Dance Day on July 28. All classes are slated from 5 to 6 p.m. Wednesdays, except for the July 4 class, which will be July 3. Classes run through July 25. The hourlong classes take place in the art gallery.
For more information, call 507-3631.