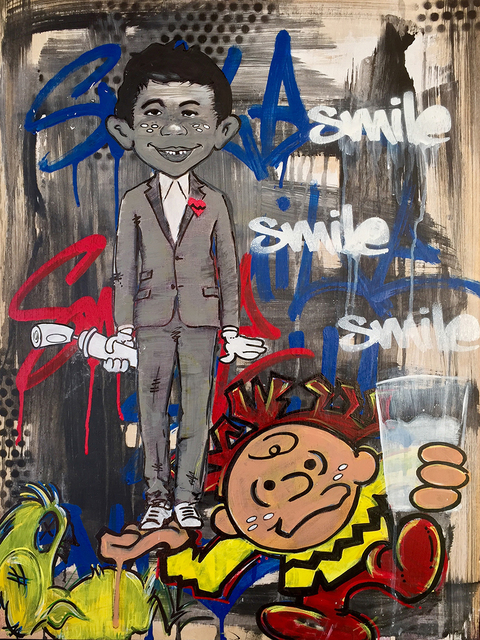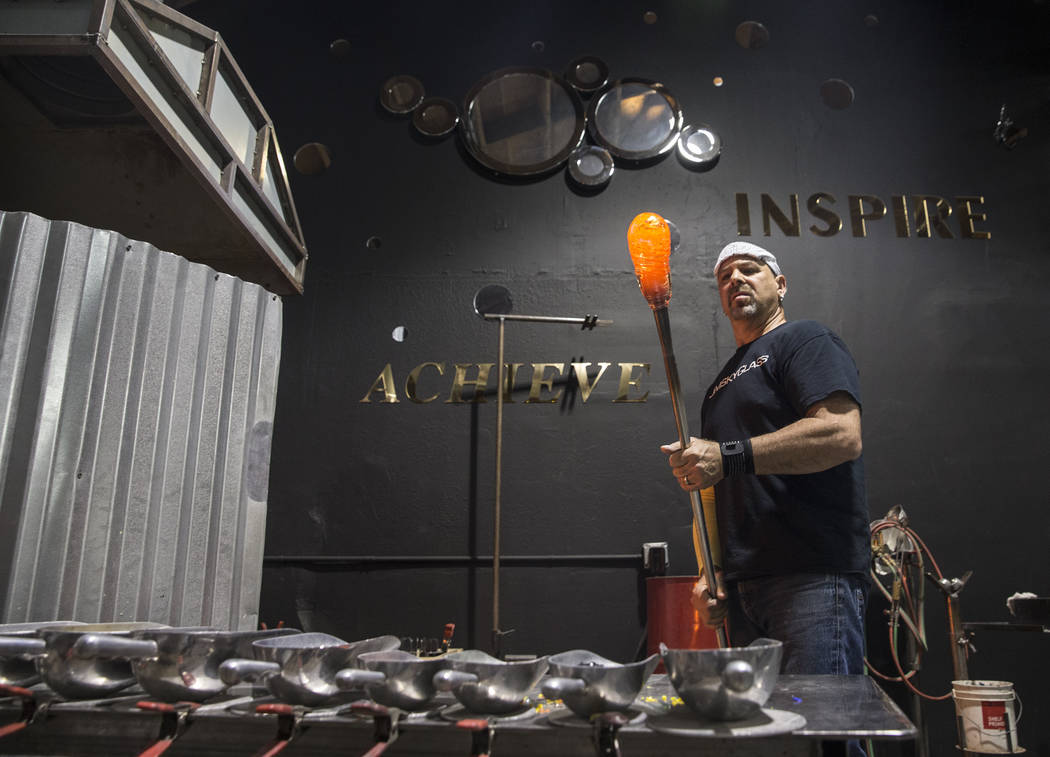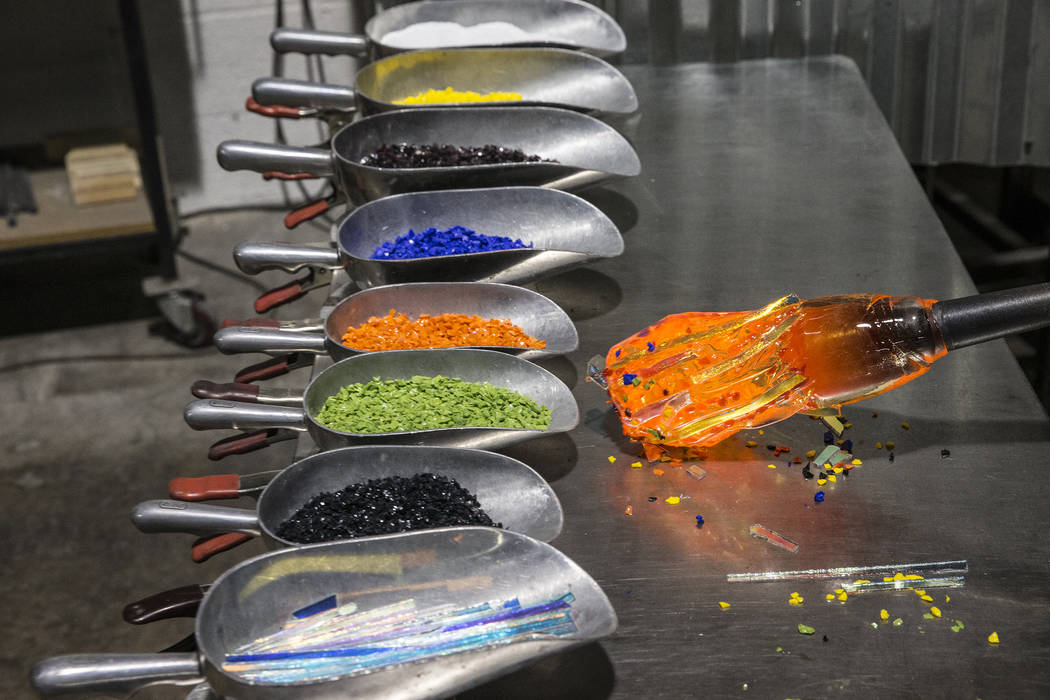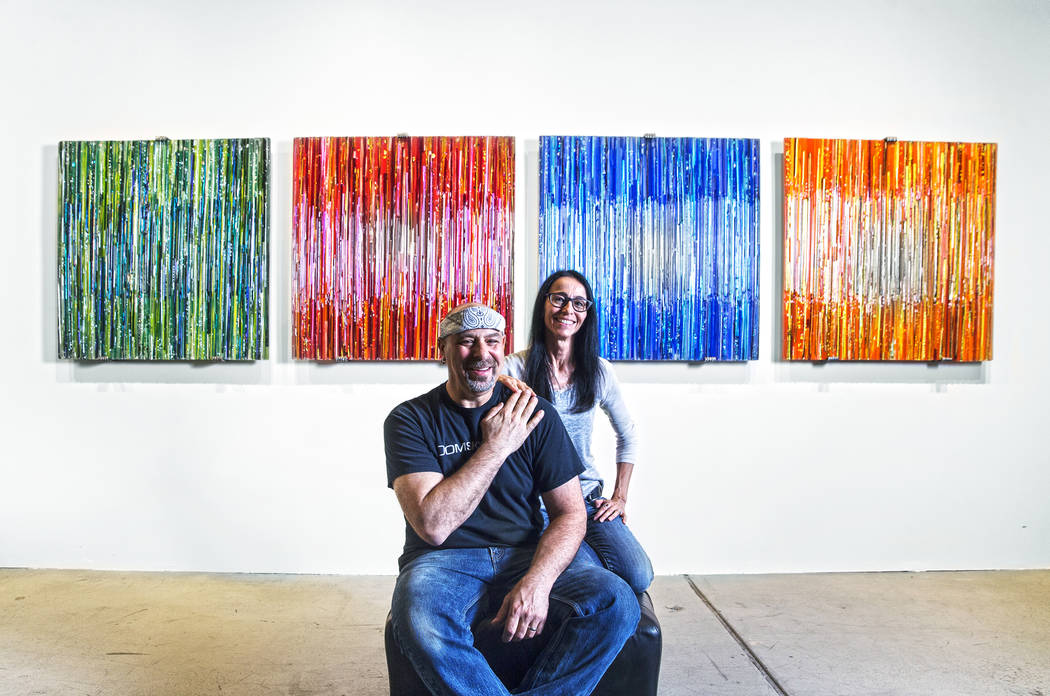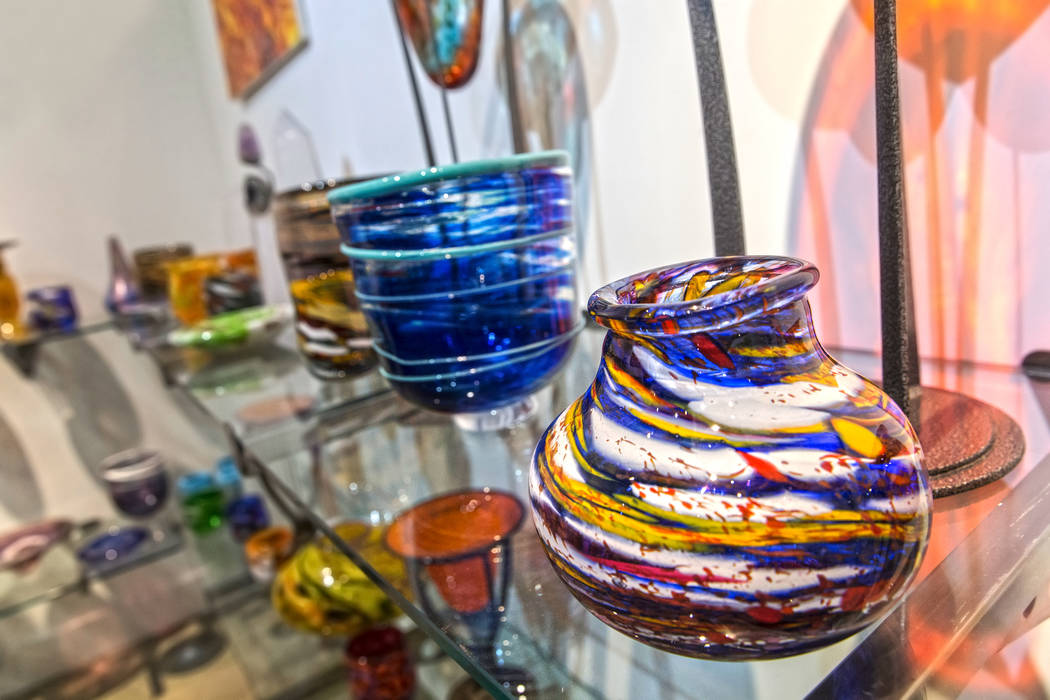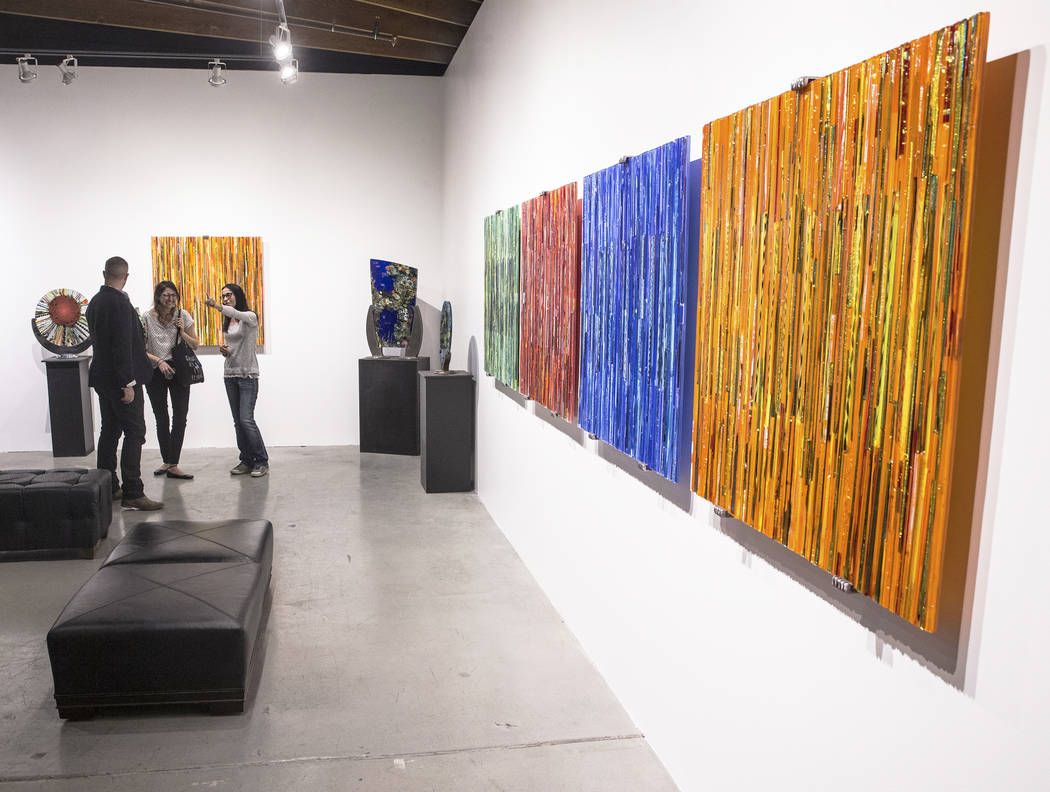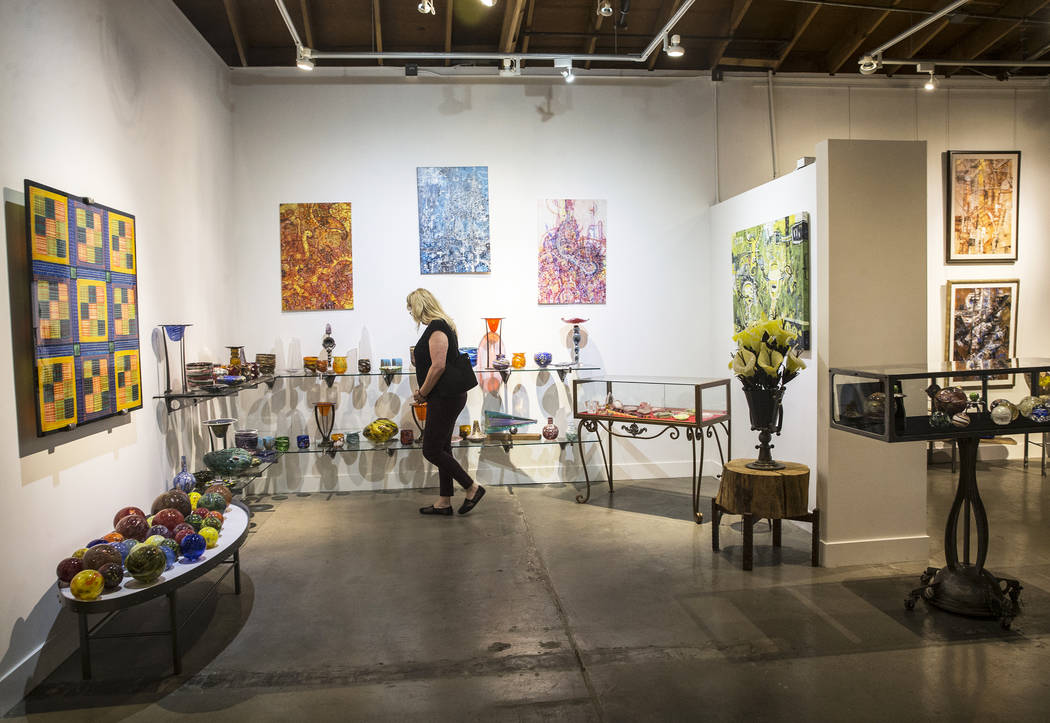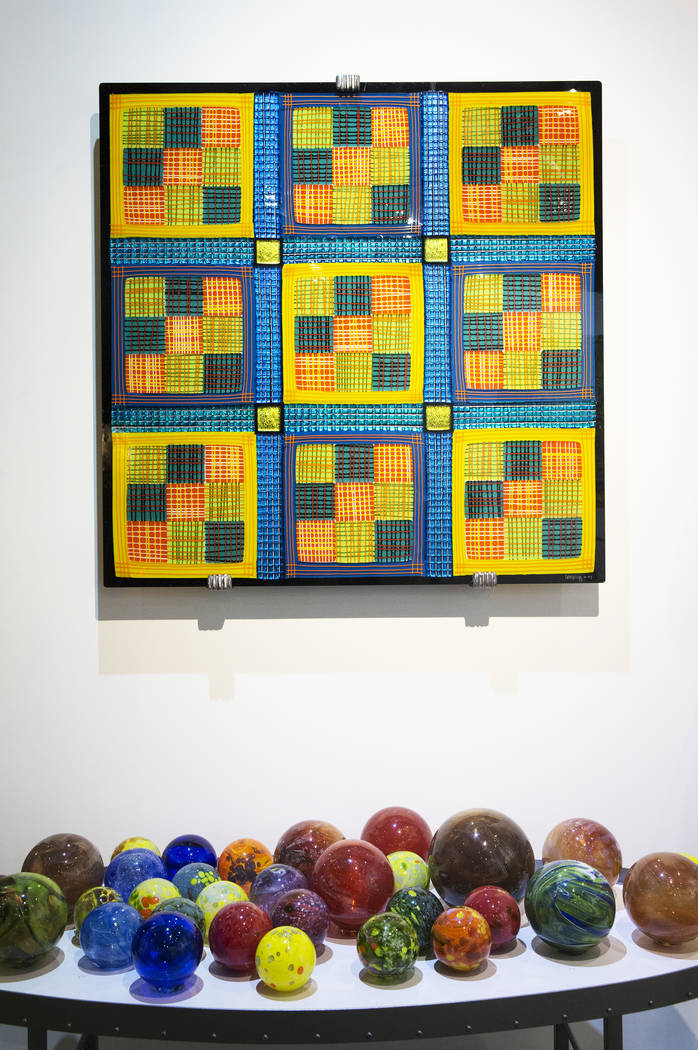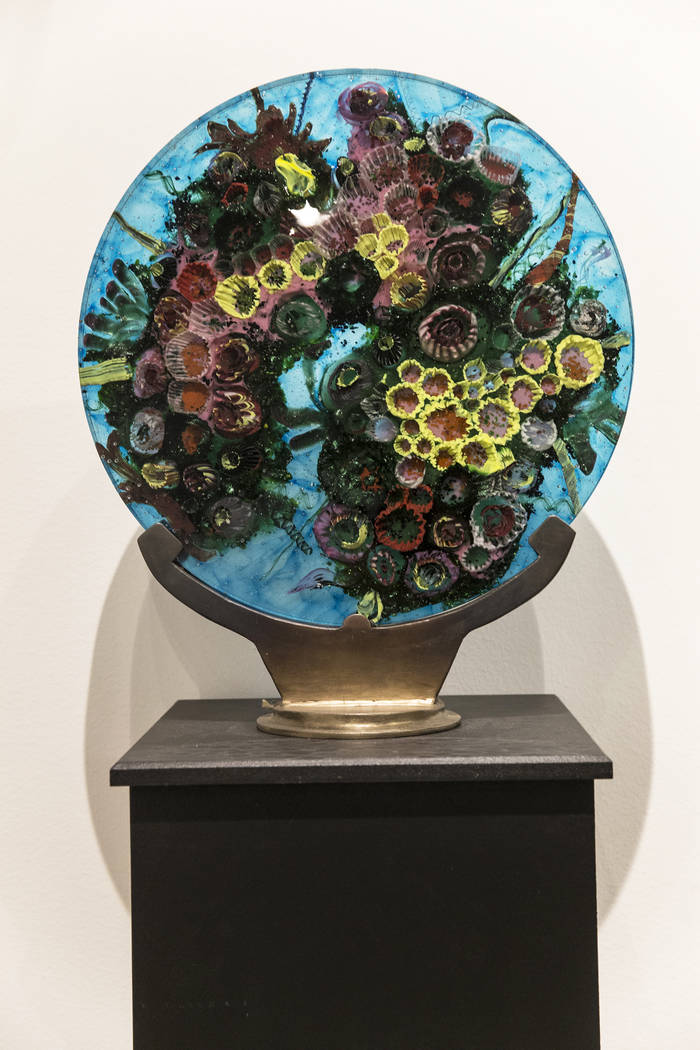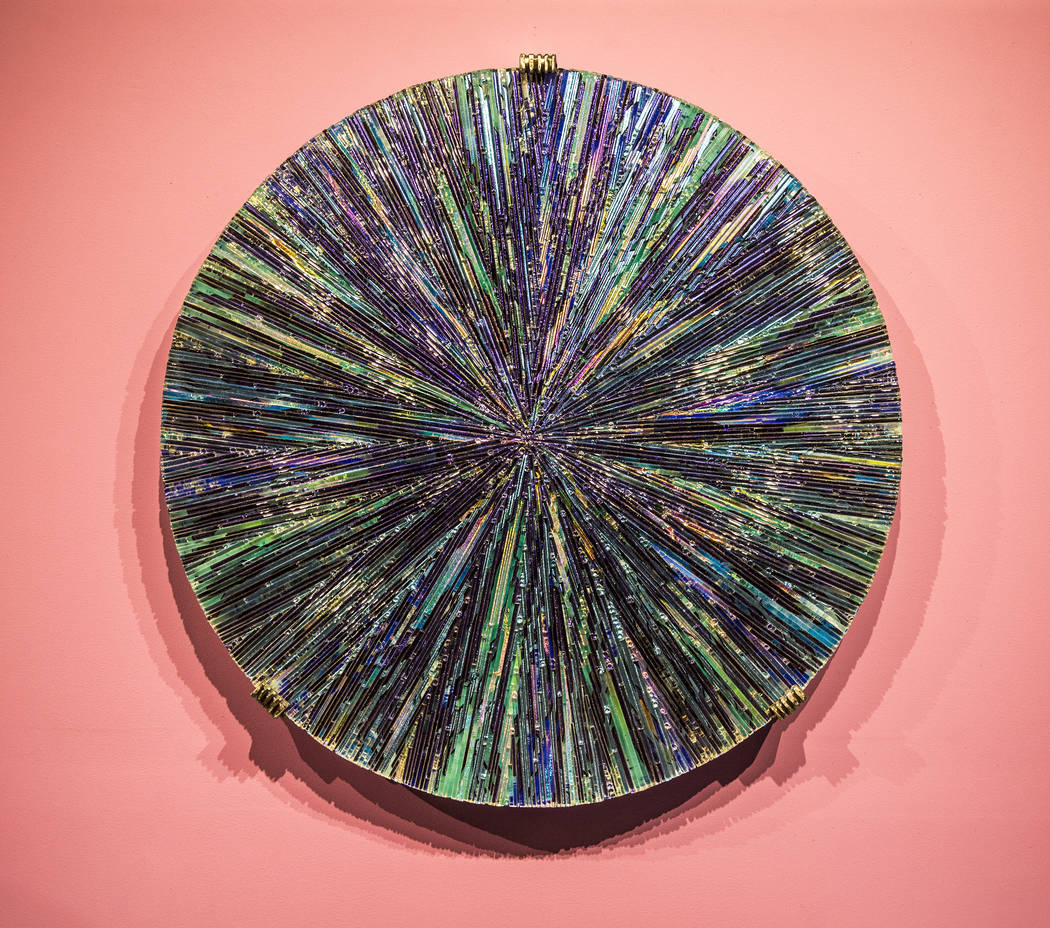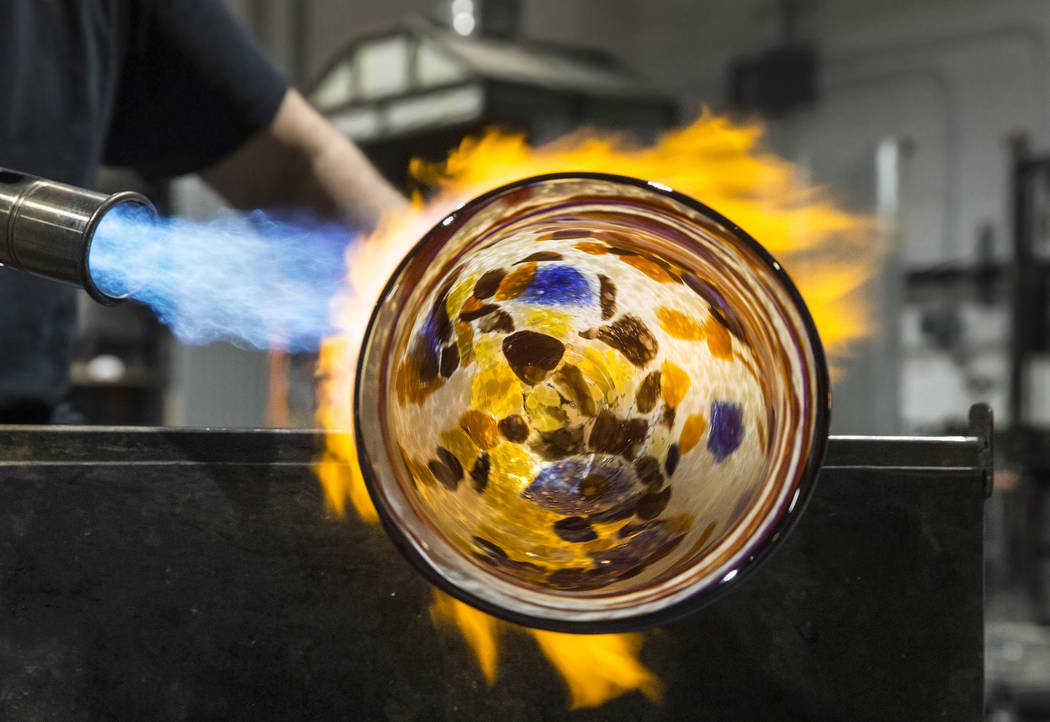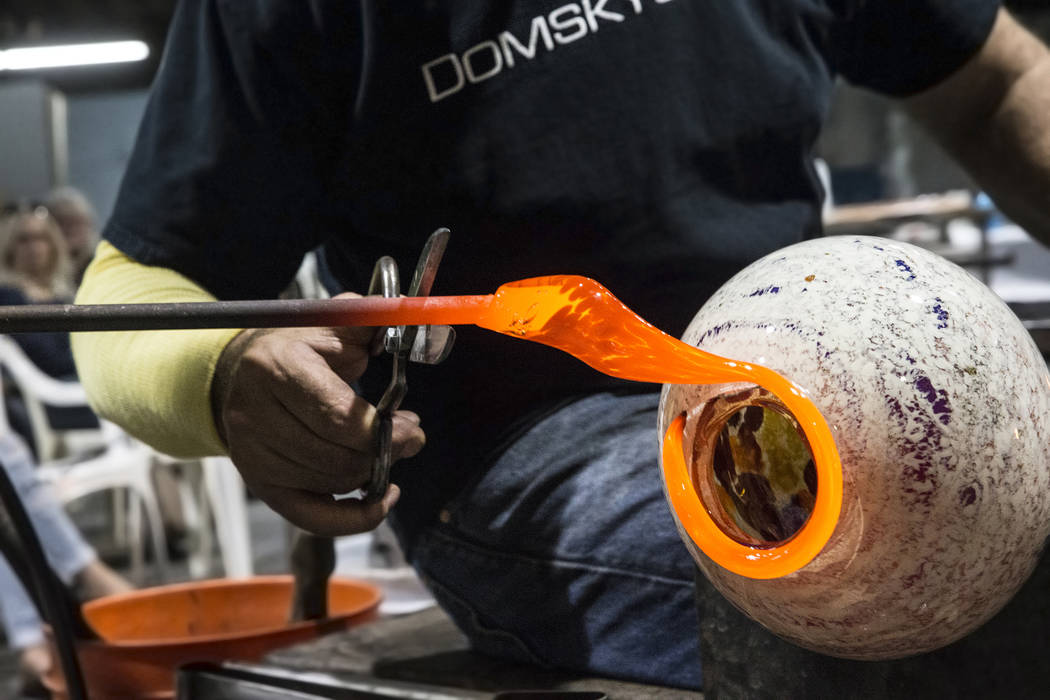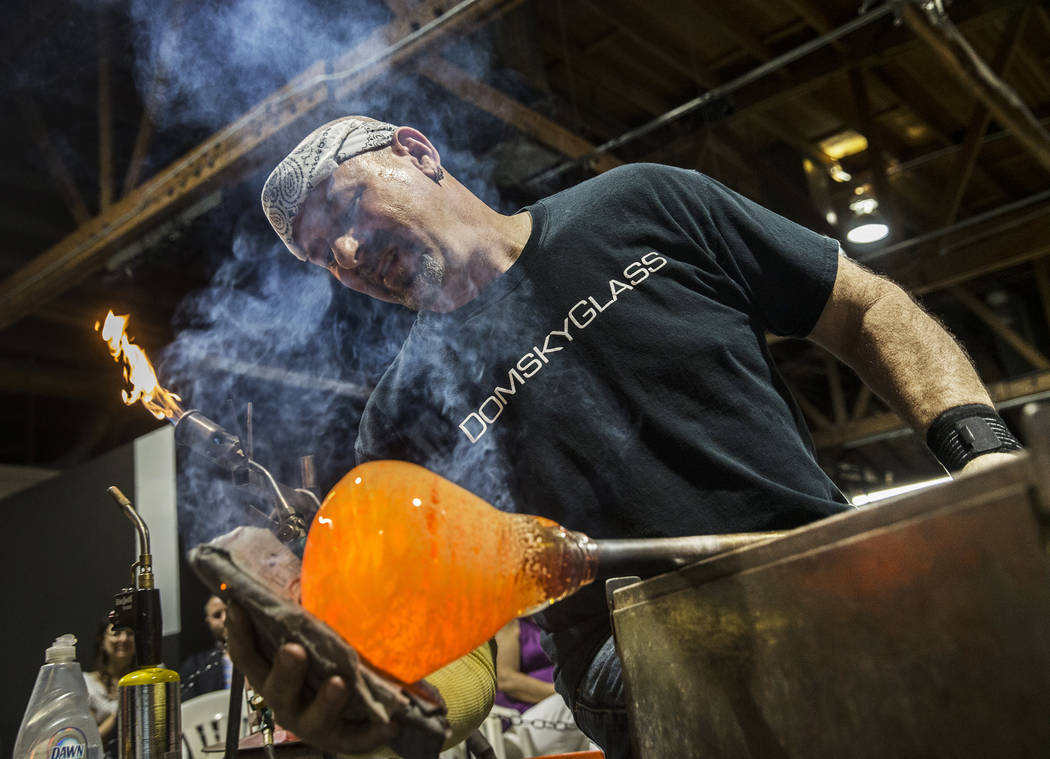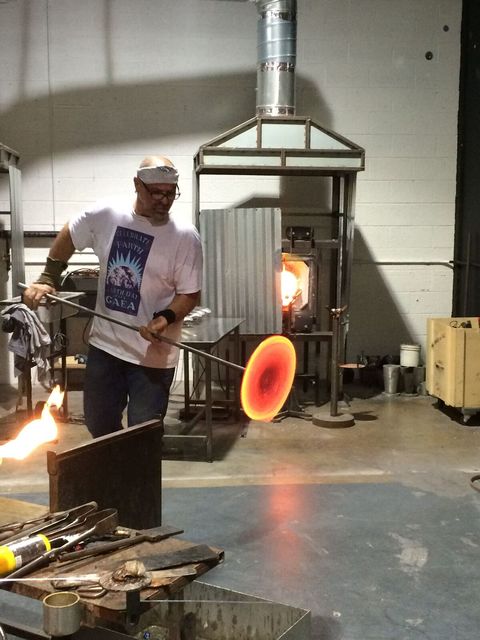 There's an electrical contractor in front, a cleaning supply distributor next door — and a gentleman's club across the street.
But, parked in front of an industrial building at 2758 S. Highland Drive industrial building, a Volkswagen Beetle's license plate offers a major clue to the colorful pursuits going on behind the drab walls: "ARTLIFE" the plate reads.
And inside the 9,800-square-foot studio located in the shadow of the Strip, Larry and Barbara Domsky conjure rainbow-hued creations in glass.
Even if you don't know Domsky Glass — as the husband-and-wife team is collectively known — you may know their work, which is on display at various Vegas venues, from McCarran International Airport's Terminal 3 to UNLV and Wynn Las Vegas.
If you've ever wondered how they do what they do, now's your chance. Because from 6 to 10 p.m. on the first Thursday, Friday and Saturday of every month, Domsky Glass hosts an open house where Larry Domsky demonstrates glass-blowing techniques alongside other artists.
Literally playing with fire, Larry aims a roaring blowtorch at an in-progress work of glass, heating and reheating the blob, spinning and shaping it as it metamorphoses from vase to platter, colors changing as the glass cools.
On the studio wall behind him, a painted Buddha figure looks on, while words of wisdom — "LIVE WITH GOOD INTENTIONS," "INTEGRITY, LOVE AND KINDNESS" "CREATE DREAM INSPIRE ACHIEVE" — loom behind him.
The adjacent gallery showcases Larry's blown-glass creations, along with Barbara's glowing, geometrical fused glass creations, which she calls "flatwork."
The husband-and-wife team has worked in the Highland Drive studio for six years; they previously had a studio on Oquendo Road.
They began the open-house sessions a few months ago, hoping to tap into the monthly energy of Preview Thursday/First Friday gallery showcases, as well as the tourist market a few blocks away on the Strip.
"We do get tourists," Barbara notes — especially those who see their work at the airport or the Wynn and contact them.
(In addition to the monthly open houses, the studio is open by appointment and during scheduled workshops; they also work with families and companies for team-building workshops.
"I think all of us, we're all creative people," Larry says of helping others discover their glass-crafting talents. "People are scared to cross boundaries, but by the end, they're really immersed in it."
The pieces the Domskys made for the McCarran expansion — two 90-by-19-foot dichroic glass creations, one ("Sunset Mirage") showing off burnished reds and oranges, the other ("Cloud 9") shimmering in snowy opalescence — proved a "most incredible opportunity" for them, Larry says, in part because "those commissions carried us through the recession."
They were selling candleholders at First Friday in the Arts District when an architect suggested they apply for the airport commission. "He contacted us later and said, 'I think your work is pretty cool,' " Barbara recalls.
The Domskys were backpacking in South Africa when they received a message from the Clark County Department of Aviation inviting them to be part of what turned out to be a five-year project.
"We were so excited — it helped us move into this building," she notes.
The building brought them closer to where "we wanted to be, in the Arts District," Larry adds, describing his hopes for a future Highland Drive craft district. (He's already got the T-shirt, emblazoned with the words "The Studio LV" adorning a retro-style neon sign that he hopes will one day point visitors to the Domsky Glass studio.)
"We both get visions — we're big on dreaming," Larry says.
In the process, however, "we work long days, pretty much every day," Barbara notes. "We are here all of the time, always building on what that present goal is."
Then again, "reality's a lot harder," Larry acknowledges. "In the dream, it was easy."
Contact Carol Cling at ccling@reviewjournal.com or 702-383-0272. Follow @CarolSCling on Twitter.
Barbara and Larry Domsky on their life, and life's work
Larry and Barbara Domsky may be accomplished glass artists now, with clients ranging from Nike to Neiman Marcus, but it wasn't always so.
Each is self-taught. And each came to the art of glass after exploring other outlets for their creativity.
Larry Domsky came to Las Vegas in the late 1970s and joined Stagehands Local 720, working on such legendary shows as "Jubilee!" and "Lido de Paris" — and with such showroom legends as Sammy Davis Jr. — in what was then "small-town, old Vegas."
Barbara Domsky arrived about a decade later, first painting backdrops for shows, then working in design — which led to a job at a glass studio.
"We both had an interest in glass," she notes, recalling their first small kiln — and the larger ones that followed.
"We finally grew out of our shed," Barbara says of their current 9,800-square-foot studio.
The two met through a mutual friend who noted their mutual interest in art, Larry remembers.
"We started collaborating long before we started dating," Barbara points out. Although, she adds, "he told me on our first date that we were going to get married."
On that date, "I told her this vision of us getting together," Larry says. "It didn't scare her off."
They've been working together for 25 years and married for 23.
And while they work together, each specializes in a different way of working in glass.
Larry's the glassblower, spinning molten blobs of glass into colorful vases and platters.
"It's got power to it and it's got energy, once you learn to harness it," he explains. "Each piece has a voice — you follow that voice when you make it."
Barbara specializes in fused glass pieces, colorful geometric "blankets" that recall her days in South Africa, where she spent 10 years while her father worked in the oil business.
Traveling in the tribal lands, "they had beautiful textiles" — which in turn have influenced what she calls her "squares."
Regardless of the method, "when you start making glass, you have to pay attention," Larry says. "There are so many ways … "
" … to hurt yourself," Barbara adds, finishing his sentence.