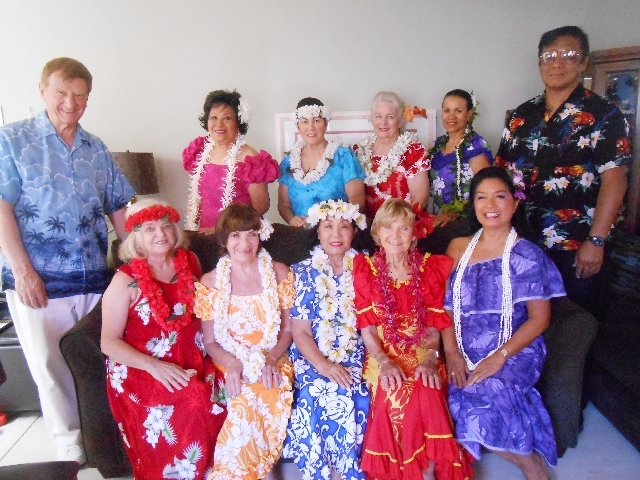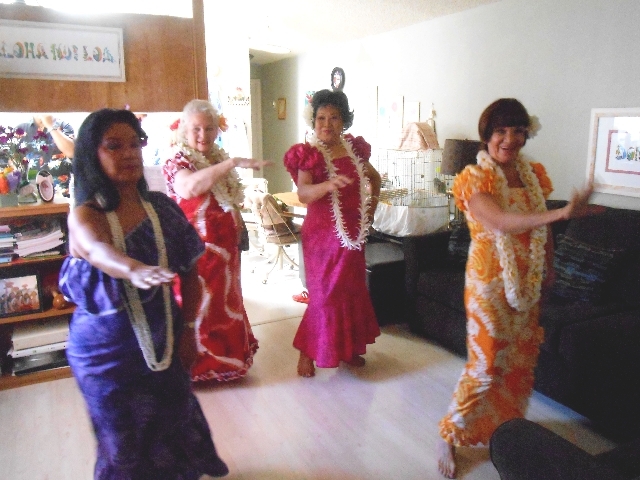 No hip surgery, joint pain or back problem can stop Barbi Evans Baker and her crew of dancers from performing hula.
Even after four hip replacement surgeries and countless of times they have been thrown out, Baker keeps moving her hips along with her performing group, Aloha Nui Loa.
"It means we give much love," Baker said.
The group has been performing from Lake Las Vegas to senior facilities. Its next performance is scheduled at 1 p.m. July 5 at Montara Meadows, 3150 E. Tropicana Ave. The public is welcome.
The group also is scheduled to perform at the fifth annual Rose Regatta Dragon Boat Race and Festival at Lake Las Vegas in October.
She added that the group is willing to perform free anywhere it is invited.
"We just want to give back to the community," she said.
Baker, born in New York, remembered wanting to be an entertainer most of her life. She had learned to play the piano, sing and dance.
When she was 15, she decided she wanted to extend her skills and learn ballet.
"My mother said we aren't going to start from the bottom up," she said. "We were going to start from the top and go further."
Her mother called a ballet instructor with ties to the Broadway community, helping Baker get started in show business.
Baker said she began performing, working with people from Sammy Davis Jr. to Gregory Hines.
After Baker moved to Florida to open a dance studio, friends in the entertainment community encouraged her to head to Las Vegas.
Thirteen years ago, she decided to venture to the valley.
"I taught ballet and jazz to kids," she said.
In 2010, she and her husband took a cruise to Hawaii.
"It was awful," she said. "I didn't gamble, so there was nothing to do."
Things changed two days later when she heard an announcement for hula lessons, which she rushed to.
"It was odd because it was a male instructor," she said. "He was fabulous, though."
For an hour a day for two weeks, Baker was captivated by hula.
The instructor put on a show at the end of the journey to allow the members to show off their new skills.
But Baker wanted more.
When she got back to Las Vegas, she sought out another instructor and found Myra Tolo with the Polynesian Schools of Southern Nevada.
"She is fantastic," she said.
Tolo taught dancers of every age.
"She told me I should take over the Copula," she said. "It means old ladies. I wasn't really happy about the term."
Nonetheless, Baker took seven women — sometimes more, depending on the performance — and turned them into a dance team traveling around the city for free entertainment.
She said once people get to a certain age, they usually are less likely to do anything.
"They get to 50 and think they are not capable of doing anything," she said.
To prove that anyone is capable, Baker and her team have a time for audience participation at each show.
No matter who is there or what ailment they have, Baker reassures members they, too, can perform hula.
"People say, 'Oh, I can't because of my hip,' " she said.
But her dancers don't buy that excuse because they also have had problems ranging from joint pain to surgeries.
Her proudest moment still gives her goosebumps to share. She noticed that a man in the front row was in a wheelchair, using his arms to do hula hand motions.
"I went up to him to asked him to stand up and dance with me," she said.
But he responded that he couldn't because of his legs.
After reassurance and assistance from Baker, he stood and joined the dance.
"His wife came up to us and was crying," she said. "She thanked each and every one of us, saying that was the first time he had gotten up to do something."
From her personal experience, Baker knows the power of dance.
"Every time I visit my doctor, he asks me to dance," she said. "Finally, after the fourth time, I asked him, 'Why do you have me dance?' "
Her doctor, impressed by her movement despite hip problems, said it was to encourage her to continue moving her joints.
"If I go three days without hula dancing, I can barely walk," she said. "So I will always be hula dancing."
For more information, email barbitaps@aol.com.
Contact Henderson/Anthem View reporter Michael Lyle at mlyle@viewnews.com or 702-387-5201.