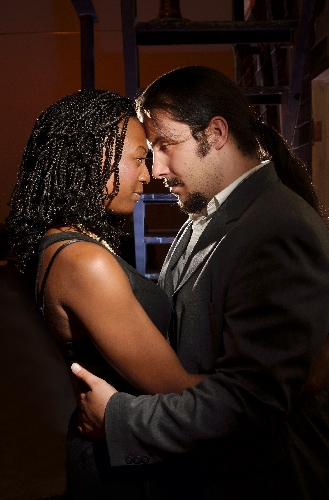 The past couple of weeks have been and continue to be an intriguing time for local theater. We have an abundance of either first-rate work, or work worthy of first-rate thought.
Atlas Productions' take on "Closer," continuing through Saturday at The Box Office (atlastheatre.org) is, I think, a powerful experience that seems to be getting a mixed reaction. Some find this tale about four modern Londoners who have different kinds of relationships hard to take. I've heard it called cold and rigid. Who can say if that's true, but I wonder if, in part, that may be a reaction to the nature of the material.
The characters in Patrick Marber's drama are exaggeratedly cruel. At first, it's easy to distance yourself. But it didn't take me long to realize I had a stronger connection to the two couples than I cared to admit. Marber shares some uncomfortable truths about the messiness of love. He shares secrets that I thought only I knew. Those of us who respond may come away congratulating ourselves on not being as vicious as the characters, while at the same time, probing our similarities. Perfect kind of play for a hearty discussion afterward.
"Wicked," the touring musical now playing through Oct. 7 at The Smith Center for the Performing Arts (thesmithcenter.com), poses questions of a different kind. No matter what you may think of the book and score, the show is a reminder of what Broadway musicals used to be: big, splashy and loud. Whatever happened to this kind of animal? You don't have any question as to where the price of your admission ticket has gone.
"Hamlet" always poses questions, but Table 8's adaptation of the William Shakespeare revenge tragedy by local Troy Heard at the Onyx through Sept. 23 (onyxtheatre.com) is an encounter of a different kind.
Heard has slimmed the script into a 90-minute thriller that sits well on a small playing area. Some will undoubtedly celebrate Heard's vision, but I had a problem with his execution. I was reminded of the importance of an actor learning how to yell.
Brandon McClenahan plays Laertes, a man of the court, and he's been performing locally for years. But when any of his characters lose their temper, as they often do, they all become the same. He has an "anger" pose that never takes into consideration the specific person he's supposed to be playing. He just lets loose.
I admire his willingness to throw himself into a role, but I wish he'd find a director who could help channel his sparks of energy into a varied and complete creation. Still, the script makes for a concept worthy of happy debate.
Less complicated but very much worth seeing is the Super Summer Theatre/Neon Jungle Productions' outdoor musical "Leader of the Pack" (supersummertheatre.org). The only thinking you may wind up doing is wondering how so many talented singers and dancers could be made a part of one show.
Anthony Del Valle can be reached at vegastheater
chat@aol.com. You can write him c/o Las Vegas Review-Journal, P.O. Box 70, Las Vegas, NV 89125.