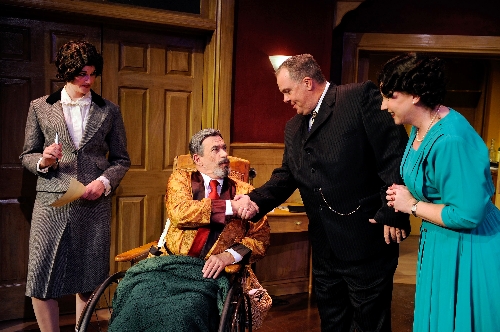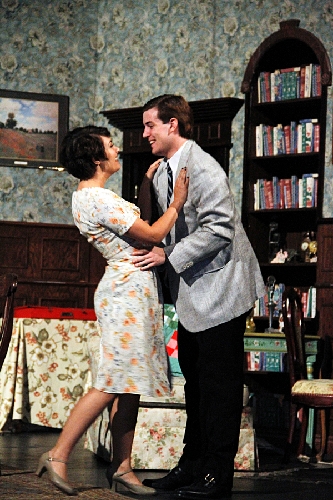 He's "The Man Who Came to Dinner."
Make sure he cleans his plate because "You Can't Take It With You" (not even in a doggie bag).
Clever? Not so much. Fortunately, George S. Kaufman and Moss Hart had wit in spades that they spent on both classic, 1930s screwball comedies that wind up in competition this weekend as Las Vegas Little Theatre unveils "The Man Who Came to Dinner" and the College of Southern Nevada debuts "You Can't Take It With You."
(Vegas shows even more Hart starting Nov. 16, when the playwright's solo effort, "Light Up the Sky," will be staged by the Jewish Repertory Theatre of Nevada, starring Catherine Hicks of "7th Heaven"/"Star Trek IV" fame and directed by Hart's son, Christopher.)
Bowing on Broadway in 1939 (and made into a film in 1942), "The Man Who Came to Dinner" is built around an acerbic, snobby theater critic named Sheridan Whiteside who, while dining at the home of the Stanleys, slips on their doorstep, busting his hip. Six weeks of confinement — and hilarity — follow as the irascible invalid invites convicts to meals, transatlantic calls rack up a nearly $800 phone bill and strange gifts arrive from Sheridan's pals.
A chestnut from 1936 — and winner of the Pulitzer Prize for drama, laughs and all — "You Can't Take It With You" (made into a film in 1938) takes off from the premise of Alice and Tony, who are set to wed but fret over the merging of their families. In one, Granddad raises snakes and evades taxes, Papa makes fireworks in the basement and Sis makes candy. The other clan is more normal — "normal" being a relative term. Toss in a couple of G-men, a Russian ballet instructor, a tipsy actress and a grand duchess, and welcome to Zanyville.
(In a departure of late, CSN stages the play in its Nicholas Horn Theatre, rather than the intimate BackStage Theatre.)
Each play harkens back to the golden era of screwball comedies of the 1930s and '40s onstage and on screen, when Depression-era audiences craved escapist farce, not unlike today's Recession-era crowds — so much so that "Dinner" is part of a drama-free, all-comedy season on Las Vegas Little Theatre's mainstage.
Snappy dialogue, slapstick, mistaken-identity chaos, plots involving marriage and holding the elite up to mockery were central to the farcical screwball comedy genre, epitomized by these two titles, as well as classic films "It Happened One Night" and "Bringing Up Baby."
However, Americans didn't invent screwball comedy, which traces its DNA back to William Shakespeare ("Much Ado About Nothing" and "A Midsummer Night's Dream") and Oscar Wilde ("The Importance of Being Earnest").
Yet Kaufman and Hart were distinctly American interpreters of the screwball style. Though not a smiler, with a countenance bordering on gloomy, Kaufman was celebrated for his dead-on zingers, both as a reporter/columnist for the Washington Times (where his editor allegedly objected to his "harsh" satire) and The New York Times, before delving into playwriting. That wit made him part of the famous intellectual clique, the Algonquin Round Table that also included Robert Benchley and Dorothy Parker.
Preferring collaboration, Kaufman often teamed with other playwrights, but the most fruitful pairing was with Hart, whose career took off improbably as a clothes folder at a garment factory, where his boss let him create a musical revue to promote their clothing line.
Later toiling as an entertainment director at the Borscht Belt in the Catskills, Hart aspired to be a dramatist like Eugene O'Neill, but producers demanded comedies, setting his path. After hitting a box-office jackpot in 1930 on the movie satire "Once in a Lifetime," the duo went on a tear, combining on seven more plays over the next decade. Later, Hart tackled Broadway musicals, creating two of the most enduring, "My Fair Lady" and "Camelot."
Belly laugh-wise, however, "You Can't Take It With You" and "The Man Who Came to Dinner" remain the twin icons of Kaufman/Hart screwball comedy that are tossed into competition beginning tonight, battling quip for quip.
Start the Zinger Meter.
Contact reporter Steve Bornfeld at sbornfeld@ reviewjournal.com or 702-383-0256.
Preview
"The Man Who Came to Dinner"
8 p.m. today, Saturday, Thursday, Nov. 11, 17-19; 2 p.m. Sunday, Nov. 13 and 20; 2 and 8 p.m. Nov. 12
Las Vegas Little Theatre, 3920 Schiff Drive
$21 for students and seniors, $24 for adults (362-7996; lvlt.org)
"You Can't Take It With You"
7:30 p.m. today, Saturday, Nov. 12 and 18; 2 p.m. Sunday, Nov. 13 and 19
Nicholas J. Horn Theatre, College of Southern Nevada, 3200 E. Cheyenne Ave.
$10 for students and seniors, $12 for adults (651-5483)