Lucie Arnaz honors famous father's music
January 15, 2016 - 4:04 pm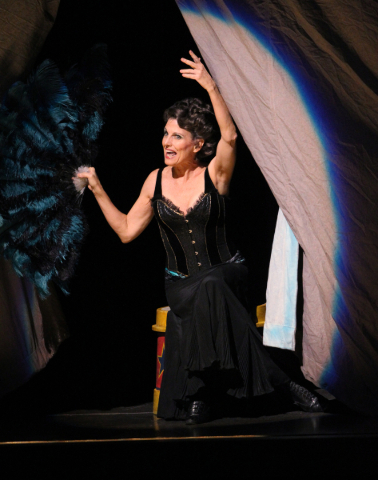 The last time Lucie Arnaz played The Smith Center, she was hanging around — literally — while performing on a trapeze (with the greatest of ease) during the Tony-winning "Pippin's" Reynolds Hall tour stop.
That was November 2014.
This weekend, Arnaz comes back down to earth, literally and figuratively, with her Cabaret Jazz debut, "Latin Roots."
It's a musical salute to the tropical tunes performed by her father, Desi Arnaz — bandleader, star of stage and screen, "I Love Lucy" icon (who, in addition to starring in the sitcom classic with Lucie's mother, Lucille Ball, executive produced such TV hits as "The Untouchables").
Thanks to "I Love Lucy," Desi Arnaz's "music was eventually heard by everyone — it was seen and heard around the globe," Lucie, 64, explains in a telephone interview from her Palm Springs, Calif., home.
In addition to those tunes, however, "Latin Roots" also offers footage of home movies, "songs my father created" and even a song Lucie wrote with her son, Joe Luckinbill, "The Music in My Heart." (Joe's dad is actor Laurence Luckinbill, whom Lucie married in 1980.)
"It's his music and my lyrics," Lucie says of the song, which she describes as "a tribute to big band singers." And that's "the story we tell in the show — because of what my father did for a living."
Given the cozy confines of Cabaret Jazz, "Latin Roots" won't exactly have a big band onstage. (This version of "Latin Roots" features nine musicians, including a percussionist.)
But "they'll sound great in that room," she promises.
From Broadway's Cole Porter and Irving Berlin to the Latin-flavored songs of Agustin Lara and Rafael Hernandez — and Desi Arnaz himself — "these are his tunes," Lucie explains, "but I don't sing like him."
Not even when she's performing some of her dad's signature tunes, from "The Straw Hat Song" to "El Cumbanchero," the title of which translates as "fun-loving person."
When Lucie performs the latter, "I'm singing it to him and about him and for him," she explains. "To me, he was a cumbanchero."
Arnaz's "Latin Roots" show also features some less-familiar songs, which she recalls as "Daddy's ditties," including "You Can in Yucatan" and "A Rainy Night in Rio."
Those ditties have "special meaning to me," Lucie says, because her father sang them to her and brother, Desi Jr., when they were kids. (Desi Jr., who lives in Boulder City, plans to be in the audience for his sister's Cabaret Jazz performance, Lucie reports.)
"I thought these were hilarious when were little," she notes.
But it wasn't until someone sent her cassette tapes of her father performing that she learned their origin: "Your Tropical Trip," a radio game show during which Desi Arnaz and his Orchestra would play a destination-specific ditty to get listeners in the mood for an exotic vacation.
Those cassette tapes — and the arrangements of the songs Desi Arnaz performed, which are now housed at the Library of Congress — initially inspired the first incarnation of "Latin Roots."
That was a much bigger show, titled "Babalu: A Celebration of the Latin Music Craze of the '40s and '50s as Seen Through the Music of the Desi Arnaz Orchestra." The 2010 tribute played New York, Miami and the Library of Congress in Washington, D.C., with Broadway's Raul Esparza and Valarie Pettiford, plus Desi Jr. on percussion.
"When I discovered these archival tapes," she notes, "and I heard this music, with a big-band sound, I thought, 'Wow, no wonder everyone thought that band was so hot.'"
The big-band "Babalu" show may have been hot, but Desi Jr. hates to travel, according to Lucie, and Esparza and Pettiford moved on to other projects.
So "Babalu" evolved into "a celebration of my Latin roots," she explains.
Tony-winning director Tommy Tune, with whom she toured in the musical "My One and Only," directed the revised "Latin Roots," making "a couple of very specific adjustments" that meant "the show was immeasurably improved," she explains.
In 1986, when her father died, "there were no CDs of Desi Arnaz's music," Lucie points out. "You couldn't hear his music unless you were watching 'I Love Lucy.' " Now, however, there are several CDs devoted to Arnaz's greatest hits — along with Lucie's own "Latin Roots" CD.
As for "Latin Roots' " Cabaret Jazz debut, "I'm excited to finally get to do this show in Las Vegas," she notes.
But she'd love to set down roots in Las Vegas with a long-term "Latin Roots" gig. With "fewer opportunities to play Vegas" nowadays, Arnaz acknowledges that "if you play Vegas, you play a night or two nights."
Still, she never underestimates the power of dreams.
"Tell the universe what you want," Arnaz advises, "and be specific."
Read more stories from Carol Cling at reviewjournal.com. Contact her at ccling@reviewjournal.com and follow @CarolSCling on Twitter.