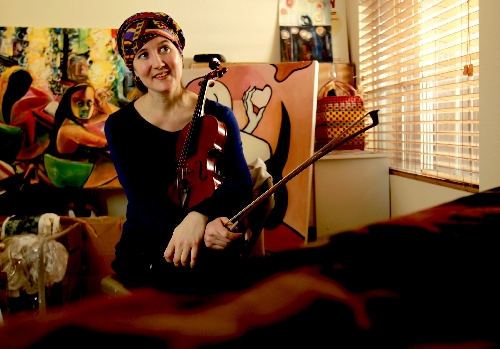 It's an oil painting of the Strip off in the distance, done up in autumn-rain colors and based upon a photograph Laraine Kaizer-Viazovtsev holds in her hand.
"I'm looking at this picture and, I don't know, it didn't speak to me," Kaizer-Viazovtsev says. "So I started putting a bunch of circles on it."
Creating the effect of, maybe, looking through a rain droplet-spattered pane of glass?
"Yeah," Kaizer-Viazovtsev says. "Or when you're really dehydrated and start to see spots."
She laughs.
"My husband likes hiking, and I hate it. And, sometimes, when I'm really dehydrated, I start to see these spots."
Consider it a rough metaphor of Kaizer-Viazovtsev's approach to her art: conventional ideas, and some not-so-conventional ones, given an out-of-left-field twist.
Kaizer-Viazovtsev is an accomplished musician whose resume includes current gigs with the Las Vegas Philharmonic and Celine Dion's orchestra. She teaches. She does studio work, for film soundtracks and other projects. She performs as a strolling violinist and with a variety of ensembles around town.
But Kaizer-Viazovtsev also is an artist who devotes her free time to drawing sketches and putting oils to canvas as a means of self-expression.
A collection of her paintings is completing a nearly yearlong tour of valley library galleries. On Tuesday, the exhibition opened at the Sunrise Library art gallery, where it will remain on display through March 4.
Kaizer-Viazovtsev, 35, was born in Peoria, Ill., into "a big family of musicians," among them her pianist parents. She began taking violin lessons at 5 — and began studying piano, too — and at 13 already was playing weddings and even teaching some of her parents' students.
But, all along, she drew.
"Obsessively," Kaizer-Viazovtsev says. "All the time."
She doodled in class. "Unicorns were a big theme for me," she says, laughing. She drew in sketch books the way other girls wrote in diaries, and for pretty much the same reason.
Kaizer-Viazovtsev was shy then and maybe "a bit antisocial. So it was kind of a way for me to escape, basically."
"It was expression. It was therapy. It was a lot of things. It was a best friend to have a conversation with by yourself. I guess it was kind of a security blanket, almost, especially if I was in an uncomfortable social situation or whatever.
"Anything that was bothering me, it made me feel better that at least somebody was hearing my story, even though there was nobody listening. But just giving it up on paper, for some reason, feels better."
In college, Kaizer-Viazovtsev carried a double major in violin and piano during her freshman year before deciding to focus on violin.
"The noble reason I chose it is … because it's closer to the human voice," she explains. "You can express emotion even more directly."
Also, while "it sounds kind of horrible," Kaizer-Viazovtsev says, "when you're in school, you realize there are just so many amazing piano players out there."
So, becoming a professional violinist seemed more practical, just as it seemed more practical to focus on music and pursue art only as a hobby.
Art remained "really in the background" during college, Kaizer-Viazovtsev says. "It was never really a serious option. I kind of played with it my freshman year of college — 'Maybe I should really give it a chance' — but, again, I'm too practical."
However, years later, when Kaizer-Viazovtsev completed work on her doctoral degree, she rewarded herself by taking an introductory oils class. It was the first real art class she had ever taken, and she was "shocked at how well it went.
"I never really thought I could paint, for example, a still life or something realistic. And, color — I was very scared of it. When I took this class, it really came much more naturally, and I wasn't quite as scared."
Kaizer-Viazovtsev and her husband, Alexander Viazovtsev, lived in Virginia and Arizona before moving to Las Vegas in 2007 to join the Las Vegas Philharmonic. He's currently principal flutist with the philharmonic.
And while music pays the bills, Kaizer-Viazovtsev pursues her artistic inclinations — "my hobby" — in a cluttered studio off the main entrance of her home.
She does abstract and surreal pieces, reproductions of classics and even the occasional offbeat landscape or still life.
Some of her pieces (images also can be viewed at www.Laraines
Painting.com) do lean a bit toward the intense, with dark colors, a sense of mild, suppressed chaos and oddly proportioned human figures.
"I get the comment a lot that, 'I love your work. I just don't think it's something I can hang in my living room above my sofa,' " Kaizer-Viazovtsev says. "And I kind of know what they're saying."
But if there is a thread that ties her work together, it's that "I'm constantly trying to explore new styles.
"Each (painting) at the library (exhibition) definitely is a little piece of me. It's stuff I've come into contact with, or situations or emotions or problems, or different people or different experiences, and a lot of times they're not positive."
She pauses.
"Well, they might not be that negative, either, but they're sometimes not settled. That's a good word: not settled."
For Kaizer-Viazovtsev, art and music turn out to be complementary disciplines. She approaches her painting with, perhaps, a greater measure of planning and discipline than she did before.
Conversely, she says, if "I approach whatever (music) piece I'm working on in the same way that I approach a painting, it really helps me to focus more."
Art also offers Kaizer-Viazovtsev something that performing live music doesn't: Permanence. In a live music performance, a musician creates notes that are called into existence and then, just as quickly, disappear forever.
"The whole thing I love about art," Kaizer-Viazovtsev says, "is that, once you've gotten it out and it's finished and it's good, it doesn't change."
Contact reporter John Przybys at jprzybys@review
journal.com or 702-383-0280.
PREVIEW
What: Recent Works by Laraine Kaizer-Viazovtsevbr>
When: 10 a.m.-7 p.m. Monday through Thursday, 10 a.m.-6 p.m. Friday through Sunday (through March 4)br>
Where: Sunrise Library Art Gallery, 5400 Harris Ave.br>
Admission: Free (507-3900)