Lyft hub in downtown Las Vegas also an outdoor art park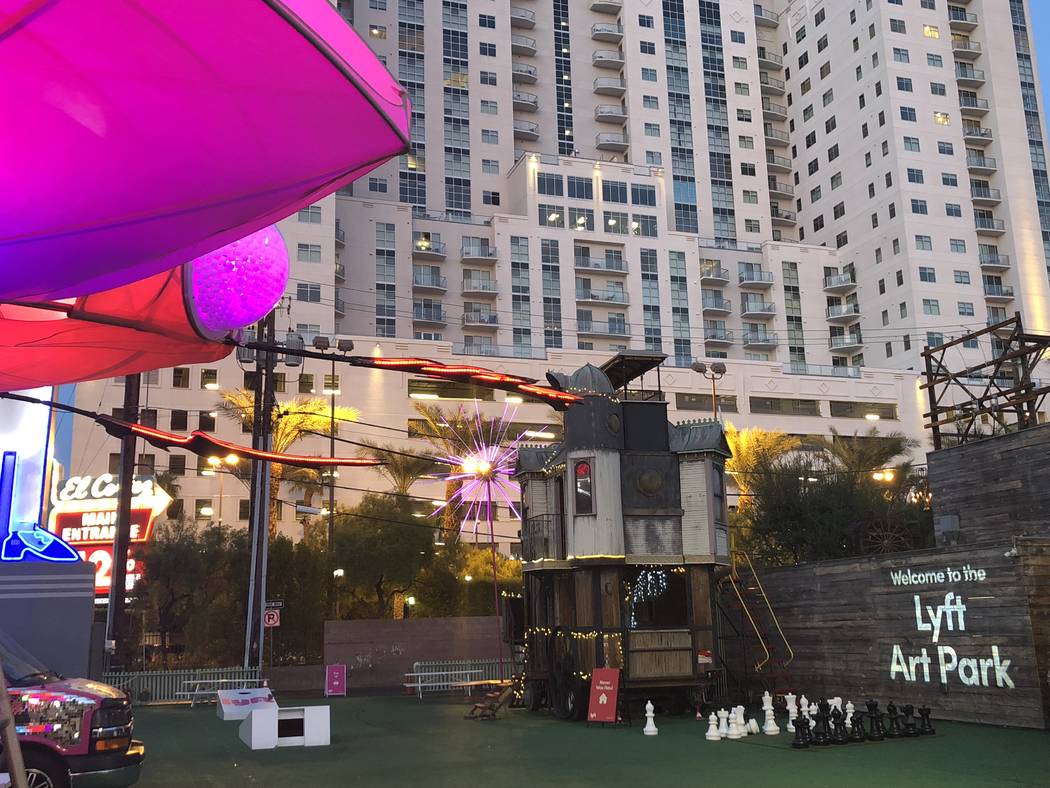 While waiting for a ride in downtown Las Vegas, you might expect to see lively bachelorette parties piling into limousines or tipsy tourists hailing taxis. Or you might see a 30-foot-tall ballerina dancing toward a mobile Victorian home.
Lyft's Art Park merges the efficient with the artful. The pick-up and drop-off hub serves as something of an outdoor museum for wayward art installations.
Located in a former parking lot at the northeast corner of Las Vegas Boulevard and Fremont Street, the public park features a rotating selection of art cars and installations, fresh off their Burning Man appearance.
"The ballerina's name is Euterpe," said Yacob Girma, Lyft Nevada's general manager. "She comes from Spain and made her debut at Burning Man last year."
At nights, the towering mannequin speaks and sings pre-programmed songs while a forklift manipulates her movements.
She lingers near the Never Was Haul, an interactive art car. Guests are invited to board the three-story Victorian abode and discover Victorian-style furnishings and a room with a view.
The Rogue Scarab art car functions as DJ booth and "cuddle puddle." Accented with pillows, the trampoline on the bottom level serves as a lounge for weary downtowners.
Other art pieces include a cartoonish pink taxi, a colorful "Forever Firework" and Lyft's own disco ball-inspired vehicle.
During the day, the free attraction is open to visitors. After 5 p.m., it doubles as a Lyft transportation hub.
Lyft users are directed to gather at the art park when awaiting a ride. Vehicles queue in the alley adjacent to the park, making for pick-ups that are less hectic than hailing a driver in traffic.
"Our first goal is to make the pick-up and drop-off experience seamless," Girma said. "The second goal is to create immersive experiences because waiting for your ride should be fun."
While awaiting pick-up, passengers can relax on benches, play corn hole and giant chess, and use an Airstream where they can charge their phones.
"We wanted to create an immersive experience while you wait for your ride. And Burning Man is something that is uniquely Nevada, so it was a good fit," Girma said. "These are pieces that can't fit in a museum."
Euterpe will soon pirouette out of the park to make way for a polar bear of similar stature.
Lyft partnered with Burning Man artists in June for the Intergalactic Art Car Parade in which vehicles such as Rogue Scarab paraded down Las Vegas Boulevard.
The Lyft Art Park is slated to extend until early 2019.
Contact Janna Karel at jkarel@reviewjournal.com. Follow @jannainprogress on Twitter.