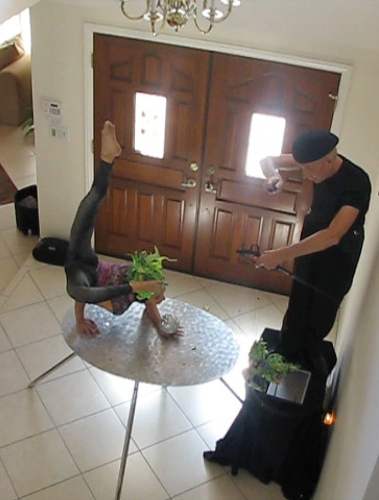 Anthony Rais made his first marionette as a child by taking apart a doll and jointing it with eye screws and string. He practiced with it in secret until he was confident in his abilities, and then he walked it down to the supper table and had it wave at his family.
"Everyone was shocked; they had no idea I'd been working on this," the Whitney-area resident said. "The one who was the most shocked was my sister. She screamed and said, 'You killed my baby!' She's never forgiven me for that."
Rais has been a performer most of his life. He alternates between puppetry, impersonating Siegfried Fischbacher of Siegfried & Roy fame and his first love, magic.
"When I was just a kid, my dentist used magic to calm his patients down," Rais said. "He specialized in kids dentistry. He did a trick with a cotton ball, and I was fascinated. I had to know how to do it."
The dentist told him that a magician never gives away his secrets, but then Rais asked him, "So how did you learn it?"
The dentist relented and told him he would teach him a trick, under the stipulation that he couldn't show it to anyone else and had to practice it and perform it for him at his next appointment. Rais practiced and added lessons from books on magic he found at the library to expand his repertoire.
When he returned, Rais showed the illusion to his dentist, who brought in other dentists to see how the boy would perform under pressure. He started with the trick he'd been taught. Midway he switched to another illusion, performing the same trick with a different technique.
"He went out to a back room and brought out three books on magic for me," Rais said. "That's how my career began."
Puppetry was originally an extension of magic for Rais. He saw a performer make a puppet blow up a balloon and realized that it was just another form of magic.
"It was amazing. It was the smallest illusion I ever saw," Rais said. "It wasn't just the balloon. I understood how the strings raised the hands and arms up. But when the puppet turned its head and made subtle expressions with those tilts and turns, I knew there was artistry involved, and I wanted to be a part of that."
Rais has performed for decades, working on the Strip and traveling the world. He has spent much of life refining the illusion of the marionette. He's quick to point out that because marionettes are not directly connected to the operator, as with a hand puppet, they are seen as independent performers. If a string gets tangled or a prop goes awry, Rais has to sort out the problem without touching the marionette directly.
"The minute you put your hand in, or the minute you lift him, he dies," Rais said.
For this reason Rais always has the puppet on stage and in operation as the lights come up, or he walks the puppet onto the stage.
The new act he's working on increases the difficulty in several directions. He and contortionist Stephanie Castellone are working on a production they're calling "Les Contortionettes!" Rais operates a contortionist marionette named Malachi while Castellone performs in the role of contortionist Malachina. The pair performs in unison and in concert.
While Malachi has been part of his stable of performers for many years, for this act, Rais had to rework and redesign him. There is a complex rigging job to allow the marionette to perform contortions that would tangle the strings of a standard creation.
Castellone and Rais have had to adjust their contortions so that they can perform the same moves.
"It's been very challenging but very rewarding," Castellone said. "I've never done anything quite like this before, and it's taken a lot of work to get here."
Castellone not only mimics the marionette's movements but also has a costume made to match. It takes three hours to apply the make up to match the puppet's painted face.
"I have a mask I can wear in a pinch, if I'm in a situation where I won't have time to put on or take off the makeup," Castellone said.
The pair has been rehearsing in Rais' home, working in the foyer, the only place with enough height. Thursday they are scheduled to perform the act at "Wonderground," a monthly variety show featuring magicians, live painters, specialty acts and more at The Olive, 3850 E. Sunset Road.
Doors are scheduled to open at 7:30 p.m. with various performance sets beginning at 8, 9 and 10 p.m. Admission is $10. For more information, visit vegas wonderground.com.
Contact Sunrise/Whitney View reporter F. Andrew Taylor at ataylor@viewnews.com or 380-4532.