Marx Brothers' merry mayhem lives on in USF's 'Cocoanuts'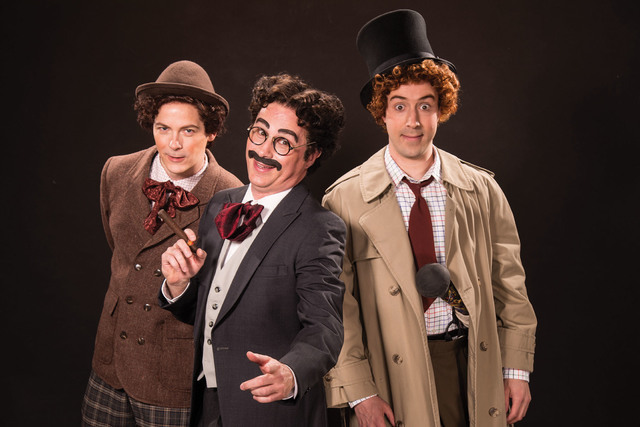 Marxism is alive and well and living at the Utah Shakespeare Festival.
No, not that Marxism. I refer to the comedic doctrine expressed by Groucho, Harpo, Chico and even Zeppo, the straight man of the Marx family act.
As USF's "The Cocoanuts" so gleefully demonstrates, we don't need the real Marx Brothers to generate the kind of merry mayhem that made them movie legends.
This newly reconstituted version of the brothers' second Broadway hit (which became their first movie hit, filmed at the dawn of the talkies) also reminds us of the delights of madcap 1920s musical comedies, thanks to the giddy kick of a score from the equally legendary Irving Berlin.
One of Berlin's hot-cha numbers, "Florida by the Sea," sets the stage for the show's pandemonium, which takes place during the Florida land boom of the Roaring Twenties.
Alas, things aren't exactly booming at the title hotel, where proprietor Mr. Hammer (the uproarious John Plumpis, ably conveying Groucho's indefatigable irreverence) is desperate to get somebody — anybody! — to invest in his new residential development.
So is the hotel's lone bellboy (song-and-dance charmer John Wascavage, a slightly zanier Zeppo), who's aching to put his architectural skills to use.
Until that happens, he's busy romancing heiress Polly Potter (the beguiling Anna Landy). Alas, Polly's domineering mother (Kathleen M Brady, channeling Margaret Dumont's imperious obliviousness) has another suitor in mind for Polly: the unctuous Harvey Yates (smoothie Michael A. Harding), who's in cahoots with a very fatale femme indeed (Melinda Parrett, in ace slinky mode).
Good thing the other two Marx boys — chatty Chico (the nimble Jim Poulos) and silent Harpo (killer clown Tasso Feldman) — have their own schemes in mind. Assuming they have minds — but maybe they lost them en route to Florida.
Adapting George S. Kaufman's original book, Mark Bedard scrambles multiple elements to delirious effect, adding everything from door-slamming farce to vaudeville to augment the Marxes' history-of-comedy act, with Harpo the silent clown, Chico the immigrant figure of fun and Groucho the rapid-fire verbal wit.
Director Melissa Rain Anderson keeps the multiple plates — I mean plots — spinning to a fare-thee-well, balancing "The Cocoanuts' " numerous nutty elements with throwaway ease. But you may be too busy laughing to notice the considerable artistry on display — which is exactly as it should be.
Review
What: "The Cocoanuts"
When: In repertory through Oct. 15
Where: Randall L. Jones Theatre, Utah Shakespeare Festival
Tickets: $36-$77 (800-752-9849, www.bard.org)
Grade: A