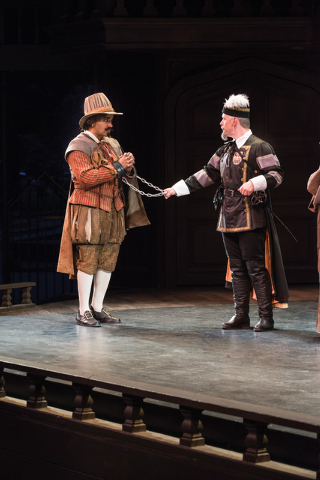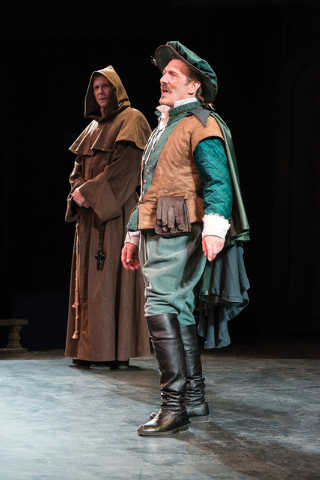 Shakespeare never knew his "problem plays" were a problem.
That description of didn't come along until the 19th century, courtesy of (who else?) a pesky theater critic responding to Henrik Ibsen's searing depictions of characters beset by moral dilemmas.
When it comes to moral dilemmas, however, Ibsen's got nothing on Shakespeare.
The Bard conjures a doozy in "Measure for Measure," which the Utah Shakespeare Festival presents this summer — for only the third time in its 53-year history. (So, for all those planning to "Complete the Canon" by seeing all 38 of the Bard's works at the festival through 2023, now's your chance.)
It's hardly a surprise that "Measure for Measure" is rarely produced, considering its frequently confounding characters and wild fluctuations between lowdown comedy and highbrow philosophical questions. Among the latter: Do the ends justify the means? Should the punishment fit the crime? Must power corrupt the powerful? And does sanctimony inevitably lead to hypocrisy?
All those questions will be pondered, if not answered, as "Measure for Measure" unfolds in vice-ridden Vienna. The term "Sin City" hasn't been invented yet, but it definitely applies to the city's busy brothels and bars.
There, Duke Vincentio (John G. Preston, strikingly pensive) considers how enthusiastically the locals flout his realm's strict laws — and announces he's leaving town, appointing the puritanical Angelo (Steve Wojtas, seething with repressed passion) as his enforcer.
Angelo enforces, all right, ordering young Claudio (an earnest Zack Powell) arrested. Claudio's crime? Impregnating his beloved betrothed. The punishment? Death.
Enter Claudio's chaste sister Isabella (the gentle — sometimes too gentle — Erika Haaland), who's about to take her vows as a nun when she receives word of Claudio's plight. Appealing to Angelo for mercy, he agrees to spare Claudio's life — provided Isabella surrenders her virginity. To Angelo. (A doozy of a dilemma indeed.)
Contrasting the play's knotty conflicts with its naughty antics, director Laura Gordon gives equal weight to each. That approach definitely ups the entertainment factor — especially whenever the rascally Lucio (a nimble Jonathan Smoots) capers about, demonstrating his utter cluelessness with every booze-soaked boast.
But it also undercuts this "Measure for Measure's" power, making its life-or-death dilemmas a bit less dramatic. Then again, it is a comedy, if only because (spoiler alert!) the play doesn't end with a bunch of dead bodies littering the stage.
No, whatever their failings, the characters of "Measure for Measure" are only human. Which means there's no escaping the perennial dilemmas bedeviling them — and us.
Contact reporter Carol Cling at ccling@reviewjournal.com or 702-383-0272.
Review
"Measure for Measure"
In repertory through Aug. 29
Utah Shakespeare Festival, Cedar City
Grade: B
ALL THE REVIEWS:
'Twelfth' finds its best, true self with balance of heart and humor
Deep in 'Woods' lies tale of human truths (witch warts and all)
It takes game of thrones to get young prince to find his way
You said it, sisters: Finding right romance requires keeping wits
With Gold Rush-era 'Comedy of Errors,' there's droll in them thar hills