Metal sculptor creates 'Vegas Strong' tribute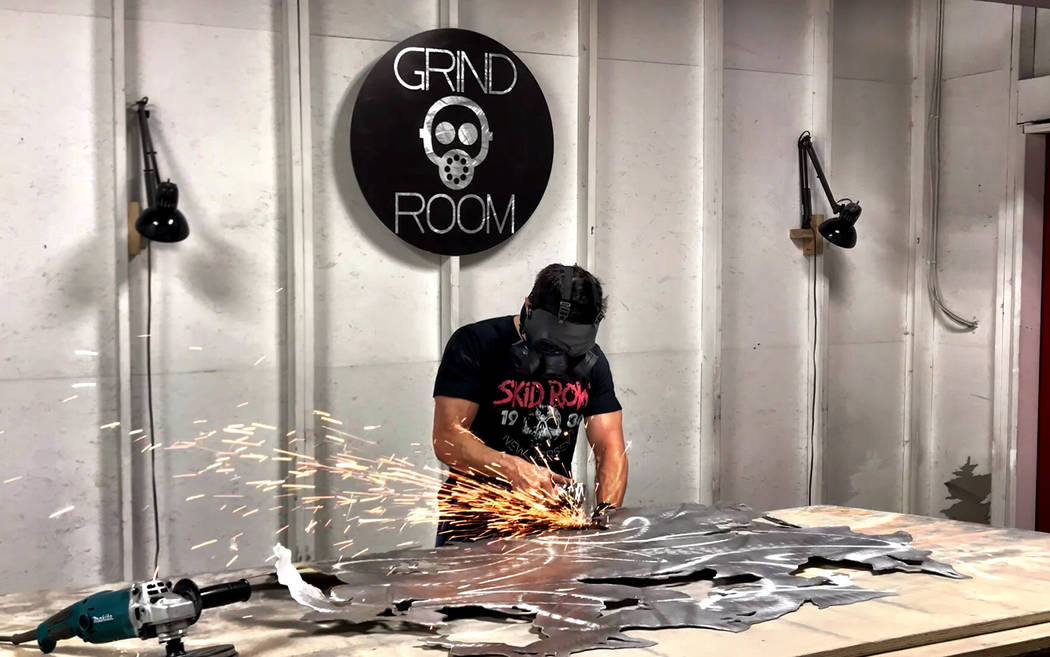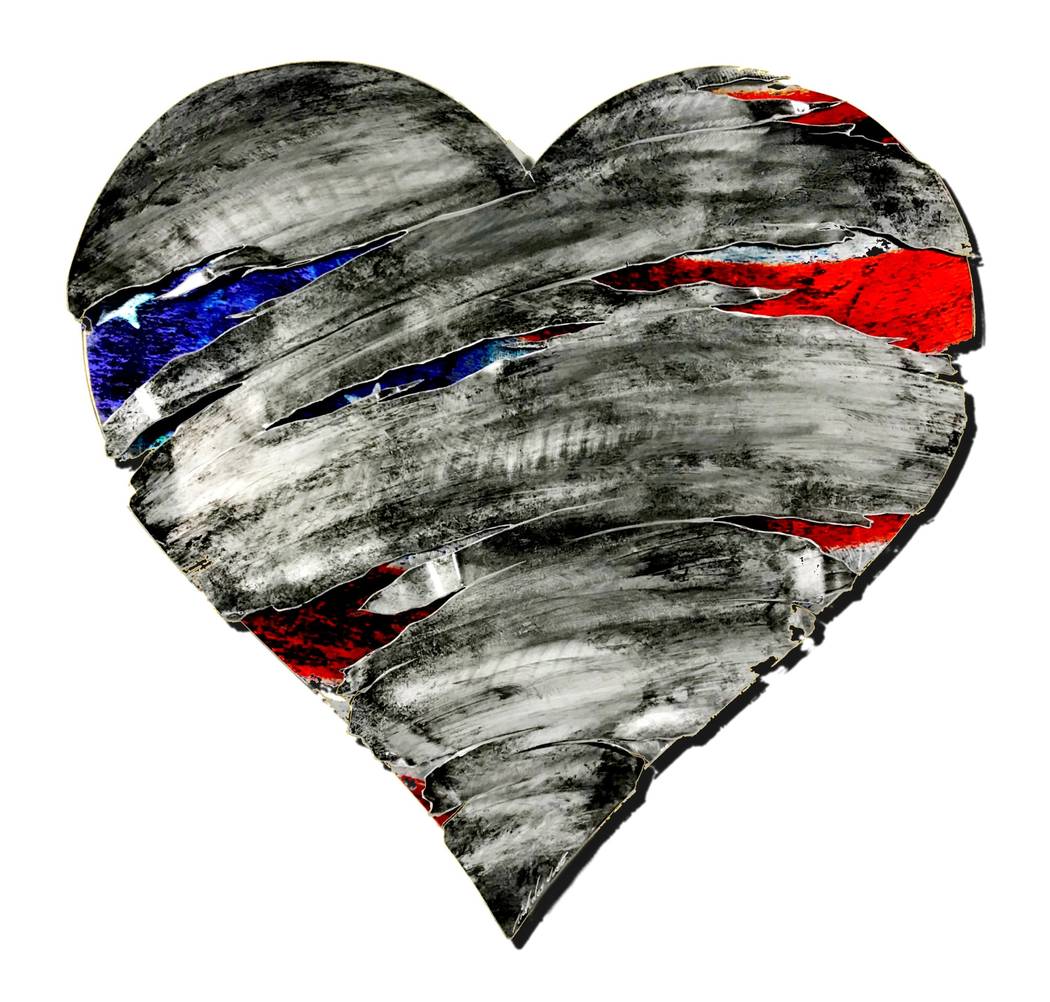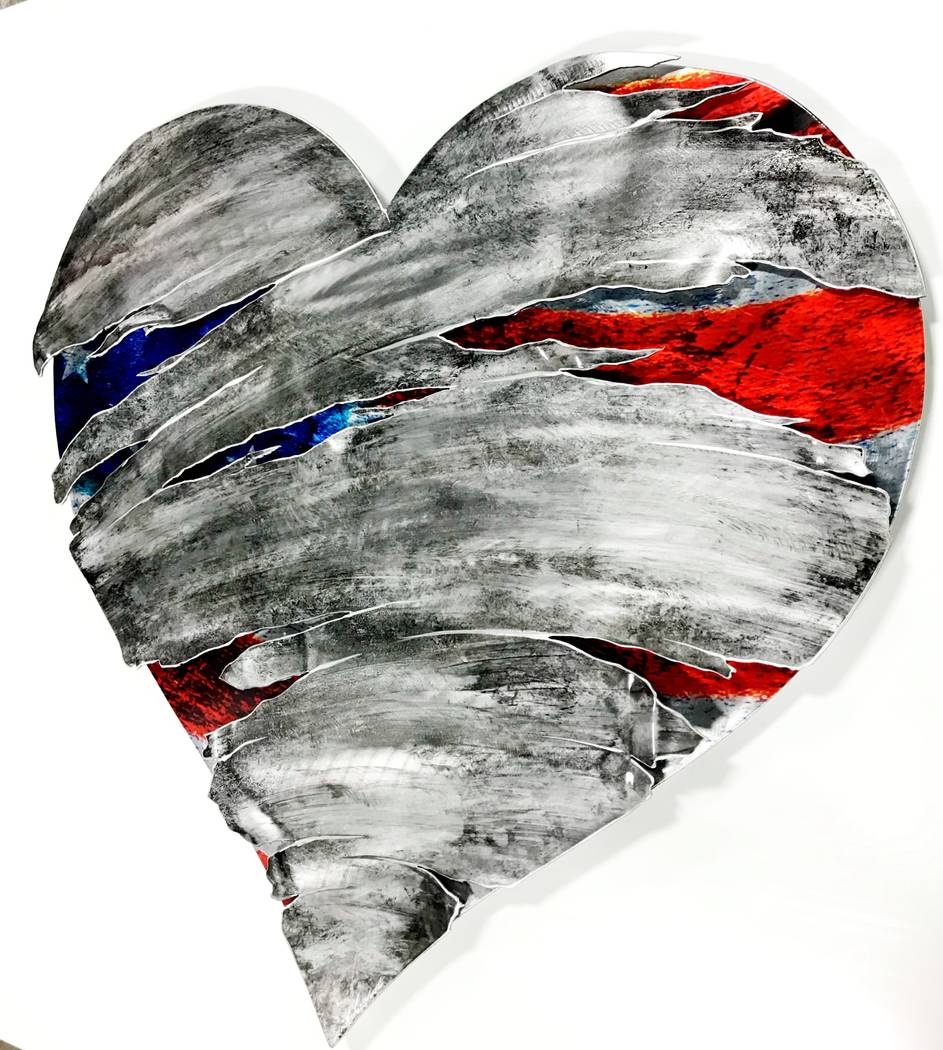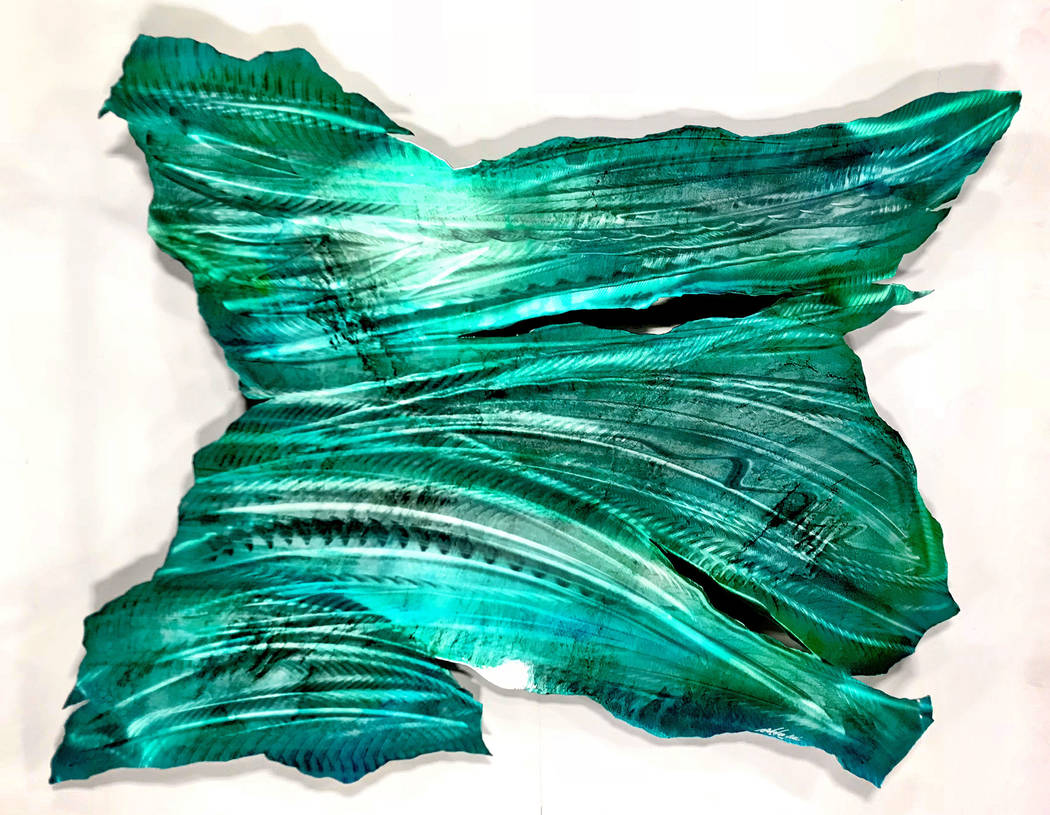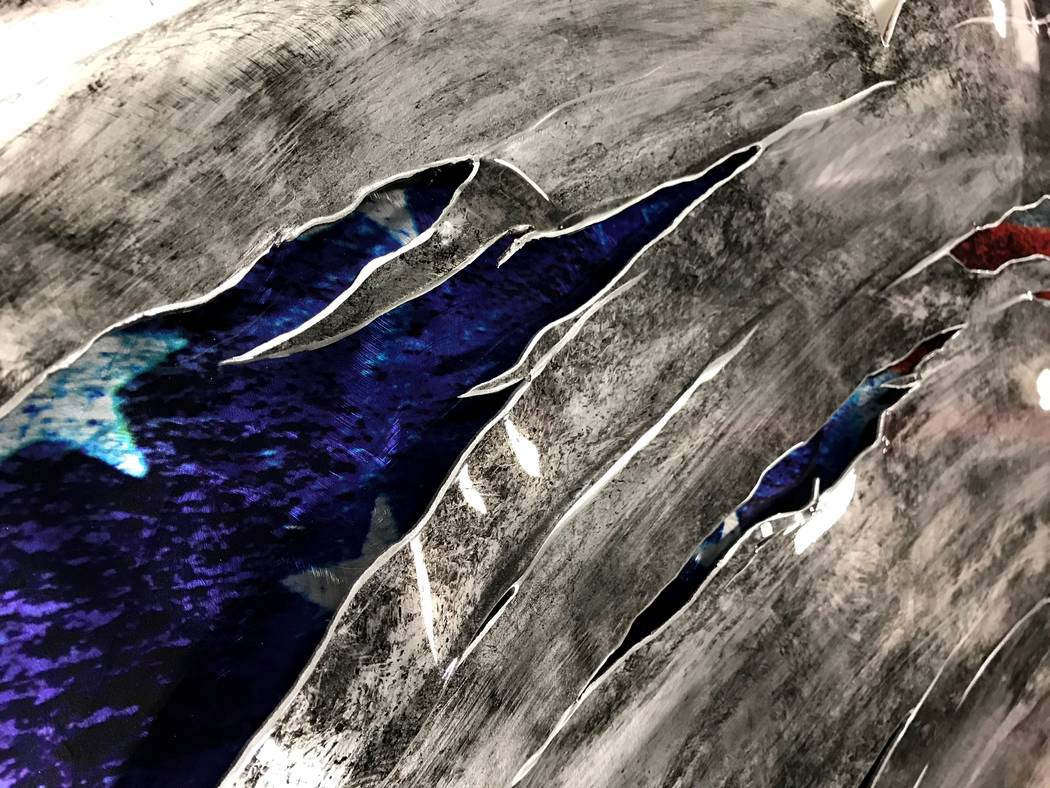 Metal artist Nicholas Yust will have about a dozen works on display — and for sale — during meet-and-greet appearances Friday and Saturday at Wyland Gallery in Planet Hollywood Resort's Miracle Mile Shops.
But it's the 13th, not-for-sale work that has a special Las Vegas link.
Yust created the heart-shaped metal wall sculpture, titled "Vegas Strong," over a two-week period in response to the Oct. 1 mass shooting on the Strip.
"I wanted to let the people of Las Vegas know the entire U.S. was thinking of them," the Cincinnati-based artist said in a telephone interview. "I was wanting to do a piece ever since the tragedy occurred."
The 35-by-36-inch sculpture — which features an abstract American flag, layered with a bent and twisted piece of aluminum — represents "the patriotism underneath we all have," Yust says. "It can be tattered, but not destroyed."
After this weekend's debut, "Vegas Strong" will remain at Wyland Gallery until the Las Vegas Office of Cultural Affairs reviews his donation offer. (Ally Haynes-Hamblen, director of Las Vegas' Office of Cultural Affairs, reports that her office processed more than 50 donation requests in the first six months following the Oct. 1 shooting.)
The artist's connection to Las Vegas extends beyond "Vegas Strong," however.
For the past decade, he's been a regular visitor to Artexpo Las Vegas and other World Market Center showcases, which he describes as a gateway to the West Coast for artists looking to connect with designers and art consultants.
He estimates he's sold 25 to 50 of his metal sculptures to local collectors, with his commercial work on display in businesses, hotels, casinos — and at Wyland Gallery.
But Yust's frequent trips to Las Vegas also have given him an appreciation for the city itself, which he describes as "a melting pot for design" and one of his favorite cities.
"Being from the Midwest," he says, "Las Vegas brings to me the quintessential feeling of 'Bright Lights, Big City.' "
Art, engineering mix
For those who think art and science are mutually exclusive, artist Nicholas Yust has two words: guess again.
The art came first for the Cincinnati-based Yust, but science helped him shape that artistic vision, as he demonstrates in the three-dimensional metal sculptures that are his trademark.
Yust began his collegiate career studying art at the University of Cincinnati, focusing on abstract oil pastels and interior architecture.
"But I got bored," he admits. So he transferred to Ohio's Wright State University and earned two engineering degrees: a bachelor's in materials engineering and a master's in metallurgical engineering.
Yust also worked as an engineer at Wright-Patterson Air Force Base and General Electric, and his engineering experience plays into the art he creates in his Cincinnati studio.
Studying the transformation of metals — "thermal, electrical, mechanical and chemical" — enables the artist to have a visual understanding of what's happening at a microscopic level, he says.
So when chemical reactions are occurring, Yust says, he not only takes advantage of those physical changes but knows why they're happening.
Aiding those effects: such tools as cutting torches and grinders.
Progressing from aluminum panels to free-standing sculptures, Yust developed more than a dozen unique grind patterns — and experimented with transparent coatings that allow those grind patterns to be seen through a spectrum of colors. That, in turn, evolved into an atomized acrylic painting process for metal.
"You can't really see what's going on in metals," he says. "You really have to have imagination to understand what's happening."
Contact Carol Cling at ccling@reviewjournal.com or 702-383-0272. Follow
@CarolSCling on Twitter.