Michael Cavanaugh returns to salute Piano Man, Rocket Man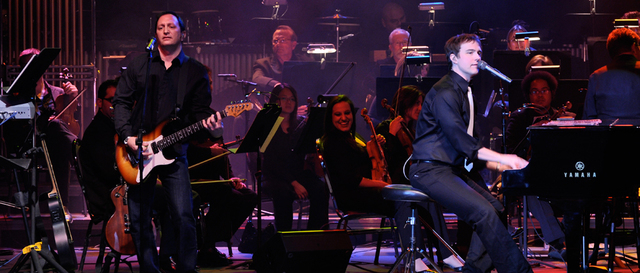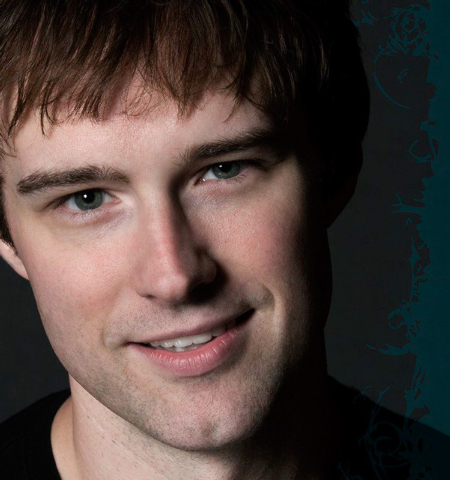 Michael Cavanaugh made his name — at least on Broadway — with "Movin' Out."
This weekend, however, the singer-pianist is coming home. Again.
The Tony- and Grammy-nominated musical star of the aforementioned Billy Joel musical returns to The Smith Center's Cabaret Jazz Friday and Saturday, headlining a salute to the original Piano Man and another rock legend who definitely fits the description: Elton John.
Both Joel and John fit within the framework of "the American Rock 'n' Roll Songbook" — which seems appropriate, considering Billboard's description of Cavanaugh as the "New Voice of the American Rock and Roll Songbook."
As that voice, Cavanaugh has carved out a niche that includes performing the songs of Joel and John (and sometimes James Taylor, Paul Simon and Neil Diamond) with symphony orchestras — and at so many corporate functions Reuters named him 2013's "Corporate Entertainer of the Year."
And, when he's lucky, audiences can find Cavanaugh at Cabaret Jazz, which is "a little different" than most of the venues he plays.
For one thing, "my wife and my kids are in the front row," he points out.
No wonder "I love playing there," Cavanaugh says.
But it's not the only reason.
Despite Cabaret Jazz's intimate, clublike setting, "it's more of a concert," he explains in a telephone interview. "It's not about keeping the dance floor going."
At this weekend's performances, audiences are likely to hear everything from John's "Benny and the Jets" and "Goodbye Yellow Brick Road" to Joel's "You May Be Right" and "Scenes From an Italian Restaurant."
He'll be joined on stage by drummer Johnny Fedevich, keyboard player Jamie Hosmer, guitarist Giovanni Mastro, saxophonist John Scarpulla and bassist Billy V.
During their Cabaret Jazz performances, Cavanaugh's also planning to preview a couple of his own songs from an upcoming album.
But never fear — he's not forgetting Joel's signature tune, "Piano Man."
How could he? It's the song (and the singer) that changed his life.
If you haven't heard the story, flash back to 2001, when Cavanaugh was one of New York-New York's dueling piano guys, pounding out the pop tunes — and firing up the crowds — at the Bar at Times Square. (Cavanaugh describes the scene as "like 'Animal House' " — with pianos.)
One fateful night, the crowd included Joel himself, who spotted Cavanaugh, joined him on stage for a couple of numbers and made him the proverbial offer he couldn't refuse: joining him and legendary choreographer Twyla Tharp for the dance drama "Movin' Out."
Singing and playing more than two dozen Billy Joel songs in the show, Cavanaugh earned glowing reviews from the likes of The New York Times; theater critic Ben Brantley described him as "remarkably accomplished" and "the amazing Mr. Cavanaugh." (Another review noted that Cavanaugh "stands out as a great singer, with an energetic personality and an apparently bottomless well of vocal stamina.")
But after three years and more than 1,200 performances, "Movin' Out" ended its Broadway run — and Cavanaugh was ready to move on.
And, he hoped, to come home to Southern Nevada.
"I originally wanted to get a showroom here," he notes, and "I got offers for four-wall deals," where he would rent a showroom for his performances. "But you can lose $20,000 in a week if you're not careful."
Cavanaugh also got offers to play "the nicest lounges in town — but I'm not interested in lounges," he says. "I'm not looking to do the night-after-night thing."
Instead, he opted for the cabaret and corporate circuit, which enables him to travel — and still come home to Henderson between gigs, where "I get to chaperone field trips" and otherwise spend time with his wife and kids, ages 10 and 17.
Recently, for example, Cavanaugh hit the road to Spain and Monaco — but didn't depart until the day after his son's high school graduation.
"My family has always been first," he says, noting that his schedule usually means "I'm gone for three days and then home."
In addition to his live performances and upcoming album, Cavanaugh also has filmed a reality TV show pitch (a "sizzle reel," in showbiz parlance) titled "Everyday Rock Star," which would follow him "from sound check to the airport" and beyond.
If the show gets picked up, Cavanaugh would like to "mentor young musicians" as they're starting out as part of the program.
It's something he might have found helpful when — inspired by his hero, Joel — Cavanaugh formed his first band, at age 10, and began playing local functions.
"I was playing in nightclubs when I was 13," he recalls. Hoping to impress audiences, "I played as many notes as possible" — and, as a result, "it sounded like noise."
These days, Cavanaugh knows that less is more, musically speaking.
He also knows a lot of fellow musicians who might make good guest stars for his proposed TV show.
"I have so many friends playing big tours," he says. "It would be fun to go out and see them and interview them — and jam with them."
As for a more permanent Vegas venue, Cavanaugh's happy to confine his public performances to The Smith Center, at least for now.
When he first returned to town after "Movin' Out," one casino offered to name a room after him, but "it was basically the lounge next to the sports bar," he says. "That's not really what I'm looking for."
Not that Cavanaugh has anything against playing casinos.
"I'm glad I was doing it that night" at New York-New York, when Billy Joel spotted him — and recognized Cavanaugh as a fellow Piano Man.
Contact reporter Carol Cling at ccling@ reviewjournal.com or 702-383-0272.
Preview
Michael Cavanaugh
7 p.m. Friday and Saturday
Cabaret Jazz, The Smith Center for the Performing Arts, 361 Symphony Park Ave.
$35-$55 (702-749-2000, www.thesmithcenter.com)