Musicians increase skills through Young Artists Orchestra
January 22, 2016 - 4:06 pm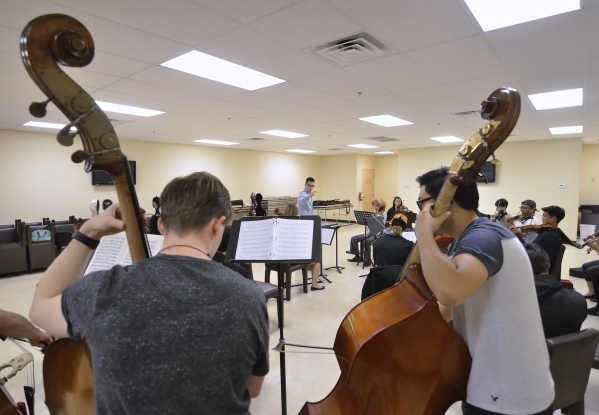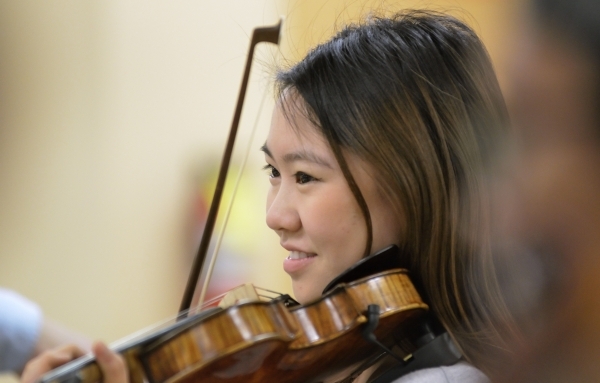 It's Friday evening and the kids are doing what kids always do — hanging out with friends.
But they're not at a basketball game. They're not at Starbucks. They're not even hunched over their smartphones, firing off endless texts.
Instead, they're gathered in a nondescript meeting room, instruments at the ready, playing music written more than 250 years ago.
At least until their conductor claps his hands, calling them to a halt.
"Why do you come in early?" he asks a group of violinists. "You're still coming in early. You're not feeling it."
So they regroup, awaiting their leader's signal to restart — followed shortly by another break in the music.
"Wait, wait, wait," he says. "What are you doing?"
And so it goes at a recent rehearsal for the Las Vegas Young Artists Orchestra, a new ensemble for musicians 22 and younger — some of whom will perform Saturday at the Clark County Library during one of the orchestra's recital-style showcases.
The orchestra's next full concert, "Bach Meets Handel," takes place Feb. 2 at the library, and it's Handel's Concerto Grosso Op. 6, No. 5, that's giving the young musicians — and especially their almost-as-young leader — particular pause.
"You're overcrowding everything," warns conductor (and orchestra founder) Yunior Lopez, 27, who calls a 10-minute break following the ensemble's latest attempt at one passage.
But most of the young musicians don't take a break. Instead, they keep right on playing, reviewing passages with their fellow orchestra members.
"They're young, they have a lot of energy," reasons Lopez.
They're gathered at the Adelson Clinic on Maryland Parkway, the orchestra's rehearsal home.
It's not fancy, but it's free — and it's a step up from the former thrift store where they used to rehearse.
"When we needed a place," clinic founder Dr. Miriam Adelson "was one of the few people" to offer, " 'Rehearse here; it's free,' " Lopez recalls. "Having a home to always rehearse in is important."
Indeed, home is what brought Lopez back to Las Vegas, where he lived between the ages of 7 and 20.
Lopez's email address, "TheCubanViolist," offers a clue to his birthplace — and the instrument he plays.
Originally, "I wanted cello," Lopez recalls, "but when you ride a bike to school …"
As a teenager, Lopez was playing in the Las Vegas Philharmonic under founding music director Hal Weller.
At 20, however, Lopez was appointed conductor of the Academy Symphony Orchestra at Toronto's Royal Conservatory of Music, where he remained until 2013, when he moved to Miami to be closer to his family.
That is, until his girlfriend got a job in Las Vegas (she works for Tiffany & Co.), prompting Lopez to return to Las Vegas. Otherwise, "I don't think I would have come back," he admits. ("She's not a musician — thank God," Lopez says with a smile. "I've dated a lot of musicians.")
Returning to his former hometown, Lopez "thought Vegas would have more arts and culture," he says, despite the presence of The Smith Center for the Performing Arts, which opened in 2012.
"There's a new building," Lopez says, "but nothing has really changed."
Yet "I love Vegas — classical music being here or not, it's my home," he explains.
So he decided to cut back on his touring schedule (he once traveled 60,000 miles in a two-month period, he notes) to start the Young Artists Orchestra, scouting talent at local concerts and recitals and staging auditions for prospective members.
Another audition will be held in May for string, wind, brass and percussion players up to age 24; those accepted receive full tuition, compete for concerto competition prizes and work alongside guest artists.
Currently, the Young Artists Orchestra has 22 members — about half "really talented high school students," Lopez says, and half university students. (Plus "two middle-school kids.")
That explains the mix of young — and younger — at Friday's rehearsal.
"It's very different than what I've done before," says 20-year-old violinist Waverly Tingle, a UNLV student, who says the pieces they play go beyond the typical youth orchestra basics.
She also likes Lopez's conducting style.
"He has no tolerance of people who are not prepared," she says. "I really enjoy the constructive criticism."
Over in the cello section, Waverly's 18-year-old brother Ryan, a UNLV freshman, says the Young Artists Orchestra is "way different" from other ensembles he's played with — in part because its small size makes its easier to connect with fellow musicians.
Fellow cellist Dana Hurt, a 15-year-old Clark County High School student, "heard this orchestra was really different," he says.
Hurt also plays with the College of Southern Nevada Symphony and the Nevada School of the Arts orchestra, but the Young Artists Orchestra is "amazing," Hurt says.
In part, Ryan Tingle says, that's because Lopez "has a very ambitious outlook for the orchestra."
Or, as Lopez himself explains it, "We want to create a place where the most talented kids can come in and play at the highest level."
Read more stories from Carol Cling at reviewjournal.com. Contact her at ccling@reviewjournal.com and follow @CarolSCling on Twitter.
Disclosure: The Review-Journal is owned by a limited liability company controlled by the Adelson family, majority owners of Las Vegas Sands Corp., which operates The Venetian.