Nevada Ballet, Cirque du Soleil team up — PHOTOS
October 17, 2015 - 2:53 pm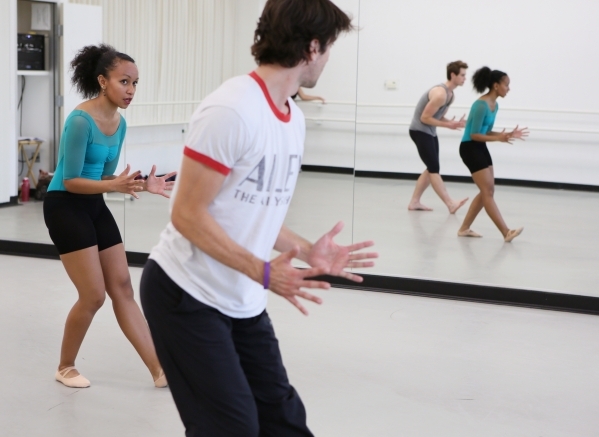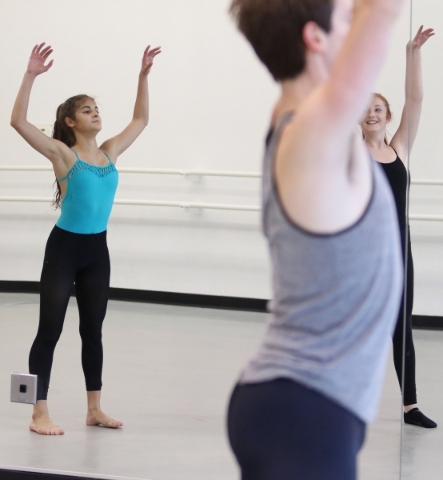 Only in Vegas.
Most of the time, that particular phrase serves as an all-purpose reaction to the latest Southern Nevada negative.
But there's at least one only-in-Vegas event that's been a positive since its inception eight years ago.
That's A Choreographers' Showcase, the annual collaboration between Nevada Ballet Theatre and Cirque du Soleil, has a repeat performance on Sunday in case you missed it earlier this month.
While some see an unbridgeable gap between Cirque-on-the-Strip entertainment and ballet-at-The-Smith Center culture, participants cite the joys of collaboration.
"When you add the Cirque people, it opens up a whole new world of movement," says Ariel Triunfo, who's making her debut as choreographer after dancing in the showcase the previous two years. "It's kind of cool, working with people who have different strengths. It brings so much to the work."
The showcase "is a pretty unique kind of performance, with all these different surprises," adds choreographer Gail Gilbert, who plays "Ka's" Nursemaid character. "It's more of a feast of different types of activity."
There's certainly more diversity now than when the showcase began; Gilbert participated in the first and third editions and remembers "hints of hip-hop influence."
Now, however, hip-hop is a full-fledged part of some of the dances — including Triunfo's, which "is very much a fusion," mixing "ballet steps, hip-hoppy moves and some contemporary things," she explains.
With a working title of "Heark and Hush," the five-minute piece "definitely has a story," according to Triunfo — one that "drew inspiration from all the Cirque shows."
It focuses on a trio of former circus characters who have "been abandoned for so long, they've turned into creatures" who "reminisce about their past life" — that is, until they're discovered by three kids (played by three members of NBT's Future Dance student outreach program) whose "presence brings the characters back to life."
Two of the circus characters are NBT dancers; the third works with Cirque. And when "the kids and characters break free" for "a big moment," Trinfo describes, the NBT dancers perform "big ballet jumps," while the Cirque artist does "some flippy stuff" and the kids dance "ballet into contemporary."
Gilbert's "Ulysses," by contrast, focuses on "a sense of longing and wanting to be with the one you love."
That mood definitely suits her central character, inspired by the mythical Ulysses — and played by one of her "Ka" castmates, Darin Good, who's "an acrobat, a character actor and a clown," she notes, who's "able to bring this sense of physical embodiment" to his wandering character.
But he won't be wandering alone on stage; some 16 female dancers will "move with a more contemporary style" to depict the song's title ocean.
"It's just turning out to be a very playful, whimsical dance," says Gilbert, who danced with the contemporary Parsons Dance Company in New York City, then did "a lot of choreography" before moving to Las Vegas and joining Cirque.
Although "very happy to be performing again," Gilbert "missed working with dancers," she acknowledges.
Her "Ulysses" dancers include both NBT and Cirque performers, she notes; one of the latter works as a synchronized swimmer in "O," but "I didn't know that when I cast her," the choreographer adds. "She's a beautiful dancer."
In addition to guiding the dancers, the showcase's choreographers also delve into "the technical side of things," Triunfo points out, from lighting to the high-tech capabilities of the "Mystere" showroom.
"It's such an amazing stage," she says. "There are so many things that stage can do." (Triunfo definitely will be "using the turntable at some point" but at interview time hadn't yet decided on such elements as strobe lights and smoke effects, although "you kind of want to use as much of the stage as possible.")
In addition to choreographing one piece, Triunfo — a graduate of NBT's Academy and a former Future Dance scholar herself — is dancing in two other showcase pieces, one contemporary and one hip-hop, choreographed by Cirque artists.
"It's a huge team effort that gets this thing rolling," Gilbert observes, citing "the sheer number of people" involved in everything from performing to scheduling.
"It's a great privilege for all of us," she adds, to have "the freedom to explore at this high level."
But "Vegas is kind of a unique town," where commercial entertainment (represented by Cirque) and fine art (represented by ballet) can find common ground, Gilbert maintains. "The things that go on in both of these worlds, in terms of creative force — that's the same."
Or, as Triunfo contends, "it can really only happen here, to showcase what the artists of this city can do."
— Read from Carol Cling at reviewjournal.com. Contact her at ccling@reviewjournal.com and follow @CarolSCling on Twitter.
Like Neon Las Vegas on Facebook: