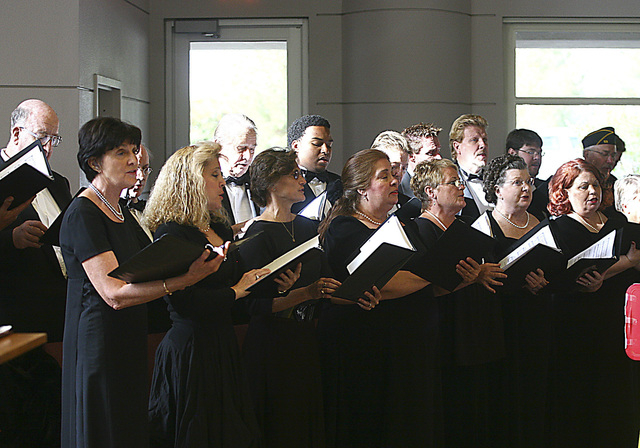 When you hear the word "opera," you probably don't think of a Louis Armstrong tribute artist, showgirls, a 1950s burlesque queen or a comedian known for crazy rambling jokes and a beatnik's beard, but all that and more is set to be presented by the Nevada Opera Theatre Association.
Vintage Vegas is scheduled for noon May 18 at the Italian American Club, 2333 E. Sahara Ave. Along with a photo opportunity, a buffet, silent auction, and video and living tributes to the stars who made Las Vegas the iconic destination it is today are planned.
New and old talent will come together to raise money for the association, which promotes and performs opera in Nevada, bringing in guest performers and even performing new operas, including a short one for schools that tackles bullying.
"We have a few fundraisers throughout the year," said Eileen Hayes, the organization's general director. "A few years ago, I thought up the idea because I knew they had the old-timers' dinner for people who had lived here 30 years. I thought the name Vintage Vegas might be something people were interested in seeing."
From that point, it was just a matter of getting the word out and finding someone with connections to classic Las Vegas performers. Peggy King, whose husband, Sonny King, performed regularly in town after moving here in the '50s, broke out her list, made some calls and helped drum up a show that the organizers will have a hard time fitting into the allotted three-hour time limit.
"We have a lot of performers confirmed, like Pete Barbutti, Pia Zadora and saxophonist Don Hill of the Treniers, and Tempest Storm," Hayes said. "Tempest won't be performing her (burlesque) act, but she'll be there to meet the fans. We also have some people we've invited that we hope will come out, like Steve Rossi and Rich Little."
Louis Armstrong tribute artist Anthony Brady is excited to be in the show, in part because it will give him a chance to perform with his full band.
"I've been doing this for a few years now, but now we've got the live music, and that makes all the difference," Brady said. "I think people are going to be surprised at all the entertainment they get at this show."
Hayes said the group hopes to make the fundraiser an annual event. Sales have been brisk, and she's fairly certain tickets will sell out.
Tickets are $110 per person or $1,100 for a table of 10 and can be reserved by calling 702-762-4110 or emailing nevadaoperadiva@aol.com. Tickets for Italian American Club members are $100 per person or $1,000 for a table of 10 and can be ordered at iacvegas.com.
For more information, visit nevadaoperatheatre.org.
Contact East Valley View reporter F. Andre