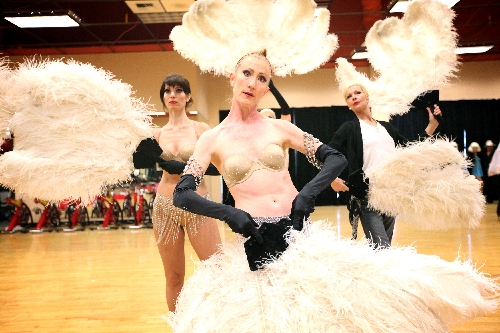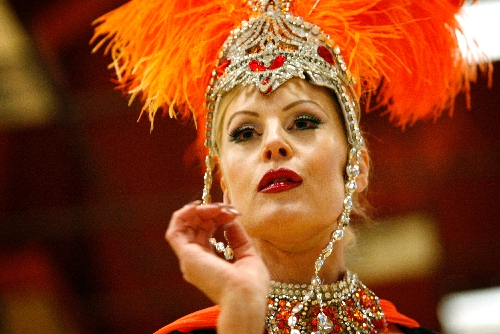 Certain professions use certain expressions.
Industry jargon. Tech talk. This is theirs:
"Stick your booty out," the choreographer tells the dancer. "Stick it out. There ya go."
Basic Showgirl 101, sadly scarce now on the Las Vegas entertainment curriculum. There's "Jubilee!" and then there's … "Jubilee!" Then there's this:
"It was 2006 when all the hotels were getting out of show business, four-walling the rooms and that left me with this fire," says single-monikered ex-showgirl Mistinguett, the producer/director/choreographer of "Showgirl Follies: Life in Feathers and Rhinestones" at Sun City Anthem and Summerlin's Starbright Theatre, returning for a second year.
"All these dancers are sitting around saying, 'We want to get back onstage.' I said, 'OK, we are going to do this.' I had one (criterion) in auditions. I didn't care how old you are, but I wanted to make sure they were pros and all had credits on the Strip. I had this huge turnout, over 60 dancers showed up."
Winnowed down to a dozen, mostly older-than-50 ex-showgirls — augmented by stand-up comedians, a ventriloquist, singers and magicians — the production aims to remind audiences of the showgirl sheen that once shone everywhere on the Strip.
"LET'S GET LOUD!" says Mistinguett (her name taken from a famous French actress/singer in the late-19th and early-20th centuries) as she leads dancers at a rehearsal in a mirrored studio at the City Athletic Club on West Sahara Avenue.
Outfitted in full fab regalia — feathers, bold red headdresses and beaded costumes, their hind assets, well, as fit as you'd expect — the women shimmy and slide with trademark grace, movements sharp and precise. Showy and brassy one second, sensual and languid the next.
"Older dancers, they're much more expressive when they dance," says Troy Stern, an ex-cast member of "Enter the Night" that shuttered in 1999 at the former Stardust, one of her many credits. "We've really learned the ropes to sell something. Young dancers are more robotic."
Like many of the women, Stern declined — politely, with a twinkle and a smile — to reveal her age, only noting that she's older than 50. With age and experience, she adds, comes not only expressiveness, but the expired warranty on some body parts.
"I had pretty bad hip surgery and I owe the orthopedic surgeon my life," says Stern, who quit dancing for a decade and tumbled into depression.
"It was unbearable," she says. "The endorphins drop. That high is gone. When the spotlight is over and your body is trashed, whatever you've taken to get through it — and a lot of us have taken a lot of stuff — there should be a class that prepares you for that."
These women love the gig despite the physical price — and it can be steep. Dancer Stacy Law, another "Enter the Night" alumna who launched her career in 1979 at the Landmark Hotel and also appeared in "Bare Touch of Vegas" at the former Marina Hotel (which was absorbed by the MGM Grand), suffered extreme injury to her pedal extremities.
"My feet are reconstructed," Law says. "I had a red streak running up my leg and open wounds on my feet. It got so infected I had to get off the stage and get surgery. But I know I haven't reached my breaking point yet. The constant challenge of what I want to do and what I can physically do is a nice test for me. I continue to live my dream, even now."
Now, though, the dream isn't as easy to dream, with only Bally's "Jubilee!" remaining as a showgirl extravaganza. "We're becoming an endangered species," says singer/dancer Gabriella Versace (once of the Rio's "Showgirls" and "Erocktica"). "It's that iconic Las Vegas top piece of the puzzle of the Strip. It's so sad for people who grew up in the business because that's all we know."
Razzmatazzwise, there is Cirque du Soleil … isn't there?
"We're missing old Las Vegas ambience and Cirque du Soleil doesn't have that old-time Vegas appeal," says dancer Kimba Anderson-Munford (once of "Abracadabra" at the Aladdin). "They have everything but that."
While "Showgirl Follies" now exists only as a community production, Mistinguett is eyeballing something greater, say … a comeback? Even a modest one that wouldn't attempt to resurrect the entire genre, but just snuggle into a niche where it once reigned on the Strip.
"I would like to have a room," says Mistinguett, who produced and choreographed nine shows on the Strip from 1981 to 2007 — including "Erocktica" and "Skintight" — as well as in Reno, Lake Tahoe and internationally. "I don't need a main room. We're not going to attract 20- and 30-year-olds. Even if we got a room in the afternoon not being used, I'd start there and build and build."
Spirit is still willing among these feathered femmes, and bodies — war wounds notwithstanding — are still able.
"There's a buzz in the middle of your soul when you're onstage," Law says. "Now, being more 'seasoned,' as we say, you're not sure if you're going to finish, and when you do, it's glorious."
Rehearsing this day, they combine passion born of youth and skill earned by experience.
"Around-hip! Around-hip!" Mistinguett exhorts them.
Twirling flawlessly, they pop those hips with a dexterity seemingly undimmed by time, their sparkles and spangles still jingling and jangling.
Contact reporter Steve Bornfeld at sbornfeld@reviewjournal.com or 702-383-0256.
Preview
What: "Showgirl Follies: Life in Feathers and Rhinestones"
When & Where: 7 p.m. Jan. 27 and 28 at Sun City Anthem's Freedom Hall, 2450 Hampton Road in Henderson; 7 p.m. Feb. 4 and 3 p.m. Feb. 5 at the Starbright Theater, 2215 Thomas Ryan Blvd. in Summerlin
Cost: $18 for Sun City shows, tickets must be purchased in person, cash only, at the Sun City Anthem Community Center (614-5860); $15 for residents, $18 for nonresidents for Summerlin shows, cash or check only, tickets must be purchased in person at any of these locations: Starbright box office (800-595-4849), Pinnacle Community Center (240-1301), Desert Vista Community Center (363-1341) and Mountain Shadows Community Center (966-1410)