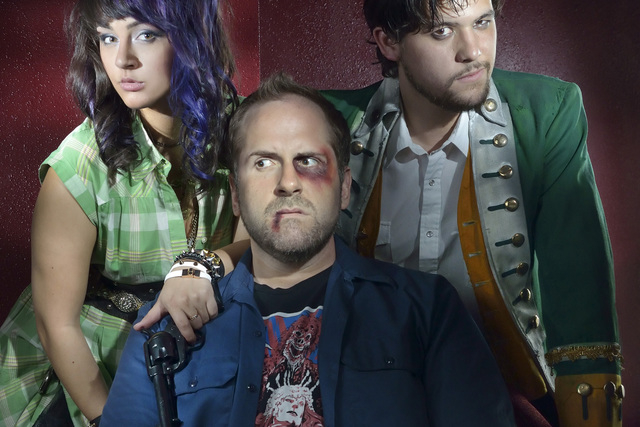 The return of the Onyx Theatre is definitely a laughing matter, with two separate comedy shows coming in mid-January, a fully staged comedy in late January and a late-night comedy show in February.
"We're focusing our vision on transforming the Onyx into a hub for all things comedy," according to Troy Heard, the theater's new producing director.
The Onyx reopens Friday, Jan. 16, with The GET (Grey Envelope Theatre) presenting a weekly comedy show — featuring improv, sketches and stand-up — at 9:30 p.m. Fridays. Tickets will be $10.
Starting Jan. 17, local Second City veteran Paul Mattingly will direct "JokeKune Do," featuring a new in-house comedy team, at 9:30 p.m. Saturdays. (Tickets for those weekly shows are also $10.)
The first full-fledged play to be staged at the new Onyx: John Patrick Shanley's "Four Dogs and a Bone," in which four Hollywood types battle for control of a movie that's spiraling out of control. (Shanley definitely knows the territory; he won an Oscar for "Moonstruck" and a Pulitzer Prize for "Doubt," which was later adapted for the screen.) Tickets will be $20 for the Jan. 23-Feb. 8 run.
Leading the late-night lineup: an interactive version of the Ed Wood-directed cult favorite "Glen or Glenda," presented by John Tomasello's Midnight Fomato Society at 11 a.m. Fridays and Saturdays Feb. 13-March 7. What's so interactive about it? Audience members are invited to lob foam tomatoes at the cast. (Tickets will be $20.)
Rumored to be closing at the end of December, the Onyx — located in Commercial Center, inside the fetish shop The Rack — instead hired Heard as the venue's new producing director, responsible for managing and booking the facility as well as directing Off-Strip Productions, the Onyx's resident nonprofit theater company.
The Rack, which shared front-of-the-house space with the Onyx, is downsizing and relocating to another Commercial Center venue — leaving additional space for rehearsals and classes, Heard notes.
"The Onyx has a clear-cut narrative," he says. "It started out as that funky little theater behind the sex shop. But as different artistic directors have rolled through it in the past 10 years, it gained its own identity as a destination for great performances."
But "unfortunately, there were certain guests who were uncomfortable with its proximity to The Rack," he adds. The fetish shop's "relocation opens the Onyx wide, both literally and figuratively."
For more information on the theater's new lineup, call 702-732-7225 or click on www.onyxtheatre.com.