Optical illusion murals on the Las Vegas Strip put guests in the art
February 2, 2017 - 12:30 pm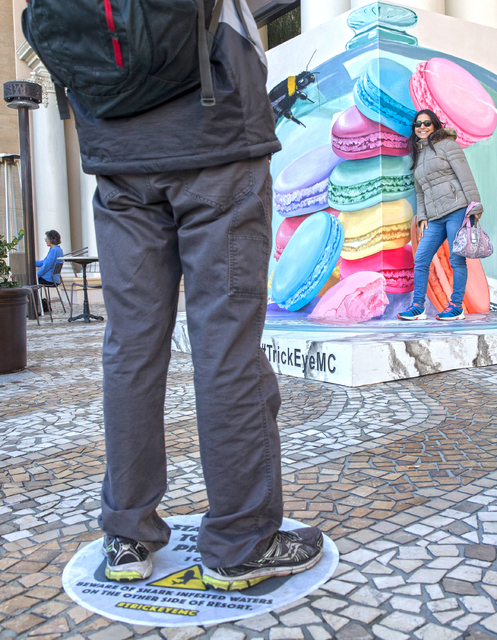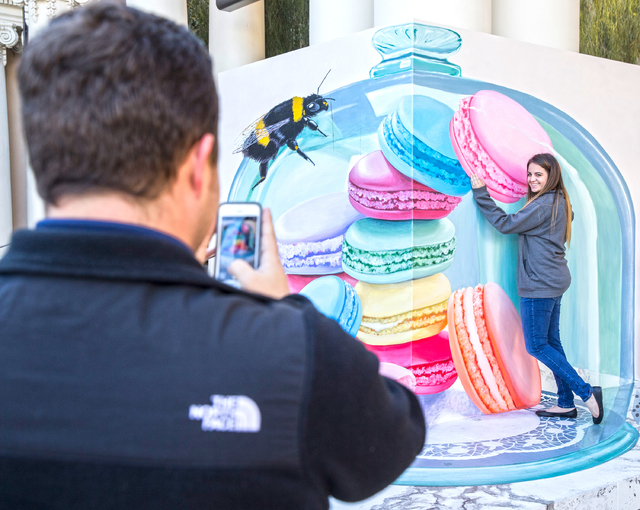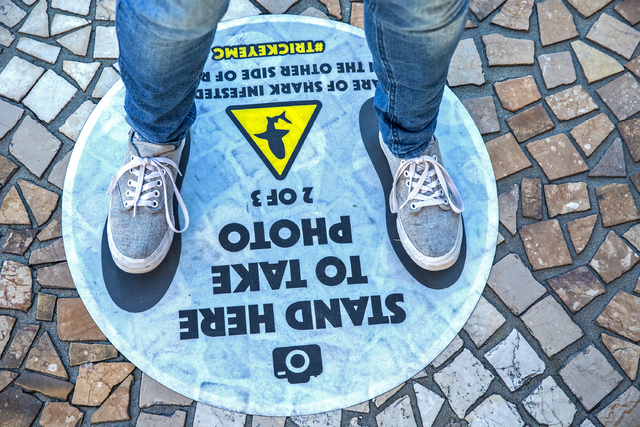 People who create art tend to be touchy about the people who view art becoming too familiar with it. That's why velvet ropes and humorless guards are fixtures at art museums and why taking a photograph of a painting is considered almost as forbidden as spitting on a van Gogh.
But Melanie Stimmell Van Latum would love it for anybody who sees her pieces at the Monte Carlo — collectively dubbed the "Trick Eye Experience" — to climb aboard.
Literally, too. That's because Van Latum, a Los Angeles-based street and fine artist, has designed her Monte Carlo pieces as interactive 3-D works in which viewers become part of the painting.
Van Latum has three 3-D pieces at the hotel. One features scorpions in a terrarium and another features giant cookies in a cookie jar. Both of those are set up by the hotel's BLVD Plaza, while a third, featuring the image of a giant shark, is set up just outside of the hotel's west casino entrance, near T-Mobile Arena.
The pieces work best when passers-by stand on a designated spot on the ground and photograph someone else who's standing in the right place near the painting. If done correctly, the result is a photograph in which an optical illusion makes it appear that the person is standing inside the piece, with all of the depth a 3-D image offers.
"We've seen some incredible interaction with them," said Phylicia Middleton, the Monte Carlo's director of marketing. "A lot of people stop to take pictures of them, which is fun."
There's no charge to take photos and the pieces can be viewed by anyone. "We just wanted to get people here excited and get interesting interaction," Middleton said. "Hopefully they'll walk in our doors to see the other one as well. But we just wanted to give people an additional reason to check us out."
On a recent afternoon, some passers-by glanced at the installations and moved on. One woman photographed the empty cookie piece with her cell phone. And most passers-by who posed on the pieces did so in a lackluster sort of way, as if sitting for a high school yearbook picture.
But not Leslie Brignac, who was visiting Las Vegas with her husband, Kalib. She stepped onto the platform and leaned into a fake macaroon as if she could pull it down and scarf it up.
Nice commitment to the illusion. "I know," she said with a laugh,. "Always."
"It's really cool," said Brignac, of San Antonio, Texas. "We saw some people last night taking pictures and we didn't know what it was. We walked past it like, 'What are they doing?' Now, we just read the sign, so we understand."
"It's nice. They're bright and colorful," said Erica Thompson of San Diego, adding that their photo would be a nice souvenir of the third wedding anniversary that she and her husband, Cameron, spent in Las Vegas.
Van Latum said she started out as a traditional street painter, but became intrigued by the notion of viewers "actually becoming part of art," in contrast to traditional street painting, in which viewers "are just observing the art from the outside."
But creating an effective 3-D illusion with the help of nothing more high-tech than paint and the creative use of angles takes skills beyond those of a typical street artist. For example, the two Monte Carlo pieces facing Las Vegas Boulevard are set on a slight slope.
"When you're taking the photo, you have to take that decrease in elevation into consideration, because it really is about the viewpoint of the (photographer)," Van Latum said. "If the viewpoint is off, the illusion won't work."
Van Latum continues to work in two-dimensional street art and fine art as well as in 3-D street art. Her pieces have appeared in Las Vegas before, including at conventions, where they usually incorporate brands or products.
At the Monte Carlo, "we kind of had some free rein," she said. "That's kind of nice, because when we work with a client, it has to be a very specific image tailored to their product or brand. This is a little more open, which made it really exciting for us to work on."
Two additional pieces are planned for the Monte Carlo, Van Latum said, including an image that will have a koi pond theme. Middleton said all of the pieces will remain at the Monte Carlo at least through the end of 2017.
Van Latum enjoyed creating the pieces. But, she said, "the most fun for us is actually finishing the image and then kind of sitting back and watching how people interact with it."
Read more from John Przybys at reviewjournal.com. Contact him at jprzybys@reviewjournal.com and follow @JJPrzybys on Twitter.