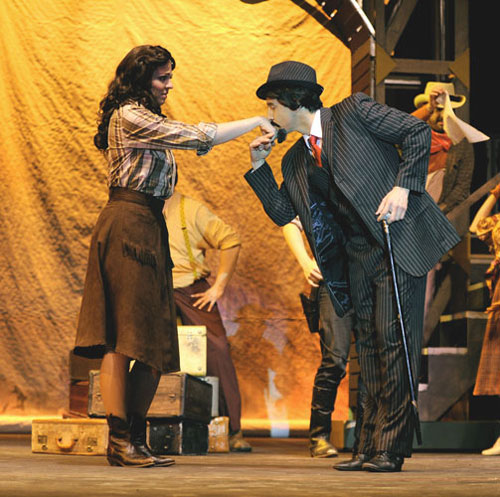 The production of "Big River" was just beginning at Spring Mountain Ranch State Park when an uninvited actor tried to horn in on the act.
A snake. A very unfriendly snake, too, recalls director Phil Shelburne, that apparently didn't want to vacate what it considered the best seat in the house.
The serpent's unbilled appearance in 1999 would become a much-handed-down bit of Super Summer Theatre lore, even among those who weren't there to see it. And while it might lie at the far end of unexpected things that can occur at Super Summer Theatre productions, it does underscore the reality that putting on a show outdoors during a Southern Nevada summer can be trickier than audiences imagine.
Of course, live theater almost never goes exactly right. "Unexpected stuff, that's in every production in the history of mankind," notes Jeynifer Tribbitt, director of "Oliver!" a British National Theatre of America production now playing at Spring Mountain Ranch.
But move a production to the park, take away four walls and a roof and add into the mix a few nature-related variables, and the chances of something going sideways increase.
"It's quite an adventure," says Shelburne, producing director of P.S. Productions, whose shows at Spring Mountain Ranch have included "Buddy: The Buddy Holly Story" and the just-ended "Crazy for You."
For instance, Shelburne says, burros are "an interesting element there. They seem to have the ability to start braying and kick up a ruckus at the most inopportune times in the show. If they hear the noise, they'll wait for everything to subside until it gets just a little quiet, and then they'll start hee-hawing, and it's hysterical.
"On the closing night of 'Crazy for You,' the very last line of the show, it gets all quiet and Polly asks Bobby, 'Would you like to dance with me?' So she does and the burros are back there going, 'Wahh-wahh.' "
It's also "well-known," says Terrence Williams, "that Super Summer Theatre burros, for each musical, seem to have developed favorites out of the tunes in the shows."
The first show Williams, artistic director of Stage Door Entertainment – whose roster of Super Summer Theatre productions includes "1776," "West Side Story" and, from Aug. 8-25, "Joseph and the Amazing Technicolor Dreamcoat" – directed at Spring Mountain Ranch was "Return to Forbidden Planet," or, as he puts it, Shakespeare's "The Tempest" in outer space with a score of rock oldies.
"One of the songs in the show was 'Good Vibrations' by the Beach Boys, so we had the cast sing 'Good Vibrations,' " Williams says. "The second the song would end, all you could hear was every burro in a half-mile braying at the top of his lungs.
"Every single time. One time, you thought, 'That's interesting.' The second time, you thought, 'That's a coincidence.' But the 16th time, now you know, 'That's to that song.' "
Bats also can throw a hiccup into an otherwise smooth production. Take the one that decided to crash Williams' 2008 production of "1776."
The bat was "kind of dive-bombing the stage," Williams recalls. "He would be flying straight, and he would swoop down right in front of the actors. Now, the audience is certainly paying attention to that. They can't ignore it. So, sometime in the second act, he went away for a few minutes and came back and he started swooping again."
This time, though, the actor playing John Dickinson "all of a sudden just thwacks this bat, and the audience couldn't help but laugh," Williams says. "They were wishing somebody would do that to that bat, and he's taking swings at it."
In doing so, the actor probably earned the Dickinson character – who in the musical serves as a voice against independence – the first applause it ever got. More than that, Williams says, it shows that when things go obviously wrong, sometimes "you just have to acknowledge it."
Of course, Super Summer Theatre takes place during the hottest months of a Southern Nevada year, so working under the desert sun can present challenges for casts and crews.
During a production of "Ragtime," Williams recalls, "we did the big Henry Ford number and a girl went offstage and totally fainted."
Then, "it can be very windy," Shelburne adds. "It always creates a problem. That's probably the single biggest issue we have."
During opening night of "Beauty and the Beast," "the wind was so strong, the girl who played the dresser, the wardrobe, the wind would just catch her and she'd go blowing around the stage," he says.
But that was nothing compared to "Man of La Mancha" when, after the audience had left for the night, a gust of wind "picked up the entire left of the stage and threw it out into the middle of the meadow into a big pile. We had to build it again the next day," Shelburne says.
"You've got your bugs and you've got your mice. You've got your flying bugs, your crawling bugs, your bugs invasions of all kinds there."
Tribbitt says she's from South Texas and that even she is amazed at what she sees out there. Once, she saw what she assumed to be a bat flying around onstage.
"It lands, and I take a close look at the damn thing, and it was a grasshopper," Tribbitt says. "I'm like, 'Oh, my god.' "
Williams' first Super Summer Theatre experience was playing Mr. Mayor in Shelburne's production of "Seussical."
"On opening night, I had a giant solo," Williams says. "And, as I was singing my big solo, a bug flew into my mouth."
Williams soldiered on.
"You realize as a performer that you've got to keep moving, you've got to keep moving, you can't stop. You can't stop the show because there was a bug."
For two seasons, Shelburne recalls "some sort of flying infestation" taking place during his productions, "and every night when the lights came up, about 20 minutes into the show they all wanted to hatch or whatever, and they started flying around. They only lived about an hour, but it would be like a solid cloud of ants, like a fog onstage. Then the wings would fall off and, at the end of the night, there would just be piles of wings all over the place."
During "Barnum," the actor in the title role "even made a comment about it in the show's performance," Shelburne says. "He had to ad lib every night because he couldn't just ignore this giant cloud of ants flowing around. He always had exterminator jokes and just whatever he was inspired with."
Tribbitt says she hasn't even had to discuss with young actors in her "Oliver!" cast the unique problems they may face performing at Super Summer Theatre.
"It's almost like a given," she says. "So many of our adults and kids have been out here before, so they're quick to tell anybody before we could."
Super Summer Theatre stories "have been around so long," Tribbitt adds. "You'll hear the same story from, like, 17 people, and the second something happens, it starts some kind of supersonic phone tree, almost in real time, with modern technology."
That's why everybody seems to have heard at least some version of the snake story.
"We were doing 'Big River, and I was sitting at the front of the stage taking pictures," Shelburne recalls.
The musical's opening scene required characters to step out from a booklike platform on the stage. But, on this particular show, a snake slithered out from underneath the platform.
The actor "kind of froze and didn't know what to do," Shelburne says, and other performers who saw the snake were equally perplexed about what to do.
"I don't know what I was thinking," Shelburne says. "I immediately got up onstage and started to herd this snake."
"It was not a friendly snake," Shelburne notes, "because I first reached out to pick it up and then realized, 'Well, I probably should check on this.' I reached my foot out and he kind of went for my foot, so I think he was not a friendly snake."
Shelburne also hadn't yet figured out what to do with him. "I looked upstage, and here all the actors have this look, 'Don't bring him here.' I look at the audience, and I can see people there, 'Don't bring him here.' "
Ultimately, he got the snake to wrap itself around a prop fishing pole, took it to the end of the stage and flung the snake out into the desert.
Then, Shelburne says, he spent the whole night wondering whether he'd flung it quite far enough.
Contact reporter John Przybys at jprzybys@ reviewjournal.com or 702-383-0280.