P3Studio faces expiration date
December 24, 2015 - 7:25 pm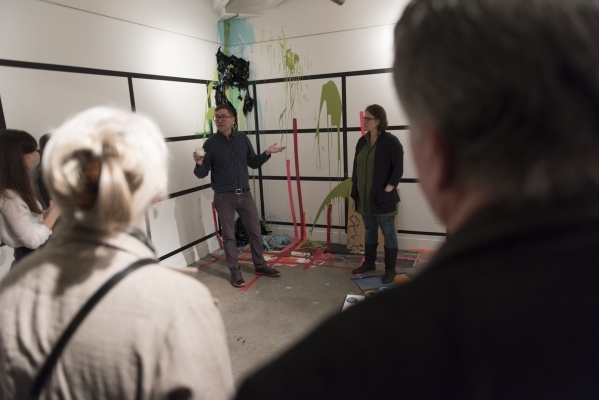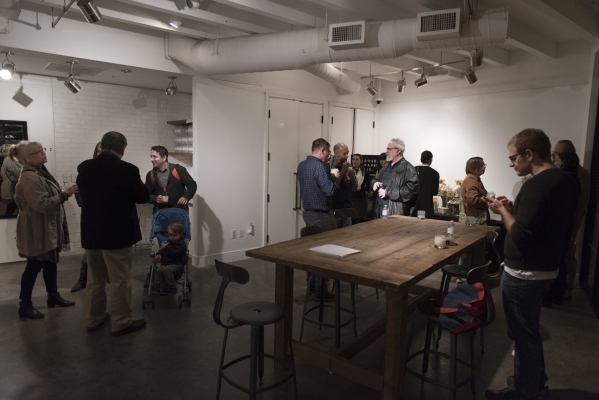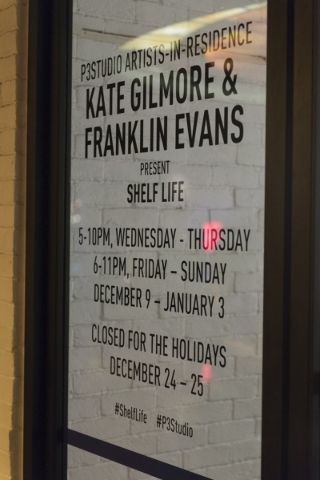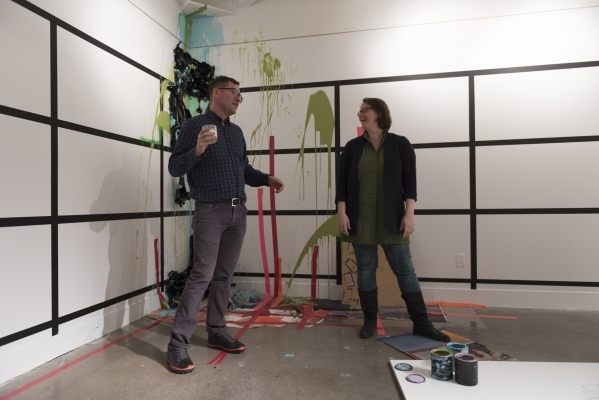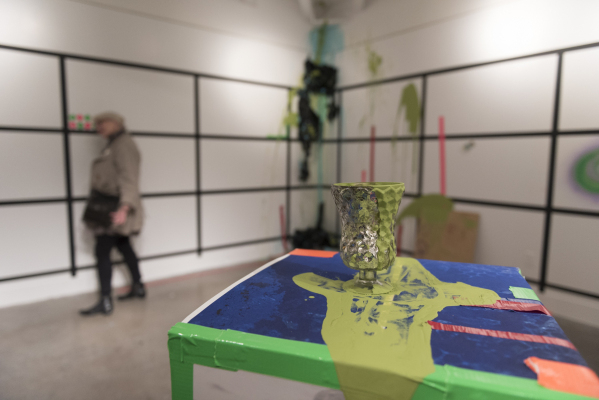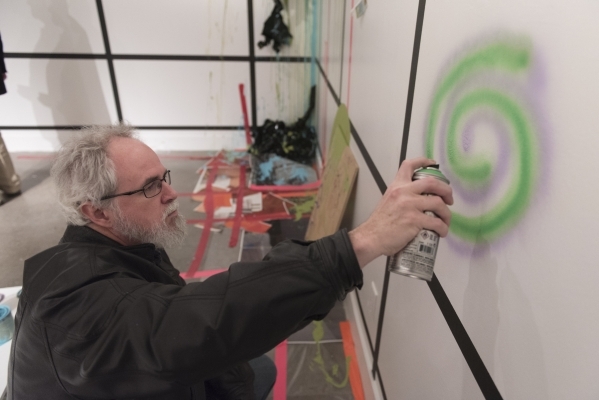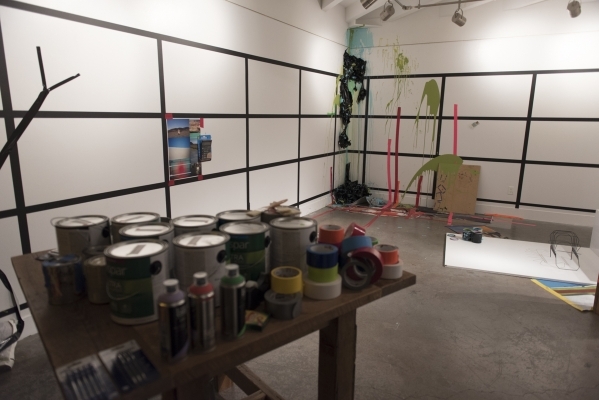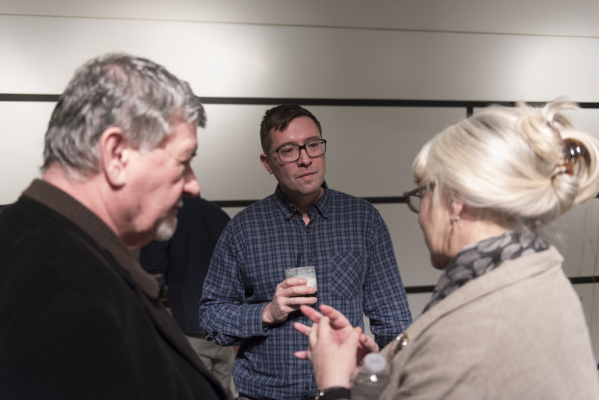 The latest art project at The Cosmopolitan of Las Vegas' P3Studio is titled "Shelf Life."
But there's not much shelf life left at the studio, which will close after "Shelf Life" completes its run Jan. 3 to help make room for a Japanese restaurant. The hotel left open the possibility of an alternative site for the gallery in the future, though nothing specific.
Like other projects featured at the studio — presented in conjunction with the New York-based Art Production Fund — "Shelf Life" offers an interactive experience for artists and visitors alike.
"We're here to collaborate," artist-in-residence Kate Gilmore says of her presence — and that of fellow artist-in-residence Franklin Evans — at P3Studio. "Some people might need us more than others."
That's because "Shelf Life" began with empty walls — well, empty except for the gridlike lines Gilmore and Evans created on the studio walls, awaiting contributions from guests.
From photos to T-shirts to souvenirs to images spray-painted on the studio walls, "Shelf Life" evolves with every visitor's contribution.
"We anticipate that it's going to look like an installation," Evans says. "We can't control what's going to happen — and I'm a super-controlling person."
For the New York-based artists, the residency also offers a chance to experience Las Vegas firsthand.
"I've been obsessed with Las Vegas in my head for a long time," notes Gilmore, who's visiting Las Vegas for the first time. "I'm still processing it all," from middle-of-the-night casino strolls to the Strip's array of international landmarks.
"The aesthetic of it," she adds, "is really overwhelming, the reproducing of these important things" making the Strip "kind of a large-scale souvenir."
That also makes Las Vegas "kind of a crazy installation" itself, observes Evans, who's originally from Reno, but hasn't visited Southern Nevada since 2000.
In addition to taking numerous photographs of The Cosmopolitan, Evans has been exploring the Strip — and beyond, including "a really tough neighborhood" east of the Strip, where apartment alley views mix with The Linq's High Roller hovering in the background.
"There's something super-valuable about stepping outside" the art world, he adds, to experience "this crazy visual city."
Even the P3Studio "is an unconventional art environment," Gilmore notes. "That's exciting — and also weird," as the artists-in-residence "deal with the social aspect of being around people, but also making art."
Evans has the New Year's Eve shift at P3Studio and "that one makes me nervous," he admits with a laugh.
But the interaction with the public in general — and casino patrons in particular — makes the P3Studio "a very interesting, unique experience" for the artists, according to Las Vegas artist Justin Favela, who was artist-in-residence for "Pinatatopia" in fall 2014.
Although Favela has done other residencies, "the one at P3Studio was the most interactive, because you have to engage the public," he explains — especially casino visitors who are "in a different mentality. They're not expecting to see art."
Yet some locals did seek out the P3Studio artists, according to Las Vegan Martin Hackett, who was on hand to hear Gilmore and Evans' introductory art talk.
The interactive aspect of the P3Studio "brings art to the people," says Hackett, whose wife, D.K. Sole, is an artist herself. But "it's not just keeping it at that level," he adds. "A small child can come in and get a taste of art."
That give-and-take between artists and visitors set the P3Studio residencies apart, says Brent Sommerhauser, who helped visitors make kiln glass tiles during his summer residency.
Because he doesn't have a studio, "dedicated time in a dedicated space is a tremendous gift," Sommerhauser reflects. But "often with residencies, the focus is on what the artist gets out of it. Looking back, this (one) really focuses on what the guests experience," he adds, citing "a near unanimous sense of inclusion and excitement."
That interaction also helped Sommerhauser "see a familiar material — glass, as I know it — through fresh eyes every night. Because of their perspective, the visitors ask questions and try things that I might not get around to on an average night," making it "something to be processed long-term rather than right away."
Evans already anticipates that impressions from this "Shelf Life" project "will be embedded in my next installation," he predicts.
But there will be no next installation at P3Studio, which ends its five-year run with "Shelf Life." Instead, the studio space — and the undeveloped area behind it — will become Zuma, a luxurious 9,000-square-foot Japanese restaurant scheduled to open in late 2016.
The Cosmopolitan "is currently looking at new locations" for P3Studio, according to a statement the hotel issued announcing the closure, "and is committed to its overall art program," which includes digital programming in the lobby and on the exterior marquee. (Among the artists who have been featured: Yoko Ono and Laurie Simmons.)
"As we all know, not much is permanent here," Sommerhauser says. "The art scene here will feel the loss — not just the artists and art enthusiasts, but the curious amongst the local public and visitors to our city. This was a unique opportunity for us all."
For more stories from Carol Cling go to reviewjournal.com. Contact her at ccling@reviewjournal.com and follow @CarolSCling on Twitter.