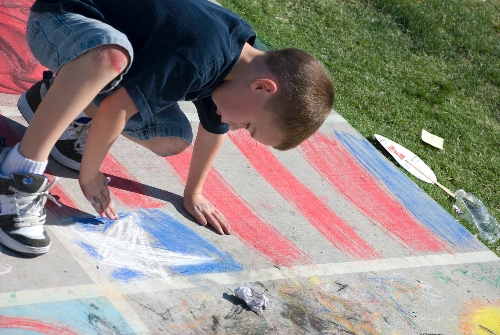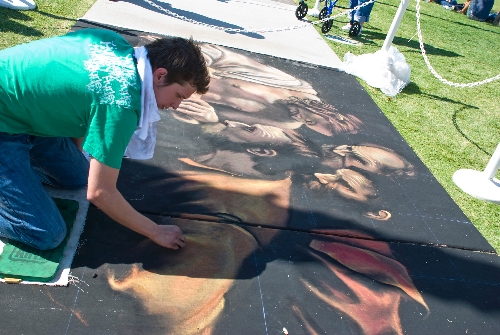 With the arrival of fall comes one of the area's most eagerly awaited events, the Summerlin Art Festival, planned for 9 a.m. to 5 p.m. Saturday and Sunday at Summerlin Centre Community Park, 1800 S. Town Center Drive.
Nearly 100 artists and craftspeople from across the southwestern United States have signed on. Collections are to include paintings, glasswork, pottery, jewelry, metal works, sculpture and mixed media.
The event also will feature colorful chalk art masterpieces created using the park sidewalks as a canvas. More than 60 local aspiring artists will produce chalk art pieces as part of the traditional chalk art competition. Non-competing artists are welcome to add their creation to the sidewalk for $5, which includes sidewalk space, a knee pad and chalk.
A full entertainment lineup also is planned, including live music, dance performances, food art demonstrations and children's activities. A variety of food and beverages will be available for purchase.
Susan Conway is one of the artists to be featured. She creates sterling silver jewelry, and this will be her third year with the festival. A yoga enthusiast, she said designs often come to her when she's mid pose.
"When I'm doing yoga, it pretty much clears my brain," she said. "I come up with designs or colors and ideas for (pieces)."
She calls it "Enlightenment Jewelry." Some designs include a Buddha or lotus flowers. The discipline began inspiring her jewelry about six years ago.
Sometimes, statements will come with the design, stamped onto the sterling silver pieces. Examples are "Live Simply So That Others May Simply Live" and "There's No Place Like Om."
Her work is mostly one of a kind with a few limited edition pieces. Prices start at $20.
Conway said she always tries to get a location near the food area.
"I figure there's a meltdown point, where (people) don't have enough time to go through everything, but they at least have to hit the food. So I figure, if I'm near the food, I have a higher chance of getting that customer before it's too late," she said.
Should attendees stop at her booth, they can say hi to her 1-year-old son, Kiran. His name is yoga-inspired too, as it means "ray of light" in Sanskrit.
To see Conway's designs, visit conwaycreations.etsy.com.
James Donohue has been a painter for 15 years, specializing in abstracts done in oil. This will be the first time he's been a part of the Summerlin Art Festival. He said he likes working in oils best, and the larger the canvas, the better.
"I like to do large-scale pieces, like 8-foot kind of pieces," he said. "The show's kind of hard for me because I have to tone things down a bit to a smaller scale. Some artists have trouble going big. They're (told), 'Go bigger, go bigger.' I don't have that problem."
Donohue said he's inspired by a lot of different things. He said he uses no reference art, just lets things flow "from my heart." They may flow, but they aren't given free rein.
His strokes are well thought out before putting paint to canvas, and it can take a month to complete a piece. His paintings normally start at $1,800, but he plans to have pieces that range from $150 to $1,200 at the festival.
For more information about Donohue's work, visit artofjames.com.
Leslie Hawkins lives by the slogan "color outside the lines." She sells garments at her booth. She hand-dyes or paints each garment, using concentrated non-toxic paints.
It's a craft she started about 15 years ago, when she gave up her hotel management career to begin a family.
"I decided working 70-hour work weeks wasn't going to keep me home with my kids," she said. "I started doing it mainly (intended) as gifts."
It soon developed into something bigger, and she now travels to attend large art festivals. She also sells items through her website, expressionsbyleslie.com.
Her designs are original and applied freehand. She paints using brushes and switches to fine-line writing tips for the detail work. Sometimes Hawkins adds fabric patches, beads or studs for effect.
Hawkins' wearable pieces of art start at $22.
Admission to the art festival is free. For more information, visit summerlin artfestival.com.
Contact Summerlin/Summerlin South View reporter Jan Hogan at jhogan@viewnews.com or 387-2949.
Summerlin Art Festival
The Summerlin Art Festival is scheduled for 9 a.m. to 5 p.m. Saturday and Sunday at Summerlin Centre Community Park, 1800 S. Town Center Drive. Admission is free, and live music, dance performances, food art demonstrations and children's activities are planned. Food and beverages will be available for purchase.
Nearly 100 artists and craftspeople are scheduled to attend. Chalk art also will be featured, as well as a chalk art competition. Attendees can create their own chalk art for $5.
For more information, visit summerlinartfestival.com.