'Phantom' sequel 'Love Never Dies' fails to conjure magic
March 22, 2018 - 11:35 am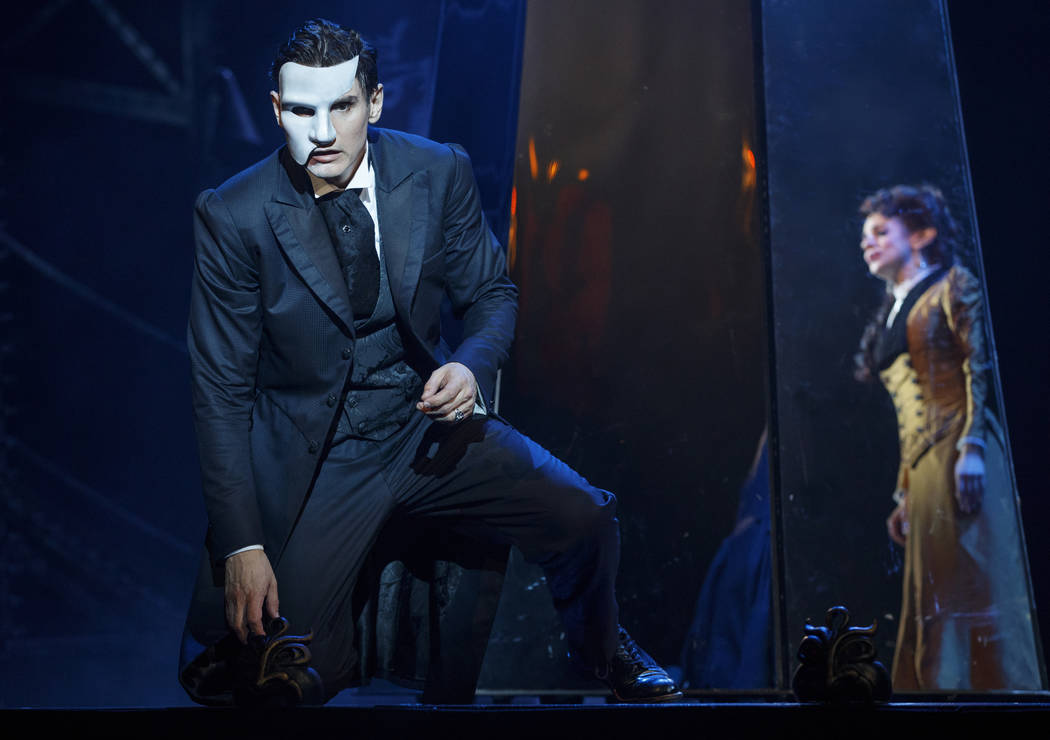 If only composer Andrew Lloyd Webber had listened to that great sage of the stage, Dirty Harry Callahan.
You remember Dirty Harry (one of Clint Eastwood's signature movie roles), who at one point growled, "Man's gotta know his limitations."
If Webber knew his limitations, we might have been spared "Love Never Dies," which is at The Smith Center through Sunday, besmirching fond memories of his phenomenally popular "Phantom of the Opera."
In this who-asked-for-it sequel, multiple characters moan "10 long years" throughout, reminding us of time's passage — and, inevitably, "Love Never Dies' " illustrious predecessor. Not an advisable strategy for a show so glacially paced it plays as if it's 10 years long.
At least "Love Never Dies" provides an undeniable feast for the eyes and, occasionally, for the ears. As for the mind and heart — abandon hope, all ye who enter here.
Especially if you haven't seen the original "Phantom," because "Love Never Dies" makes no real attempt to introduce, let alone develop, characters it presumes you know.
Time has marched on for all of them, yet the first glimpse we get of the Phantom himself (Gardar Thor Cortes) is a familiar one: him at the organ keyboard, bemoaning his long-lost muse Christine in the sporadically stirring " 'Til I Hear You Sing." Mistake No. 1: throwing away the show's most heartfelt ballad without any dramatic buildup whatsoever. (Alas, there will be more.)
No longer haunting France, our favorite mystery man has decamped to New York, where he's become a Coney Island sideshow impresario with more than a little help from his fellow ex-Parisians, the formidable Madame Giry (Karen Mason) and her stagestruck daughter Meg (Mary Michael Patterson).
As for Christine (Meghan Picerno), she's a celebrated opera diva who's come to New York to make her American debut — and earn enough money to cover the gambling debts of her once-dashing, now-dissolute husband, Vicomte Raoul (Sean Thompson).
The one bright spot in her life: her angelic son Gustave (Casey Lyons; Jake Heston Miller plays the role for some performances), who's clearly inherited her musical gifts.
"Love Never Dies" bounces between Christine's orbit and the Phantom's — until their inevitable reunion creates complications that thicken the plot until it congeals into hand-wringing, heart-clutching melodrama so overdone it invites unintentional giggles, despite the valiant efforts of the capable cast.
Australian director Simon Phillips, who reworked the misbegotten musical after its original 2010 London production, doesn't help matters with his static, tableau-like staging.
And while Webber's score (with lyrics primarily by Glenn Slater) may be functional, it's hardly on a par with "Phantom" — as "Love Never Dies" reminds us every time a haunting melodic echo of the original materializes, then fades.
The true star of "Love Never Dies" is unquestionably scenic and costume designer Gabriela Tylesova, whose spectacular smoke-and-mirrors sets and opulent costumes offer welcome distraction from the otherwise omnipresent lethargy.
You know the old joke about leaving a show humming the sets? "Love Never Dies" proves that the old joke is no laughing matter.
Review
What: "Love Never Dies"
When: 7:30 p.m. through Sunday; also 2 p.m. Saturday and Sunday
Where: Reynolds Hall, The Smith Center for the Performing Arts, 361 Symphony Park Ave.
Tickets: $49-$127 (if available; thesmithcenter.com)
Grade: C
Contact Carol Cling at ccling@reviewjournal.com or 702-383-0272. Follow @CarolSCling on Twitter.