'Pirates of Penzance' sails onto UNLV stage
Updated March 9, 2018 - 10:45 am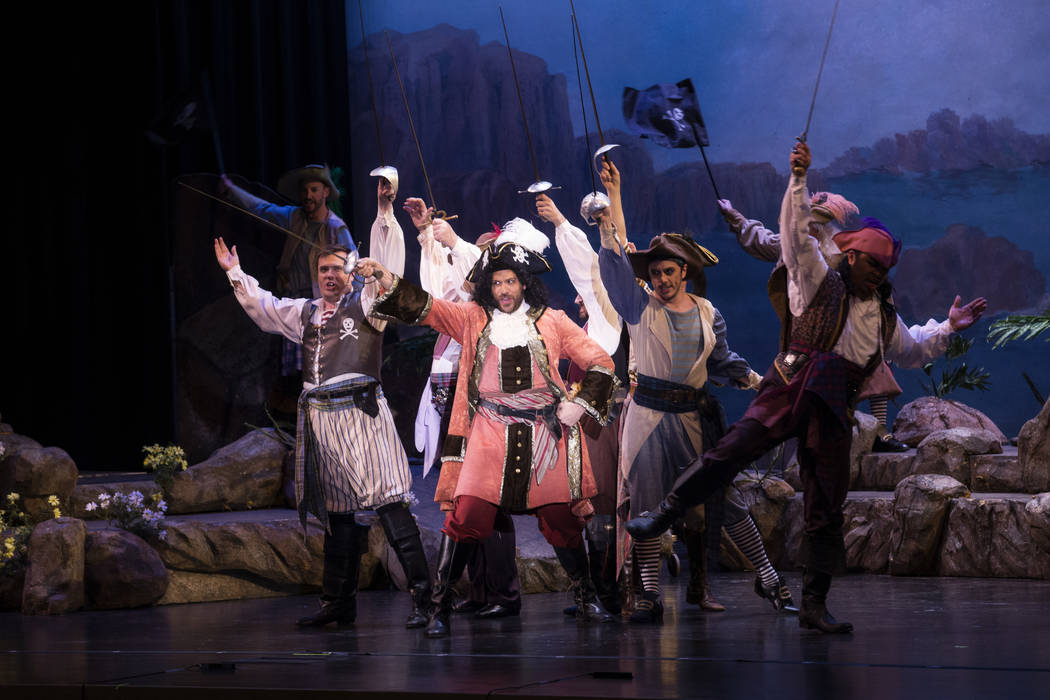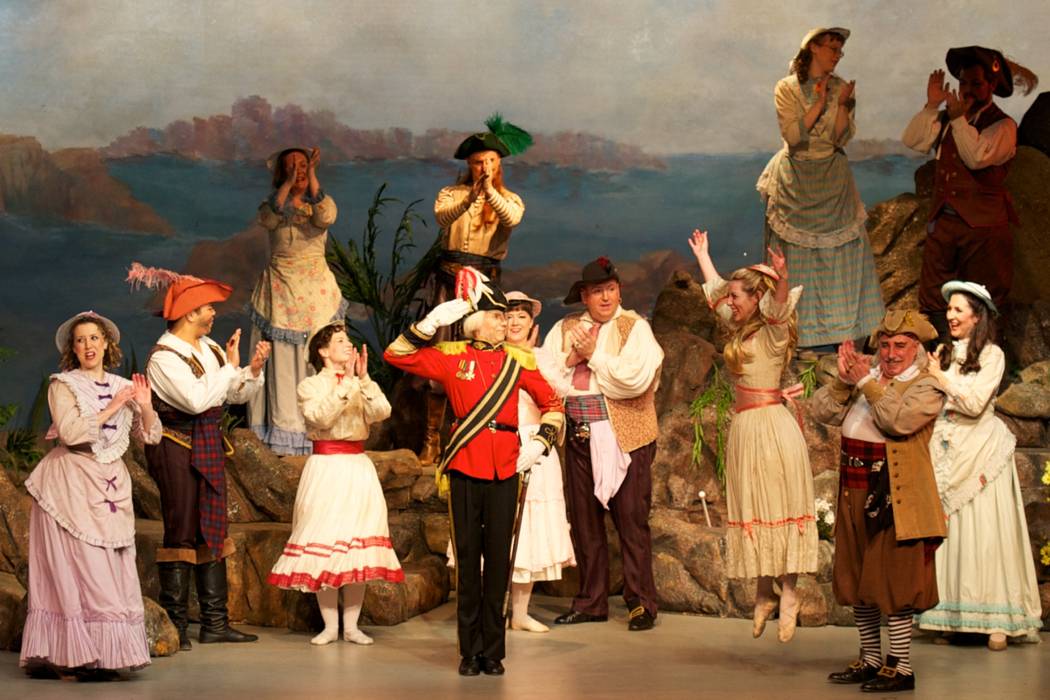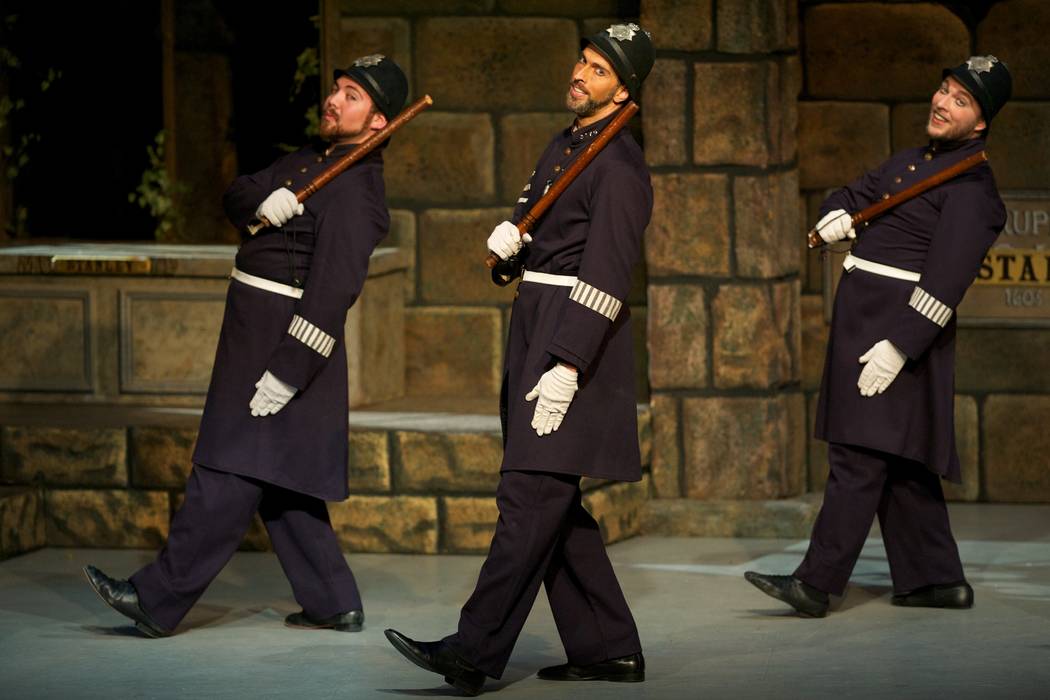 The more things change, the more they stay the same.
Consider this lyric: "I always voted at my party's call and I never thought of thinking for myself at all … "
If that sounds like a quote from a contemporary politician, think again.
It's from an 1878 lyric written for an operetta titled "H.M.S. Pinafore," one of more than a dozen created by W.S. Gilbert in collaboration with Sir Arthur Sullivan that, in the words of composer and music critic Deems Taylor, rank as "small satiric masterpieces that have long outlived the objects of their satire." (Or have they?)
If you've ever heard someone advocate "let the punishment fit the crime," you've heard Gilbert and Sullivan. (That one's from their ultimate masterpiece, "The Mikado.")
Once upon a time, G&S works were a staple of every high school drama program and community theater.
"It's part of our popular culture, whether people know it or not," according to Albert Bergeret, artistic director of the New York Gilbert & Sullivan Players, who have been spreading the joyful G&S gospel for more than four decades.
The troupe makes its Las Vegas debut Friday at UNLV's Artemus Ham Hall with "The Pirates of Penzance."
With 23 singing (and dancing) cast members plus a 17-piece orchestra, this "Pirates" takes the Ham Hall stage under full sail.
Bergeret directs and conducts — and even drives the truck that transports the touring production.
It's "my life's work," he acknowledges — a devotion that began in sixth grade when he sang "The Mikado's" title role. Later, he shifted to the school orchestra, where he first discovered "the scores are so wonderful to work with."
Bergeret continued performing G&S in college (where one of his colleagues, future "L.A. Law" star Jill Eikenberry, sang in "Iolanthe") and, afterward, agreed to start a professional theater devoted to G&S.
The company's longevity testifies to the enduring appeal of the team's Victorian-era collaborations — especially "Mikado," "Pinafore" and "Pirates."
The latter (first performed on Dec. 31, 1879) leapt up the G&S popularity charts following the Tony-winning 1981 Broadway revival starring (among others) Linda Ronstadt and Kevin Kline, who won one of his three Tonys for his uproarious turn as "Penzance's" Pirate King. (Their performances are preserved in the 1983 movie version, which also features — in the role of "piratical maid of all work" Ruth — the inimitable Angela Lansbury).
The action takes audiences to Cornwall's rocky coast, where the rollicking title buccaneers (who may not be exactly what they seem) encounter, among others: a bevy of beauties; their father (who, "in matters vegetable, animal and mineral" is "the very model of a modern major general"); and a constabulary force whose sergeant laments that "a policeman's lot is not a happy one."
Part of "Pirates' " perennial appeal, Bergeret suggests, is that "everyone has played at being a pirate. It's so easily accessible."
That accessibility also applies to other G&S operettas, he adds, noting that "kids can understand it on one level," adults another.
For music aficionados, Sullivan's music "isn't serious — it's as comedic as (Gilbert's) lyrics are," Bergeret points out, noting that "Sullivan is at his best when parodying greats of the music world." (Which is ironic, considering that, before G&S, Sullivan was regarded as Britain's unofficial composer laureate, according to Taylor.)
As for Gilbert, Bergeret attributes his wizardly wit to the fact that he was writing "under the gun of censorship," prompting him to satirize Victorian society — and its politicians — "without drawing blood" and "couched in such a way that you can laugh at yourself."
Gilbert & Sullivan: A New York Story
Gilbert & Sullivan's Victorian-era operettas rank as "the beginning of modern musical theater," with their "meeting of classical and pop," according to Albert Bergeret, artistic director of the New York Gilbert & Sullivan Players.
Although New York's Broadway hadn't yet emerged as America's theatrical epicenter when "Penzance" debuted in December 1879, the operetta nevertheless premiered in New York rather than London.
That's because G&S hoped to create (and profit from) their own production, thereby foiling numerous pirated stagings — a fate that had befallen their previous success, "H.M.S. Pinafore."
As Sullivan wrote, "all we could do was … produce our piece in America first, and get our company well under way before others could bring out their imitations."
Alas, "The Pirates of Penzance" failed to foil the "Pirates" pirates of New York.
Hired musical spies began haunting the authorized production, according to composer and critic Deems Taylor, "to take down the airs as they were sung or played. Not only did certain freebooters produce abbreviated and distorted versions of the piece, but publishers issued albums, described as 'Recollections' or 'Impressions' of 'The Pirates of Penzance.' "
As a result, G&S put together touring "Pirates" companies in the U.S. and sent them on the road to protect their American profits; the operetta debuted in London in April 1880.
Although G&S were ultimately unsuccessful in protecting their right to profit from their creation with an international copyright, Bergeret notes, "they paved the way for the next generation."
Preview
What: New York Gilbert & Sullivan Players' "Pirates of Penzance"
When: 7:30 p.m. Friday
Where: Artemus Ham Hall, UNLV
Tickets: $20-$50 (unlv.edu/pac)
Contact Carol Cling at ccling@reviewjournal.com or 702-383-0272. Follow @CarolSCling on Twitter.