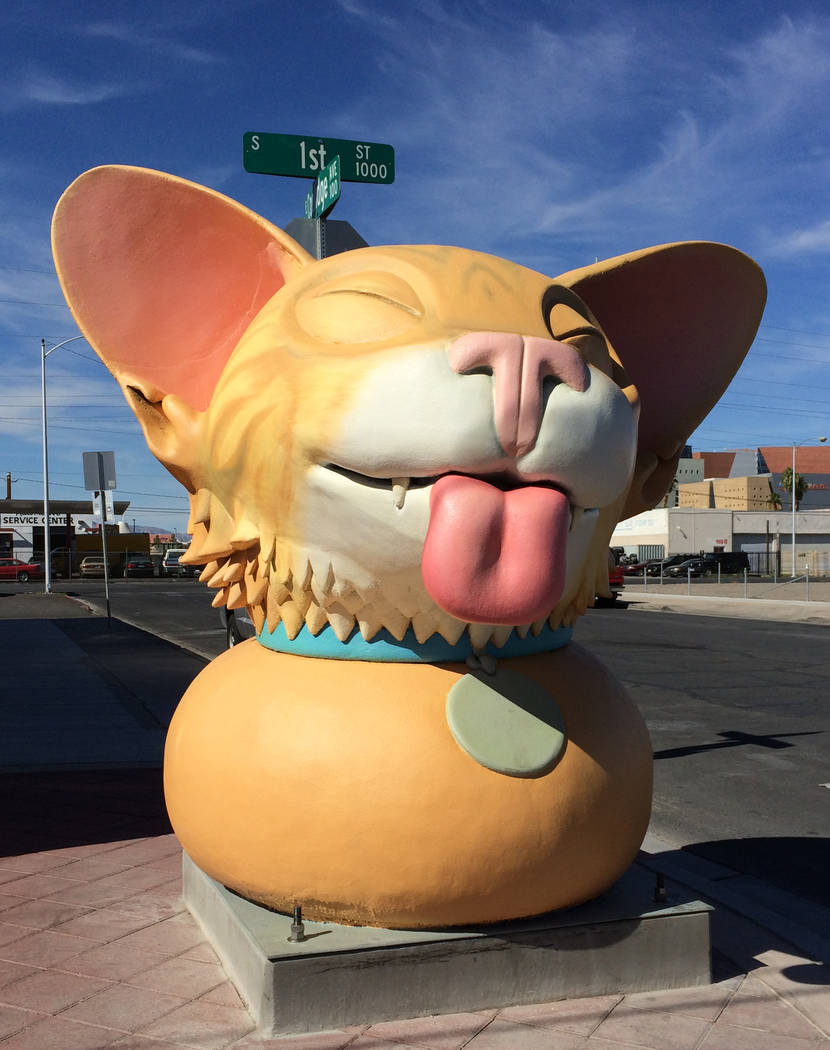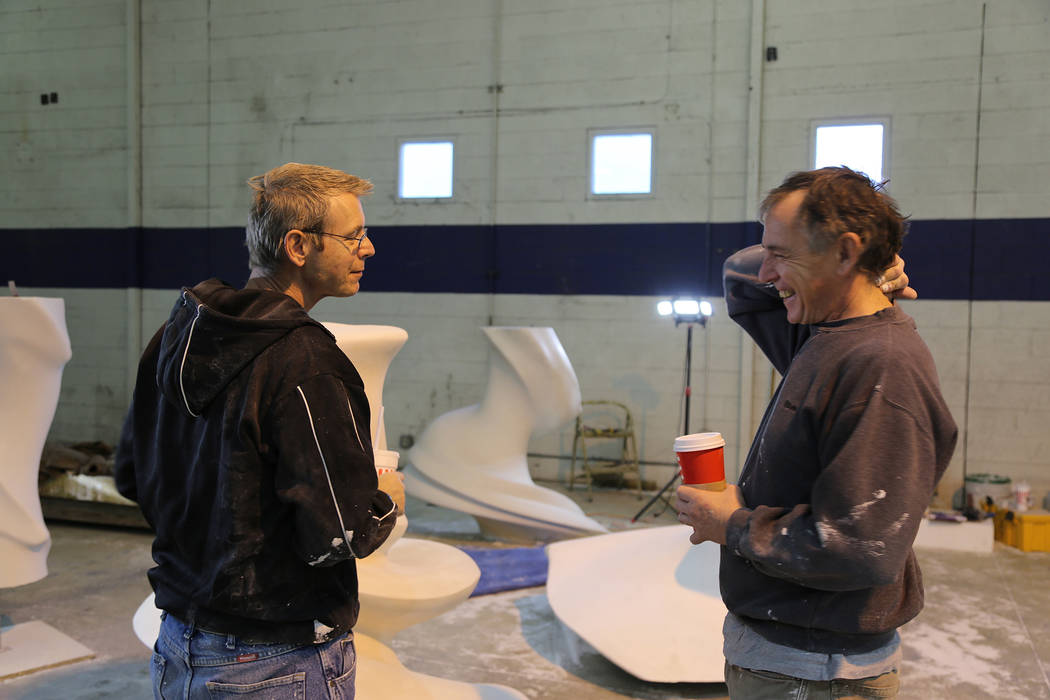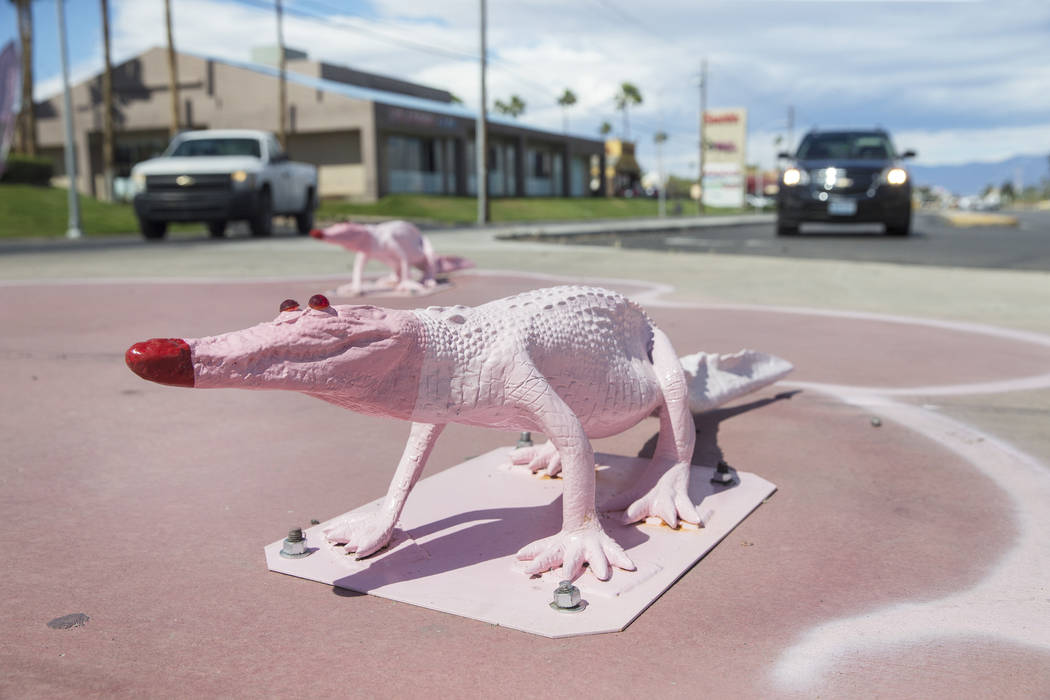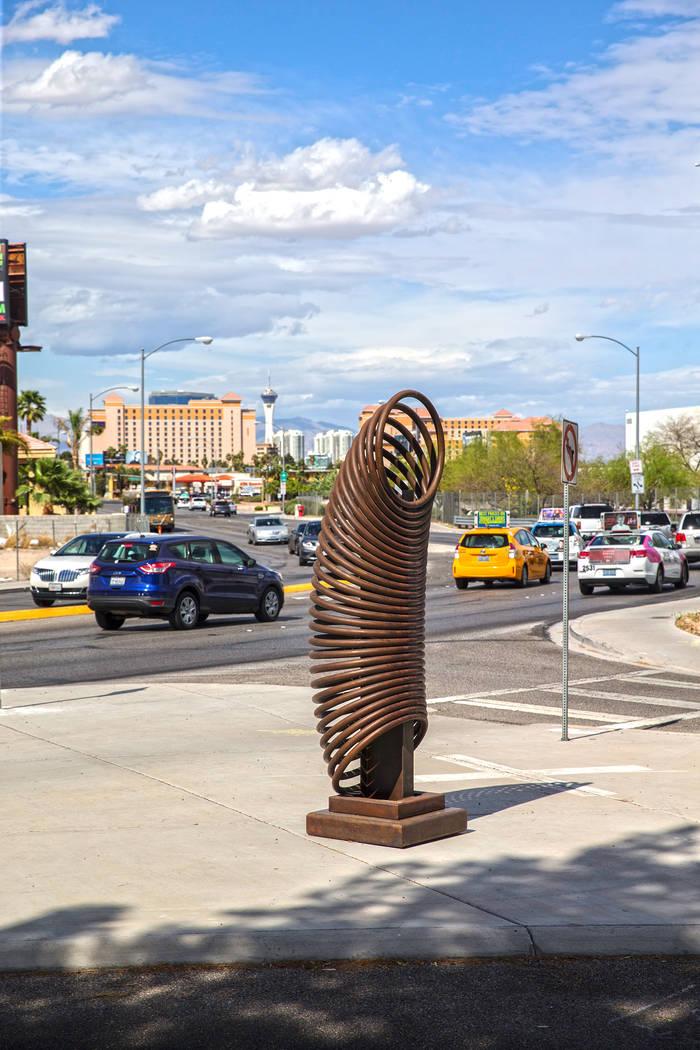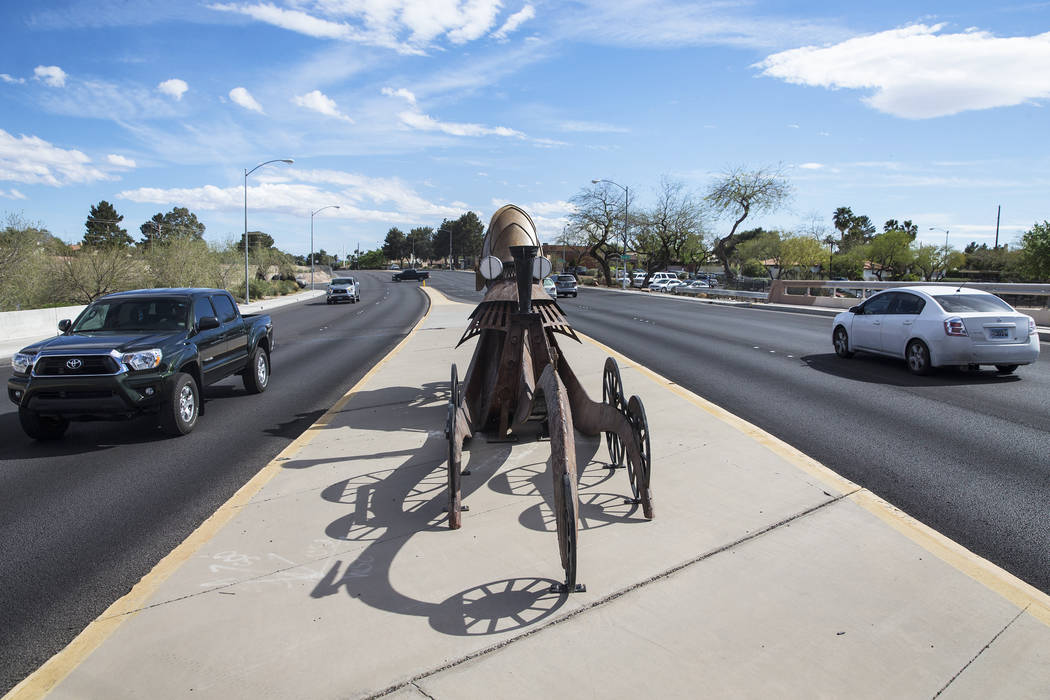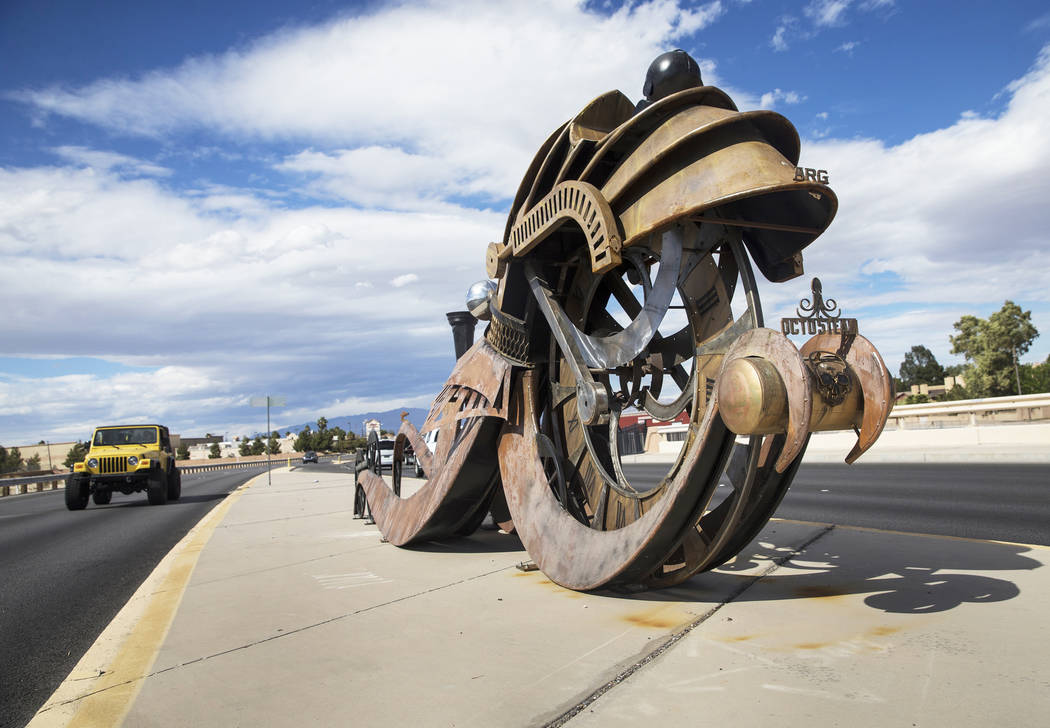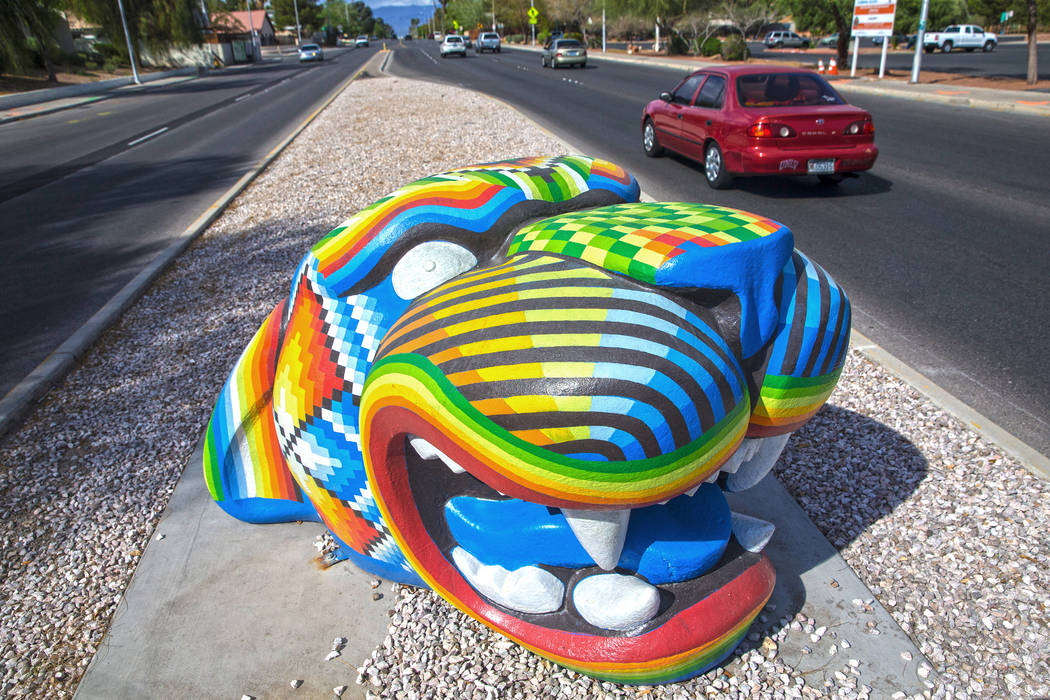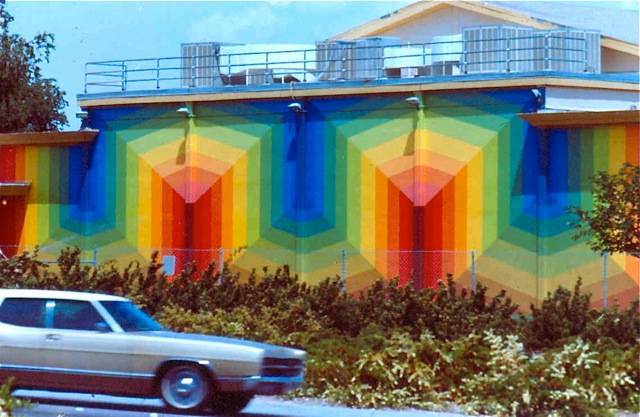 Las Vegas doesn't have a major art museum.
But look out the window as you drive around and observe an array of artwork adorning humble utility boxes. Ponder a mushroom cap — or is that a mushroom cloud? — topping a 26-foot metallic spiral as you stroll through Siegfried & Roy Park.
From trail shelters to bus shelters, from sidewalks to traffic islands, public art projects are transforming public spaces — and, advocates hope, opening eyes to the power of art.
"It's not a luxury, it's a necessity," says Michael Ogilvie, who formerly oversaw public art programs for both Las Vegas and Clark County. (In January, he moved to San Jose, California, to become public art director.) "What would you prefer," he continues, "a series of beige walls, asphalt and concrete or something that looks good?"
Las Vegas-based artist Sush Machida puts it another way.
"If you think about children in Las Vegas, we don't have any art museums," he says. "That means these children, they are not growing up with art. They don't have the chance to understand the importance of culture."
Machida's biggest public art project — a $65,000 series of fanciful murals at the Child Haven shelter — was financed by Clark County's Percent for the Arts program.
Some local artists, however, question public financing of individual artworks.
Ruzo Logic's District Artz nonprofit organizes mural painting with neighborhood kids in east Las Vegas — and live Guerrilla Kages painting at venues from First Friday downtown to The Park, between the Monte Carlo and New York-New York on the Strip.
Logic defines his "guerrilla art" philosophy as "art in public, not public art" and says public art programs create static displays, without "any creative element that goes with it," he contends. "If you're dropping $300,000 on a sculpture, why couldn't they drop $300,000 for a facility?"
PUBLIC FUNDING
Established in 2012, the county's Percent for the Arts program is supported by special ad valorem and room tax revenues and tops out at $1.25 million; the fund has a current cash balance of $1.2 million, according to county officials. (Allocations for recent and current projects total $474,400.)
The city of Las Vegas' program, which began in 2003, calls for 1 percent of capital improvement projects' budgets to be dedicated to the municipal arts fund, says Ally Haynes-Hamblen, who recently moved from Scottsdale, Arizona, to become director of the city's office of cultural affairs.
Currently, Las Vegas' public arts budget has $948,000 allocated for in-progress projects, including $60,000 for such maintenance costs as reapplying anti-graffiti coating and retouching murals; $81,769 in unallocated funds remains in the city's account, according to Las Vegas officials.
Public art budgets can vary widely, Haynes-Hamblen points out, whether funding mini-projects from a pool of $10,000 to a major installation, where "several hundred thousand dollars is not uncommon."
The county's Zap! program, in which artists transform utility boxes, provides "a small canvas for some of the region's best artists," public art blogger Ed Fuentes of painthisdesert.com says. The ninth series, "Zapped on the Way to Lone Mountain," gets underway this spring.
And the first round of the city's utility box project, dubbed AMP and budgeted at $15,000, is expected to be completed in the next few months.
When the valley's public art programs began, Southern Nevada didn't have artists experienced in working on large projects and meeting construction deadlines, prompting officials to bring in outside artists.
"It made me feel really bad," recalls Clark County cultural program supervisor Patrick Gaffey. "I resolved then to do some smaller projects," such as the Zap! series, that local artists could use as steppingstones. (This year, Zap! artists will be paid $2,500 — a $250 increase from the project's 2005 start.)
Now, valley artists are creating local public art, Fuentes observes, demonstrating there's "more to Las Vegas than the Strip."
TYPES OF PROJECTS
The next big piece in the city's program: "Radial Symmetry," artist Luis Varela-Rico's Paiute basket-inspired steel sculpture, to be installed by spring 2018 on the median where Main and Commerce streets intersect. The $246,000 sculpture, part of the $40 million Main Street Improvement Project, was approved in November 2015.
Street medians also provide settings for Clark County's "Centered" program, which features site-specific sculptures (budgeted at $17,500 each) ranging from Valera-Rico's metal "Norte y Suerte (North and Luck)," at Eastern and Serene avenues, to Holly Rae Vaughn's jewel-toned "Gem" panels, at Windmill Lane just west of Rainbow Boulevard.
Adolfo Gonzalez initially designed his fanciful "Octosteam," which the artist describes as "a steampunk octopus time-machine," to fit the project's $17,500 budget. But he enlarged the design after he saw the location, on the Pecos-McLeod Interconnect just north of Flamingo Road.
"The commissions are enough for each budget given, but it is up to the artist who needs to keep within the budget provided in the contract," according to Gonzalez. "On 'Octosteam' I made money, but very little."
That's because "I felt it had to be bigger, or it would get lost," he explains. "So I redesigned my art piece, (which) had my heart, (because) I could finally create something that was all mine."
One of Las Vegas' first public artists, Robert Beckmann, came in 1977 to paint murals with Western High School students at five sites, including downtown's Dula Gymnasium. He's since created more than 250 murals, public and private, from McCarran International Airport to the United States Botanic Garden in Washington, D.C.
Such public works pose important questions and provide ways to observe "for people that wouldn't normally go to a museum," Beckmann says.
PAYOFFS OF PUBLIC ART
Despite his reservations about public funding for art, Logic will join colleagues to build "fake power boxes" for Las Vegas Academy art students so they can learn to follow Zap! and AMP guidelines.
"What they need is experience," Logic says of the "mock box" plan. "If we run 'em through some of the city protocols, they can integrate that into the classroom."
Logic also recently met with Haynes-Hamblen to discuss creating downtown street art festivals. In addition, Guerrilla Kages will present a program in June, at the city's Historic Fifth Street School, with "places for 30 artists to paint," he notes. "Space and opportunity — that's the biggest thing an artist needs."
To Haynes-Hamblen, public art creates community pride, she says, playing a key role in the revitalization of a community and creating an environment where professionals want to live and work.
Overall, "it takes an awful lot of people who care to make it start to happen," Gaffey says. "We have the artists and I know we're going to see more, and better, public art."
Read more from Carol Cling at reviewjournalcom. Contact her at ccling@reviewjournal.com. Follow @CarolSCling on Twitter.
RELATED
Las Vegas artist turns kids' space into great, wide hope
College teacher discovers 'Dream' sculpture at Las Vegas park