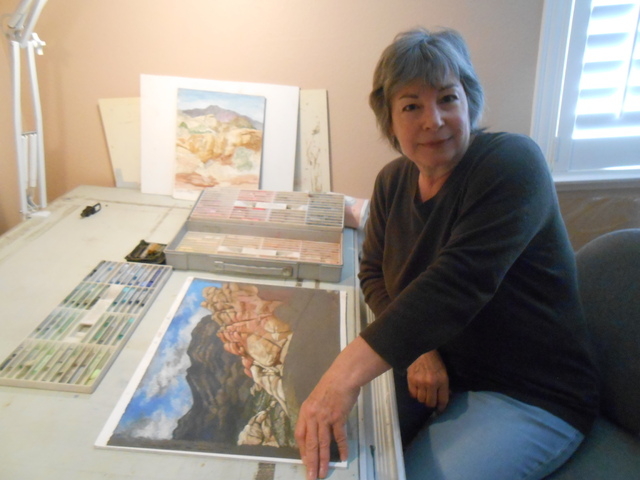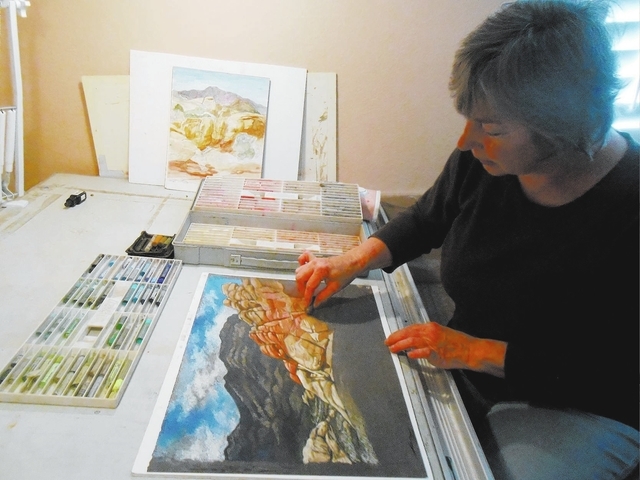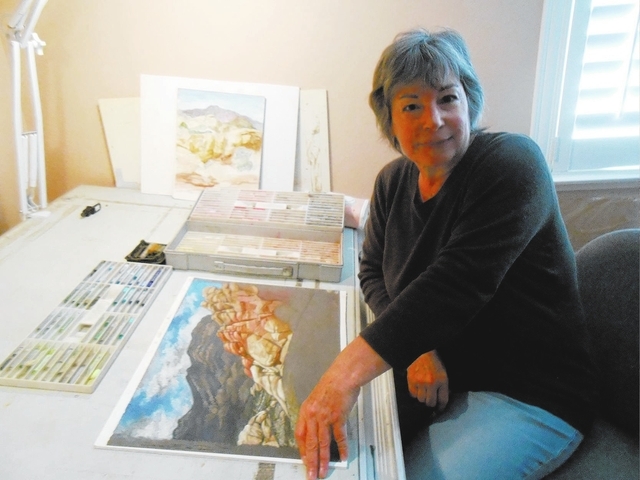 When Linda Campbell moved to Las Vegas from Los Angeles last fall, she was unaware that the Red Rock Canyon Interpretive Association was looking for artists for its first residency program. Her husband saw the flier and urged her to look into it.
"When I first saw Red Rock (Canyon), I was so excited," said Campbell, a Spring Valley resident. "That's what got me going. I said, 'I've got to capture this.' "
Of 20 entrants, she was one of three selected and the first in the new program.
Graham Wimbrow, art programs coordinator for the association, was brought on last August and began developing a proposal for the program. The government shutdown in October hampered the association's ability to initiate new programs, but it plowed forward with a call for artists in January.
"Through our program, we wanted to pledge support for the local arts community of Southern Nevada," Wimbrow said. "So many local artists already frequent Red Rock Canyon. This program is an opportunity to work with naturalists and geologists, with (Bureau of Land Management) rangers; it's a chance for artists to fully immerse themselves in Red Rock Canyon. I think that the arts scene is still developing in Las Vegas. I hope that this program will inspire more artists to explore the significance of Red Rock Canyon in the cultural fabric of Las Vegas and to consider our nation's relationship with public lands."
Campbell's residency was two weeks. She has an interior design background, and for the Red Rock Canyon program, she used pastels. The idea was to create on site, called en plein air — in the open air, up close and experiencing nature in the moment.
"I was always hesitant of working en plein air," she said. "… But the only way to really understand and capture what I needed to capture was to be there in front of it."
She said she was "baked to a crisp" after six hours outside, but she accomplished what she wanted and increased her portfolio so she could enter art festivals and sell each piece as a giclee. Campbell said Red Rock Canyon required she work in a larger format than she was used to. Some days, she said she'd work all day through.
"You can lose track of time there very easily," she said.
Working en plein air meant dealing with varying light conditions as the sun tracked across the sky. She worked out a system to get her speed up, penciling in the scene and waiting for the right light, then hurrying to fill in the colors for that two-hour span. She also took photographs when there was optimal light and downloaded them to her computer, completing the work at her huge draft table at home.
"I'd set the monitor up here, and they'd be right there in front of me for reference so I could work on them," she said. "It was easier to do it that way and finish dropping in the colors."
Campbell ended up creating seven pictures during her residency. One of them, "Storm Over the Quarry," was done right after a rain shower when the light made the scene particularly magical.
Two of the days included taking other artists along with her. They set up their easels and worked on pieces independently but benefiting from the common goal.
What did it mean to her to be named an artist-in-residence?
"It means I'm serious now with my fine art thing," she said. "I had two girls to raise, so I really didn't have much time to devote to my art (before this)."
Artists donate a piece to Red Rock Canyon after their residency to be used in a show this summer. Campbell likened it to giving up a baby, then laughed and said if she liked a piece that much, she could always reproduce it.
The association has been considering launching such a program for about three years. The BLM, which manages Red Rock Canyon, launched its first artist-in-residence program in Colorado two years ago. By comparison, the National Park Service hosts about 30 programs across the nation.
The three Red Rock Canyon artists were selected based on artwork samples, questionnaire responses and a proposal for a community engagement project. The other artists were Whitney resident Maria Diener and Summerlin resident Myranda Bair.
Diener does wood-cut prints that note connections between the human body and the landscape. Her residency spanned April 6-19.
Bair is set to complete her residency May 4-17. Her work focuses on sustainability and humankind's relationship with the natural world. She plans to host a workshop from 8:30 a.m. to 4 p.m. May 11, when participants can design and decorate a postcard sharing their experience of the Mojave Desert. No registration is required.
An exhibition of artwork is planned July through August at the Red Rock Canyon Visitor Center, 1000 Scenic Loop Drive. There is a possibility the show will travel to Washington, D.C.
Wimbrow said he hopes to make this an annual program. For updates, visit redrockcanyonlv.org.
Contact Summerlin Area View reporter Jan Hogan at jhogan@viewnews.com or 702-387-2949.