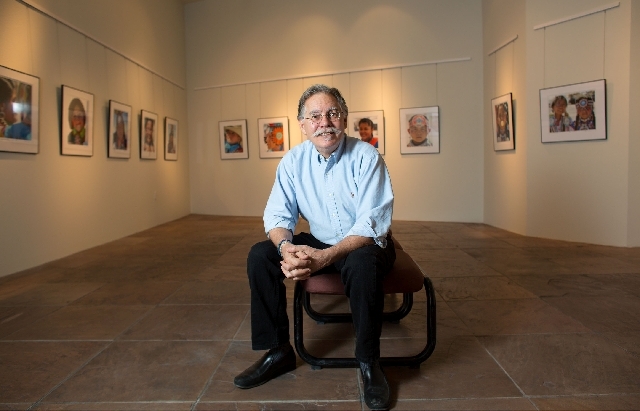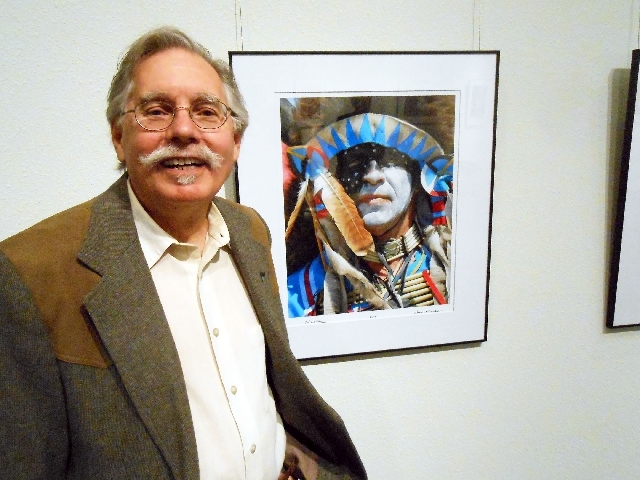 In retirement, one gets to do what he enjoys, rather than working for someone else. Lamar Marchese, who helped start Nevada Public Radio in the 1970s, is doing what he loves — photography.
His exhibit, "Pow Wow Portraits," is scheduled to be on display during regular library hours through July 7 at the Rainbow Library's gallery, 3150 N. Buffalo Drive. It features two dozen
16-by-20 format candid portraits of Native Americans at the 2011 and 2012 Snow Mountain Pow Wows, hosted by the Las Vegas Paiute Tribe.
He said people dressed in cultural regalia make for interesting subjects, but it's the look in the eyes, the essence of the person, that he's out to capture.
"The thing that ties (this show) all together is the universe-iality of our humanness," he said. "No matter how different we are, we really are all the same."
Joe Palermo, director of the Southern Nevada Museum of Fine Art, 450 Fremont St., hung an exhibit at his facility featuring work from Marchese's 2012 trip to India and Nepal and said it was well-received.
He said that for someone who rediscovered photography fairly recently, Marchese had an artistic approach to his pictures.
"He's a super photographer," Palermo said. "We just closed up a show of international photography, and his work is as good as anyone's in it, and this was a juried exhibition. There were some works in there from people who are very famous. His work would have fit in very naturally. I think very highly of his work."
Marchese was on hand for an artist reception May 7 at the Rainbow Library. His bright, colorful photos lined the gallery walls, eliciting remarks from those in attendance.
"I like it," said Mariea Marshall, a northwest Las Vegas resident. "I come in here all the time, and this is something new. This just pops."
Marshall added that she's part Native American, so seeing the Native American aspect to the work was like seeing family.
"I think it's very colorful," said Len Iannacone, who is also an artist. "I think it does something for the Indian people. It gives them a little boost … and forwards their heritage."
Marchese, 69, is a Spring Valley resident. He first picked up a camera while getting his master's degree at the University of Florida in Gainesville. He was so passionate about photography, he said he built a dark room in each of his first two houses.
"That was the days when you had an enlarger and trays of chemicals," he said.
Marchese may not have pursued photography as a profession, but he made an impact in other ways. He was a member of the first Volunteers in Service to America graduating class in St. Petersburg, Fla.; was a Job Corps reading instructor in Harpers Ferry, W.Va., and near Thurmont, Md.; was a Head Start teacher with the Seminole Tribe of Florida in Hollywood, Fla.; and was a media specialist in an Appalachian adult education program in Morehead, Ky.
He and his wife, Patricia, whom he met in the sixth grade in Tampa, Fla., moved to Las Vegas in 1972, when he took a position as a program director with the newly established Clark County Library District. During his seven years there, he curated several gallery spaces and programmed concerts, films and lectures.
His artistic side saw him producing three documentary films, writing and photographing content for brochures and producing a national awards-winning library promotional TV spot, as well as documenting the neon landscape of Southern Nevada in the mid-1970s with photos.
In 1975, he was one of the original incorporators of Nevada Public Radio and became its first general manager four years later. He and Patricia retired in 2007.
Almost immediately, he bought a Nikon digital camera and began snapping away.
The exhibit at the Rainbow Library will be his fourth one-man show.
"I've decided what I really like to do is pictures of people, basically street portraits," Marchese said. "I'm not interested in sitting in a studio with controlled lighting and all that good stuff."
He goes to events to capture people, such as the Snow Mountain Pow Pow, which invited tribes from surrounding states for competitions, performances and dancing.
Almost everyone comes in their best regalia, showing off their leather work or bead work.
He said he never asks for his subjects' names, but he does let them know of his intent.
"I always ask permission," he said. "I don't go and stick a camera in someone's face. And 98 percent of the time, they say, 'Yes.' … even if they don't speak the same language, you kind of (pantomime) and do the little clicky thing with your finger, and people get it."
That's when he starts shooting, hoping for that special something that makes a photo come alive.
He said there occurs a moment of connection between the subject and the photographer, captured by the lens for the rest of the world to experience, too.
After he's done shooting his subjects, they say goodbye and go on their own way.
"I'm always curious, wondering who this person is, this person who I'll never see again in my life," he said.
For more information about the exhibit, call 702-507-3710 or visit lvccld.org.
Contact Summerlin/Summerlin South View reporter Jan Hogan at jhogan@viewnews.com or 702-387-2949.