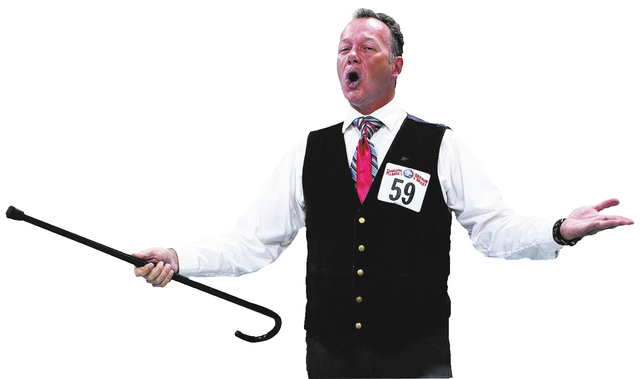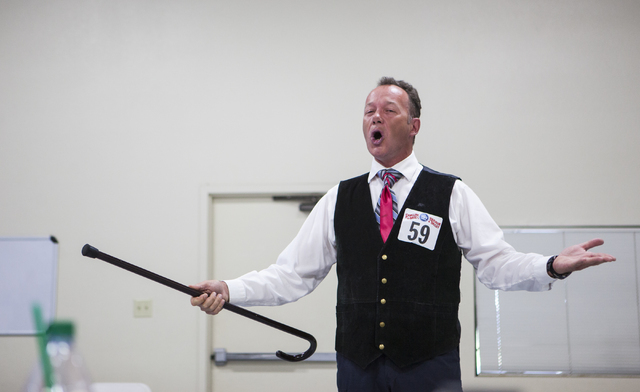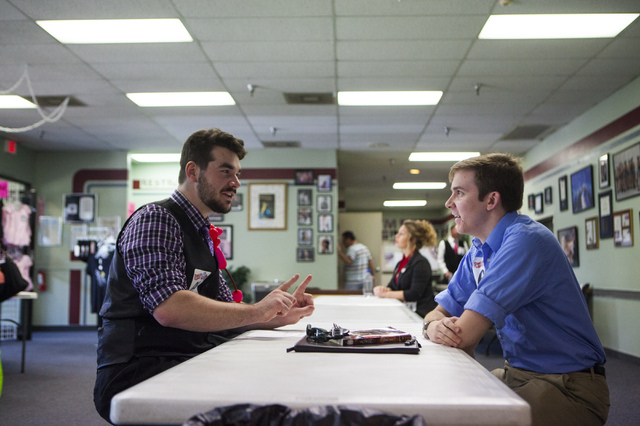 They're on a quest — one so captivating, so irresistible that they have no choice but to accept, and sing about it.
Conveniently, the song they sing happens to be titled "We're on a Quest."
And the people listening to them sing it are on a quest, too.
They're looking for someone — more precisely, the someone — to perform the song for ladies and gentlemen and children of all ages.
"We're on a quest, collecting the best," the song's lyrics explain. "The crowd is roaring — let's start exploring!"
Usually, the people listening to those lyrics are in the audience for Ringling Bros. and Barnum & Bailey's "Circus Xtreme," which played Thomas & Mack Center in June.
On a recent morning, not far from the Thomas & Mack, the audience is much smaller: four Ringling Bros. employees.
So is the venue: a dance studio at Fern Adair Conservatory of the Arts, where the circus representatives gather to audition potential replacements for "Circus Xtreme's" current (and soon-to-depart) ringmaster.
Although wannabe ringmasters may try out via video (for details, visit www.ringling.com/ringmaster), intrepid performers have assembled in person to throw their (top) hats into the center ring.
Some are locals. Others have ventured to Las Vegas from California, Oregon and Utah.
And Rye Mullis knows exactly how they all feel.
A Ringling Bros. director who's filled in as ringmaster himself, Mullis understands the role, which he describes as equal parts Broadway star, stuntman and newscaster, a performer who also has to be "a great singer and able to sell the acts to the audience."
Or, as someone once told him, "a good ringmaster can sell a ketchup Popsicle to the woman in white gloves."
Mullis and his colleagues have already checked out potential candidates in Dallas. After the Las Vegas stop, they'll audition more contenders in New York and Orlando, Florida. Finalists will join the "Circus Xtreme" tour in late September or early October, with the appointment of the new ringmaster later in October.
Overall, Mullis and Co. will see probably more than 100 candidates before the callbacks.
"Traditionally, ringmasters have been male — and tall," Mullis notes before the tryouts begin. "But we've had women — and children. We're open to exploring possibilities."
Just as long as the hopefuls understand that being a ringmaster, while "very thrilling," is also "an insane experience," he adds, one where "you're in the middle of the madness."
Tess Emerson, who's trying out for the Ringling Bros. ringmaster gig, has been there.
The Los Angeles-based Emerson — who tends bar when she's not performing — spent a few seasons as ringmaster for the Jordan World Circus.
Beginning her circus career as an aerialist, on the flying trapeze and spinning hoops, Emerson then rode elephants — and motorcycles — until the day she volunteered to sing the national anthem before a show. A week later, she became the circus' ringmaster.
"You have to have a huge presence in the role, so people not only hear but understand that you're taking them on this adventure," she notes. "Absolutely my favorite part was seeing the kids — especially the girls," who would "stare at me and touch my costume. They kind of think I'm a superhero."
At the audition, Emerson wears souvenir circus pins on the lapel of her black jacket. Platon Hogan, 23, from Portland, Oregon, sports a red balloon boutonniere he made after a friend's mother, a former Ringling Bros. clown, taught him how.
And Las Vegan Timothy Cummings, 50, practices twirling a cane as he awaits his audition. A frequent cast member in local theater productions, Cummings has four to five different day jobs, from teaching water aerobics to walking on stilts at Margaritaville.
When he's called into the dance studio for his audition, Cummings first sings "We're on a Quest," twirling his cane as he performs the tune.
"Awesome!" Mullis responds. "I love those skills with that cane."
"I'm glad I didn't hit you," Cummings comments, deadpan.
Next, it's time for the speech each prospective ringmaster must make, one announcing the show's "king of the jungle," tiger trainer Tabayara.
"And now, a man brave enough to call 16 ferocious felines his friends — the mighty Tabayara!" the candidates intone.
The first time through, many contenders deliver the speech in ringing, top-of-the-voice style. After which Mullis offers some crucial direction for the second time around.
"Sell the mystery and danger of the act," he advises one.
"I love the tone you're giving," Mullis tells 24-year-old hopeful Jerod Perez, who moved to Las Vegas from Pensacola, Florida, three moths ago. "But a little more mystery. Build up a kid's anticipation."
In short, Mullis is looking for a quality he describes as "Willy Wonka meets Indiana Jones."
And Las Vegas just might be the place to find him — or her.
"Las Vegas is one of the greatest towns for talent," Mullis notes. "It spans the gamut," with plenty of performers who can do lots of different things. "It's an exciting role. We're excited to see what Las Vegas brings."
Read more stories from Carol Cling at reviewjournal.com. Contact her at ccling@reviewjournal.com and follow @CarolSCling on Twitter.