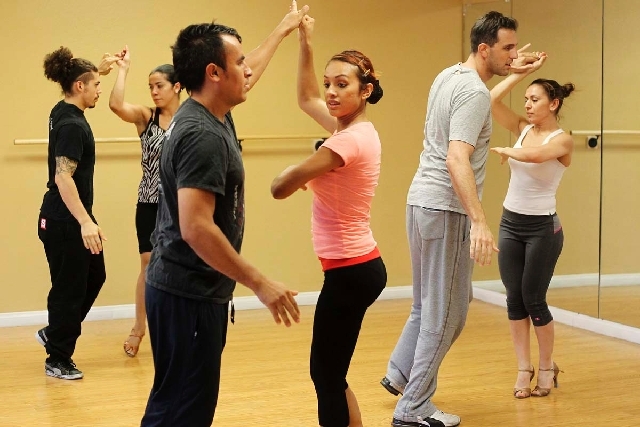 For 52 weekends of the year, thousands of people travel from all over the world to "Fabulous Las Vegas" to party, gamble, drink and only they know what else.
But there's one weekend of the year when thousands of people travel to Sin City not to sin, but to salsa dance for three consecutive days and nights.
The 10th annual Las Vegas Salsa Congress will take place at the renovated Tropicana Las Vegas Friday through Sunday , attracting dancers from Los Angeles to New York to Milan to Istanbul.
The Las Vegas Salsa Congress is three days of nonstop dancing. There are workshops during the day, performances during the evening and social dancing all through the night until 4 a.m. The World Latin Cup qualifier for couples also takes place at the congress.
It is the third biggest congress in the U.S. behind those in Los Angeles and New York.
"Where else can you go dance salsa with people from countries all over the world, every different song?" said Nate Strager, founder of the Las Vegas Salsa Congress.
Strager started the congress because he loves dancing and wants to promote the salsa culture.
"Imagine 2,000 people dancing with each other, and not grinding, but dancing. You hear a live band. It's not ballroom, it's salsa. It's the real deal," he said.
Two Las Vegas professional salsa teams will be among 60-plus performers at the congress: Sin City Salseros and SalsaLasVegas.com.
Sin City Salseros is a five man, five woman, dance company that practices and performs ballet, jazz, hip-hop and Afro-Cuban dances, but specializes in salsa. The team has placed in world salsa championships.
Strager, who is also the co-director of Sin City Salseros, said the team practices four days a week for as many as 20 weekly hours at Rhythms Dance Studio on Polaris Avenue.
Sin City Salseros have performed all over the continent including Toronto, Alaska and Mexico, and taught various dance workshops. Some of the dancers have to balance dance and travel with their personal lives. They have regular jobs and some even go to school full time, Strager noted.
Less than two miles away at Broadway Hall Dance Studio on Decatur Boulevard, SalsaLasVegas.com dance company prepares to take five teams — student, amateur, semipro, pro and bachata — to the congress, each performing one number. Among the five teams there are 32 performers, said Gustavo Rico, co-director and co-founder of SalsaLasVegas.com
The team has traveled and performed at congresses in San Francisco, San Diego, Los Angeles and is planning to go to New York's.
Salsa congresses are great events to attend, even for nondancers, because of the family-oriented, friendly atmosphere, Rico said.
"Everyone is there for the same reason, just to have a good time," Rico said.
Rico, who directs SalsaLasVegas.com along with his wife, Jenny Patterson, his brother Tony Rico and his sister-in-law Teresa Rico, compared the experience to going to a nightclub and said it is completely different.
"You're able to take classes with top-notch instructors, you'll see shows and after the classes and shows you get to enjoy the night dancing."
Strager also stressed the difference between dancing at a salsa congress and dancing at a nightclub.
"When it comes to dancing, we're not ordering $100 bottles of Skyy. It's about the dancing, it's about the culture, it's not about getting drunk," he said.
"I walk out and spend like 200 bucks on six drinks. I'd rather spend $100 and dance my ass off," Strager said.
He added that the true salsa dancing experience wouldn't be complete if it weren't done to live music.
"You can feel the instruments. You can feel (the live music) run through your body," he said. "A DJ is just a bass line and a computer."
This year's salsa congress participants are in for a treat. This will be the first year the performances will be in a professional showroom during any congress in the U.S. More than 80 performances will take place in the brand- new Tropicana Theater. The Grammy-nominated 911 Mambo Orchestra will be playing Saturday night along with The Las Vegas Salsa-All Stars, a group of local musicians coming together to perform at the congress.
There will also be one ballroom for all Latin music. Participants who want to dance more than salsa can enjoy bachata, merengue, reggaeton, cumbia and others.
Even those who have never danced a day in their lives can enjoy the congress by watching the performances, taking workshops and social dancing with professionals from all over the world, Strager said.
Contact reporter Yvette Cruz at ycruz@reviewjournal.com or 702-383-0256.
PREVIEWS
What: Las Vegas Salsa Congress Pre-Party
When: 10 p.m.-4 a.m. Thursday
Where: Hard Rock Live in the Hard Rock Cafe, 3771 Las Vegas Blvd. South
Admission: $10
What: 10th annual Las Vegas Salsa Congress
When: 11 a.m.-4 a.m. Friday , 10 a.m.-4 a.m. Saturday and Sunday. Complete schedule
Where: Tropicana Las Vegas, 3801 Las Vegas Blvd. South
Tickets: $25-$240 (562-645-6736, mysalsacongress.com)