Secret Walls Las Vegas showcases talent in live-art battle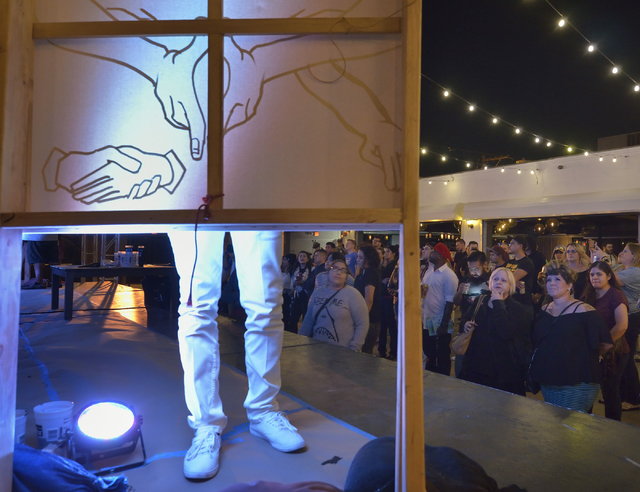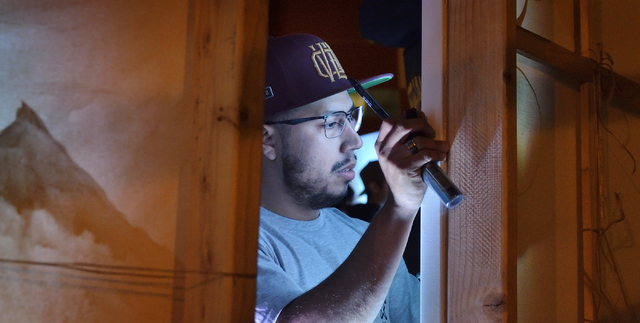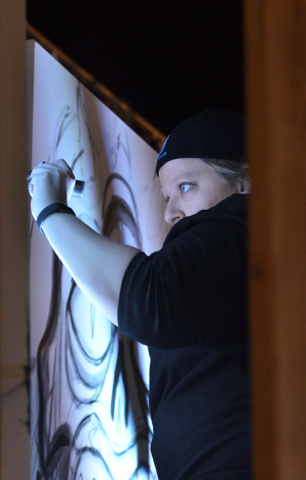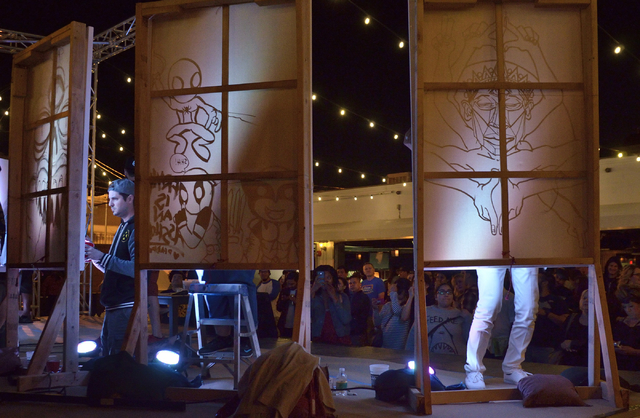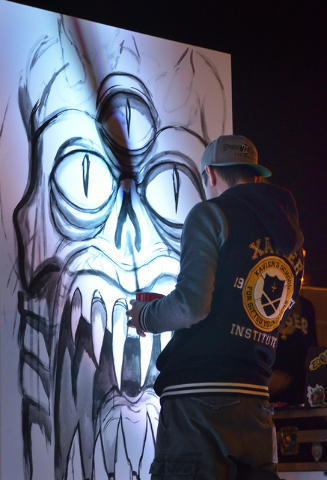 There are 90 minutes on the clock and Mike Biggs is outlining the frame of a face with his paintbrush in long, light gray slashes. A canvas away, Jeremiah Kaniaupio is starting small, with the structure of a nose in precise black lines in the middle of his canvas.
Also on the stage at Place on 7th in the Secret Walls Las Vegas competition are Zappos artist-in-residence Miguel Hernandez, digital artist Jeannette Hall, illustrator justanothrday and designer Sam Canales.
The event is an offshoot of the international Secret Walls organization, which orchestrates live-art battles around the world and describes itself as "the 'Fight Club' of the art scene."
The Las Vegas iteration of the event began in February and will culminate with the championship in September, with a cash prize and gifts from sponsors to be determined. In each battle, six local artists are pitted against each other. The top three contestants progress onto the next round. To amp up the entertainment value, there are constraints: 90 minutes, black paint (the artists can mix it with water), no reference material.
As time slips away, images emerge across the six canvases: cartoonlike Avengers, an anthropomorphized paintbrush, a hand sprouting from a mound of grass.
"I actually wasn't sure how long it was going to take me, so I was just working quick at first and then I started slowing down," Biggs, a tattoo artist by day, says after he finishes. The crowd's cheers, measured in decibels, crown him the winner of the night moments later.
Kaniaupio — painting under the name OrfinArt — took second at the Wednesday event, justanothrday third, rounding out the group that will progress to the quarterfinal of the Secret Walls Las Vegas event in July.
David Duran, owner of Civilian Clothing, founded the Secret Walls Las Vegas chapter earlier this year. He wants the Secret Walls tournament to serve as a launch pad for local artists, a task he says can be challenging given the lure of the glittering hotels and their productions.
"Our city is so talented, it's kind of crazy to see people look past them and just go to the Strip for mainstream stuff," Duran says.
Jef Logan, who competed in the first battle in February and will compete in the June quarterfinals, says the Las Vegas art scene is growing and "becoming a well-oiled machine and a unit of creativity" — it just needs to be incorporated into the city's popular image.
"How Vegas is able to stand out is that it's a tourist city, it's a landmark on a map but we get to tell — Vegas artists — that it's not just a city of that, it's also a hub of the artist community," Logan says. "It's strong. It's got a lot of substance."
Wednesday's event was mostly attended by friends and family of the competitors, as well as fellow artists such as Tony LaVorin, who came to support Hernandez.
"He's a really good guy, I appreciate his humbleness," LaVorin says.
As for Simon Fong, an artist as well, "I just came out for the art."
Attendees who loved the pieces painted in front of them could bid on them throughout the night — Wednesday's highest bid was $400 for OrfinArt's painting.
LaVorin stood close by the stage, intently observing Hernandez shape a monochrome rose on his canvas. Secret Walls, at its heart, turns the artistic process into a spectator sport, an aspect LaVorin, as an artist himself, isn't so sure about.
"You can't really pick a winner, I mean come on," LaVorin says. "That's the only thing I don't like."
But like all truly pure things in the world, the final standings are secondary to the process played out onstage, at least for Logan.
"Just like any painting, I am faced with what decisions I'm going to make and what I'm going to do, how I'm going to just kill it, and then on to the next," Logan says. "And if I don't win the competition, so what? Next painting, what's next?"
That's not to say winning doesn't feel good.
"But if I do win, that would be awesome bragging rights."
Throughout the summer, and after the September championship, Duran plans to host more Secret Walls events and bring in street artists from outside Las Vegas to battle with the locals. He also hopes to have a Secret Walls battle at the Life is Beautiful festival in September.
Contact Sarah Corsa at scorsa@reviewjournal.com or 702-383-0353. Find @sarahcorsa on Twitter.