Shakespeare Institute, Western High School form partnership
April 25, 2017 - 12:31 pm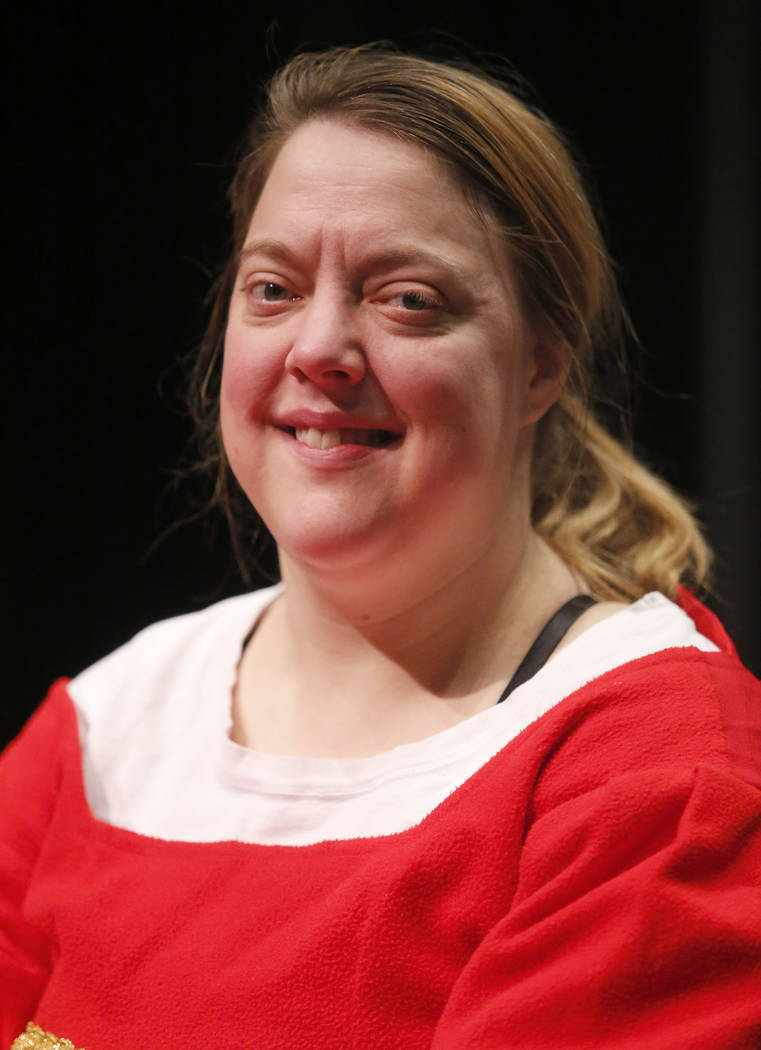 All's well that starts well.
William Shakespeare didn't write those exact words, of course, but he'd certainly recognize the sentiment behind them — and how well they describe a new partnership between Western High School and the Shakespeare Institute of Nevada. (Otherwise known by its Vegas-centric acronym, SIN.)
SIN brings live performances of the Bard's works to Clark County School District classrooms, parks and libraries; last year, 18,000 CCSD students, kindergarten through high school, saw their productions. But the troupe had no permanent home.
"We were looking for ways we could expand the partnership" with CCSD, explains SIN chairman Dan Decker. Their plan: "Let's find a school where the theater is not in use, with no drama program."
Enter Western High School, which has a 455-seat theater — but no theater program to fill it.
Principal Monica Cortez says "it's been quite a few years" since Western had a drama program. (At least six, according to the last recorded use of the theater's lighting booth, notes SIN lighting director John Adkins.)
Arts programs were dropped because of financial pressures, the principal notes, but her predecessor started to bring them back last year, a trend she's continuing, Cortez adds, because "that's what gets kids engaged."
The school's band program, which had 40 students, now has "close to 200," she reports. The orchestra program is rebuilding and next year dance will be added.
As for Shakespeare, his dramatic works may be a staple of the school's English curriculum, but SIN represents a way for students to experience the Bard, not just read him — and in their own school theater.
In addition to performing for students, SIN will present free public performances of Shakespeare's works in the Western theater, which they've dubbed the Shakespeare Playhouse. ("Romeo and Juliet" inaugurates the program June 16, with "Othello" scheduled in October; for ticket and other information, call 702-613-6100 or go online to theshakespeareinstituteofnevada.com.)
Decker works with Western students in weekly after-school sessions, where he leads vocal exercises and discussions of Shakespeare's sonnets and plays. (SIN also offers free weekly public workshops at 7 p.m. Tuesdays in Western's Little Theater.)
"It's pretty great, actually," Western junior Janelle King says of the school's new Shakespeare connection.
"I always had like a little thing behind my head, that maybe I could pursue this," adds ninth-grade student Isabella Andrade-Velez, noting "how people still talk about" Shakespeare, 401 years after his death.
To ninth-grader Jade Stroh, "it looked really cool," she says of the prospect of studying Shakespeare. "I just wanted to be a part of it."
Although a formal Shakespeare drama class isn't in the works yet, Decker says that other Western classes will be involved in SIN productions, from computer arts students who will design programs to fashion club members designing costumes.
In addition, students interested in the technical side of theater are working with union stagehands to bring Western's Shakespeare Playhouse back to life, patrolling the catwalks and fly lofts to learn "what fixtures work and what fixtures don't," Adkins notes.
"It is a nice theater," he adds, with "a very nice updated system. All the equipment is up there."
Rommel Pacson, a SIN actor and choreographer, will direct the company's "Romeo and Juliet" at Western — and appreciates the opportunity to plan ahead and "know where we're going to be in six months."
Especially because he's seen the impact SIN's "Shakespeare in the Schools" performances have had on local students.
"They've never seen anything live," Pacson says of some students. "To see two people falling in love or having a fight — they think it's real life."
Their reactions, Decker adds, "are huge. Romeo and Juliet kiss and they go crazy. And the answer is always, 'Because this is real.' "
Contact Carol Cling at ccling@reviewjournal.com or 702-383-0272. Follow @CarolSCling on Twitter.
From classroom to stage play
Giggling high school girls form a tight-knit cluster as they hop, one-legged, in a circle.
"If you know the sonnet, say it," Dan Decker, chairman of the Shakespeare Institute of Nevada, tells the students, who recite in time — before collapsing with laughter in a collective heap.
"Well done," Decker tells them. "The fact is, as a group, you're only as strong as the weakest one. So if you're doing a play, help whoever needs it."
Welcome to Western High School's after-school Shakespeare study, a once-a-week session Decker oversees as part of a partnership between his nonprofit and the school, the SIN troupe's new stage home.
The physical warmup complete, Decker moves on to vocal exercises, leading the students through vowel sounds, starting with a hearty "EEEEEE."
One student responds: "My chest is vibrating. It feels weird."
Leading the way through the remaining vowels, "the meanings of the words will resonate in different parts of your body," Decker explains. "Words are not just sounds. They're not just random. They have a resonance."
As the students discover when, warmups over, they gather around a table to discuss Shakespeare sonnets and "Romeo and Juliet's" balcony scene.
Going line by line, Decker explains the meanings behind Shakespeare's imperishable poetry.
"What he's saying (is), 'If I write about you, you will live forever, you will always be beautiful,' " Decker notes. "So long as this" lives, he adds, pointing to a printout of the sonnet. "That's a pretty big brag for a 20-year-old poet."
Next, it's on to "Romeo and Juliet" — and the background of the play's "two warring households," the Montagues and the Capulets.
"Republicans and Democrats?" suggests one student.
Pondering Romeo's presence beneath Juliet's balcony, "I would probably gut-punch him," another says.
And after yet another student recites Juliet's famous lines — "Deny thy father and refuse thy name; Or, if thou wilt not, be but sworn my love, and I'll no longer be a Capulet" — the light dawns as she understands Juliet's vow to abandon her family for love of Romeo. "I did it! I did it!" the student exults.
"It's so fun when they're hearing it for the first time," Decker says following the after-school session. "It keeps me young."