Shakespeare work gets hip-hop treatment in 'Bomb-itty of Errors'
September 1, 2016 - 6:55 am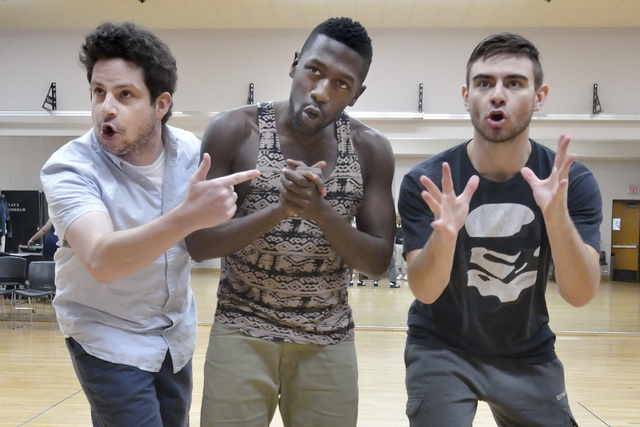 It may be based on William Shakespeare's "A Comedy of Errors."
But, if he were here to watch "Bomb-itty of Errors," the Bard might not recognize the zany mistaken-identity romp beneath those beats — and those rhymes.
As the prologue proclaims:
"Listen up close so you can grab an earful — some parts'll make you cheerful and some'll make you tearful. Don't be fearful, y'all, it's no drama, see. Is it a tragedy? No! Is it a comedy? Well … it's a new style! It's whatever we wanna be. So welcome, welcome, welcome to the Bomb-itty!"
True to its source, "Bomb-itty" features separated siblings whose unsuspected, unexpected reunion triggers comedic havoc. In this case, hip-hop havoc with an onstage DJ and a can't-stop beat.
Nevada Conservatory Theatre's production, which opens an eight-performance run Friday at UNLV's Judy Bayley Theatre, has a direct link to "Bomb-itty's" off-Broadway origins: director (and NCT artistic director) Christopher Edwards.
"Bomb-itty" originated in the 1990s with a group of New York University students who worked on their Shakespeare/rap mash-up and connected with a producer who brought their work to the off-Broadway stage.
MTV caught the original "Bomb-itty" crew and promptly put them on TV, which occasioned the hiring of a replacement stage cast that included Edwards.
Edwards and his "Bomb-itty" castmates played London, Scotland's famed Edinburgh Fringe Festival and elsewhere in the British Isles into the early 2000s, which gave him plenty of time to analyze the show's appeal.
"The inherent rhythm of the language" links the Shakespeare source material and its hip-hop "ad-rap-tation," Edwards explains, adding that "language is constantly changing," giving "Bomb-itty" a special charge.
Thanks to hip-hop's popularity, "the younger generation has a new connection to poetry," he adds. "They understand in a visceral way … all of the language tricks that happen in Shakespeare," from alliteration to metaphor. "It's new language — but some of Shakespeare's language makes it into the show too."
Read more from Carol Cling at reviewjournal.com. Contact her at ccling@reviewjournal.com and follow @CarolSCling on Twitter.
Preview
Who: Nevada Conservatory Theatre
What: "Bomb-itty of Errors"
When: 7:30 p.m. Friday and Saturday, 2 p.m. Sunday; also 7:30 p.m. Sept. 8-9, 2 and 7:30 p.m. Sept. 10, 2 p.m. Sept. 11
Where: Judy Bayley Theatre, UNLV, 4505 S. Maryland Parkway
Tickets: $27.50-$33 (702-895-2787, www.unlv.edu/pac)