Showbiz spoof 'Ruthless!' blends musicals, murder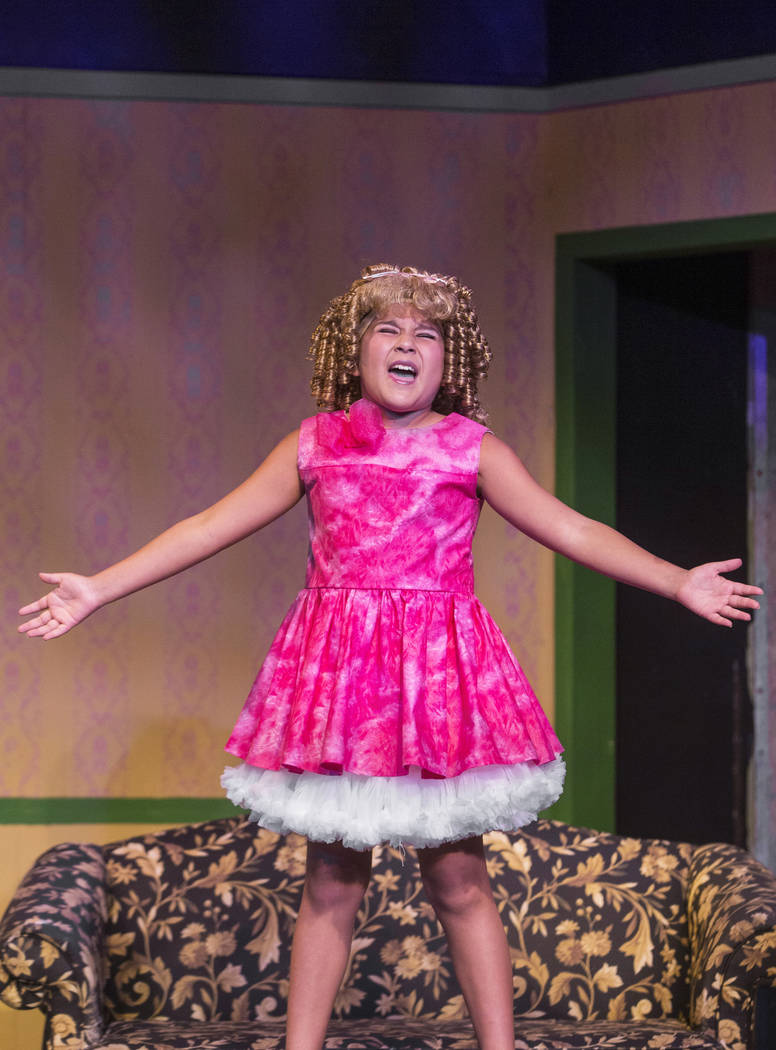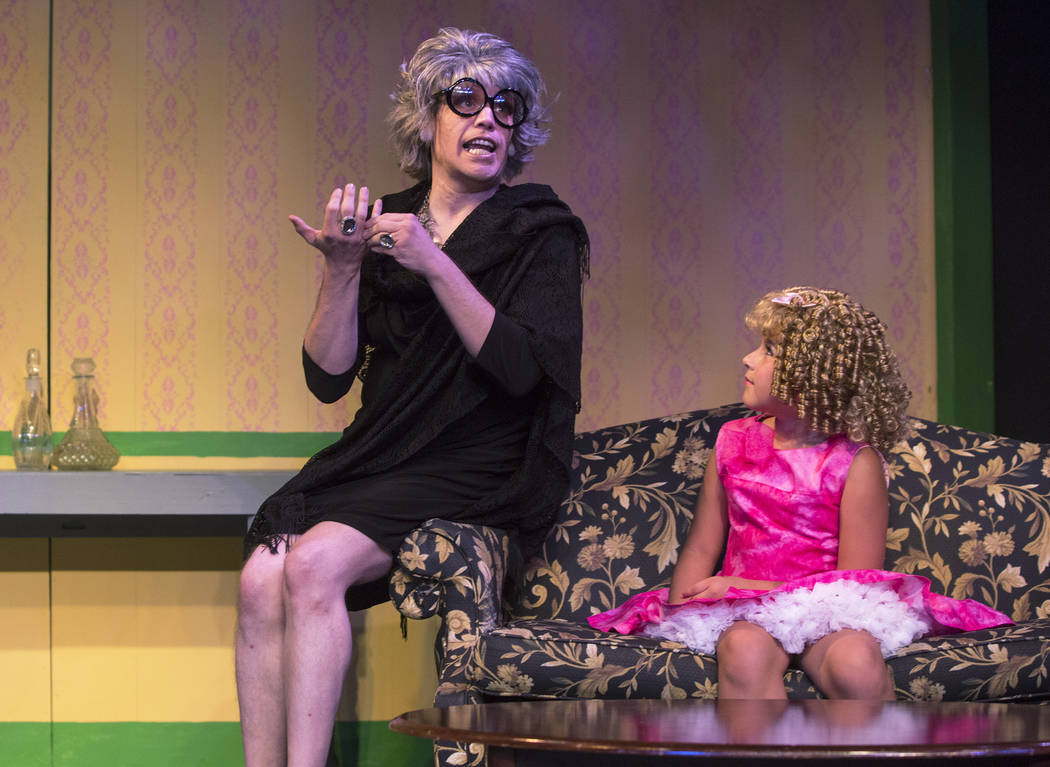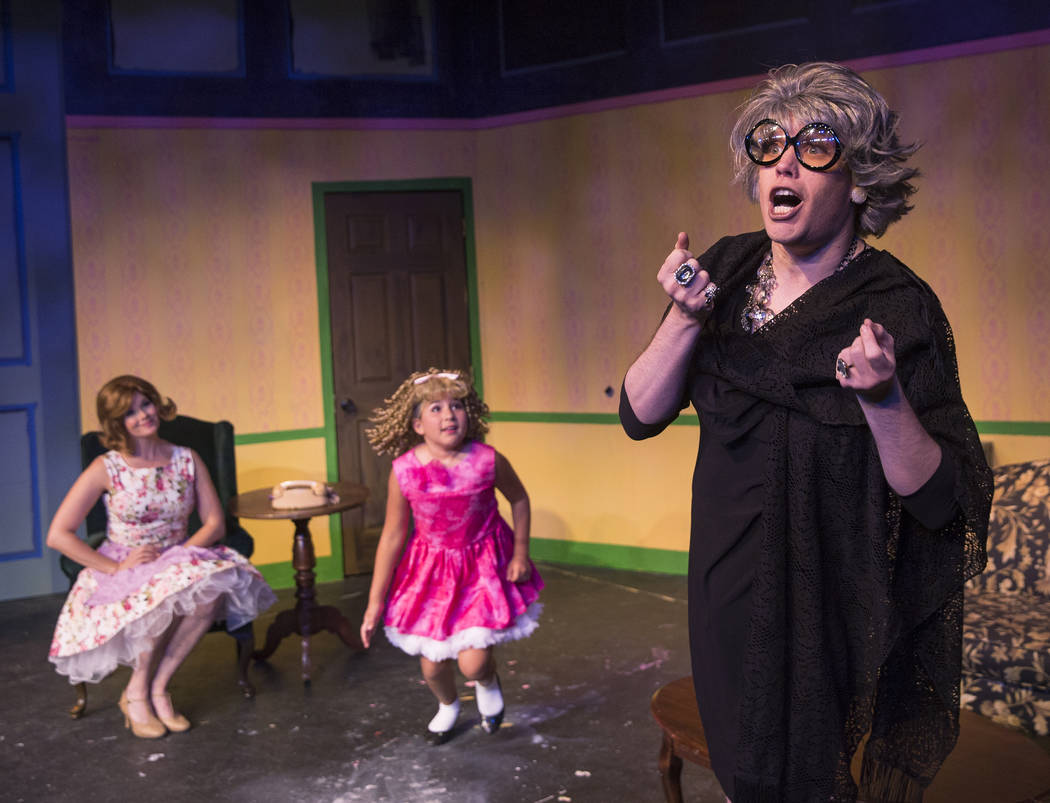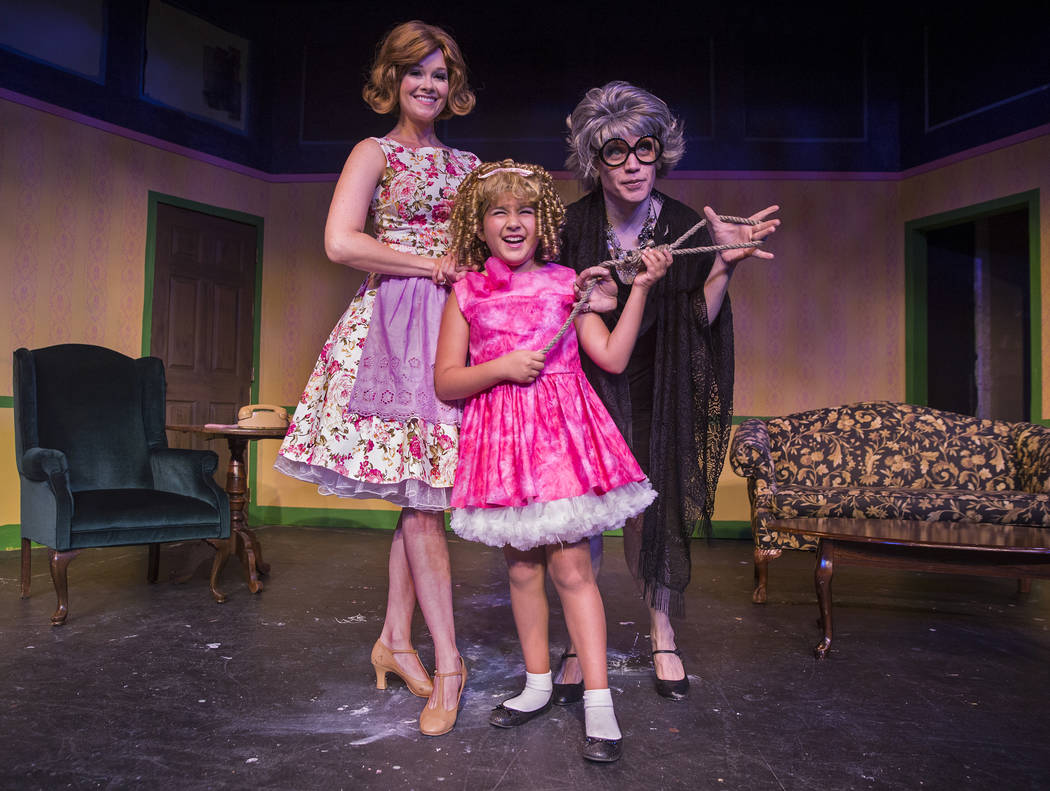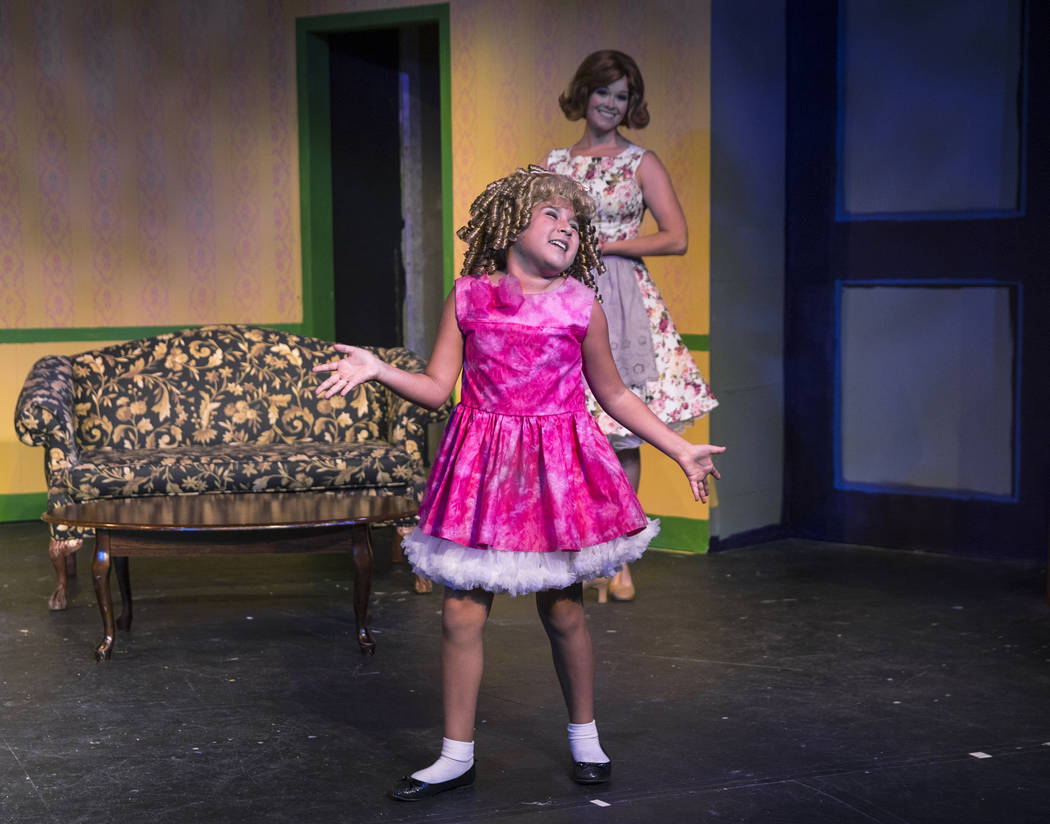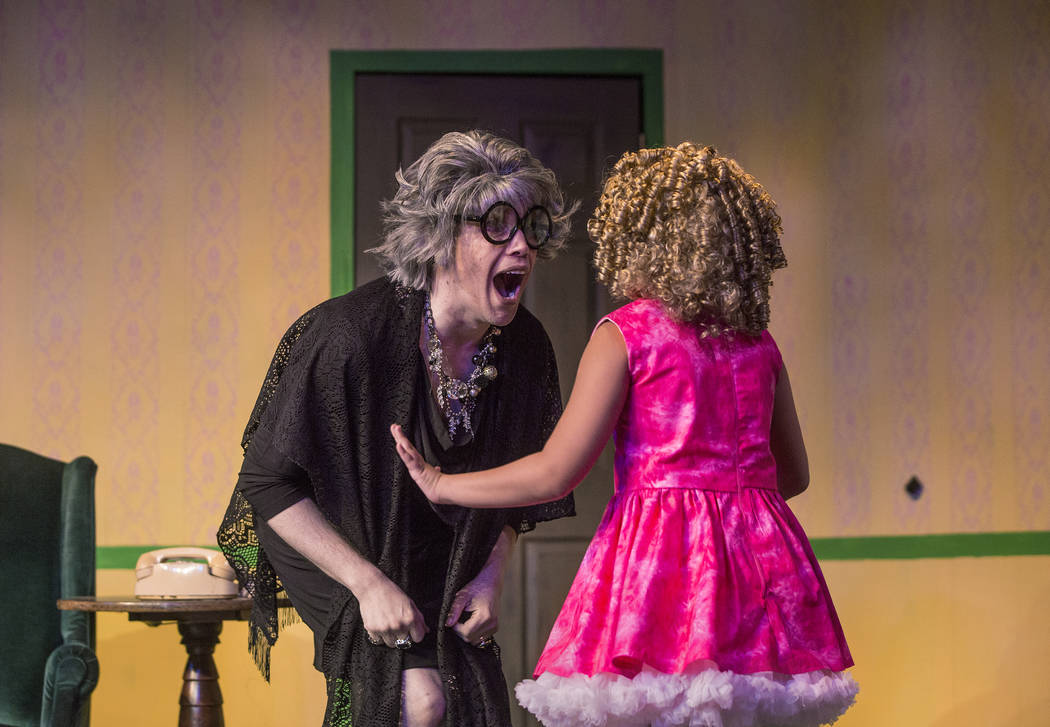 Some people would kill for a starring role.
Ridiculous, yes, but also "Ruthless!" — the campy musical spoof that launches a three-weekend run Friday at Las Vegas Little Theatre.
As the show's opening number promises, "Whether you're young or gray-haired and toothless, the key to success is ruthlessness!"
Embodying the title principle: 8-year-old Tina Denmark (Teah DeStefano), a seemingly perfect child who's "got Broadway on the brain." When she loses the title role in her school production of "Pippi in Tahiti: The Musical" — to a less-talented but better-connected classmate — a series of unfortunate events inevitably follows.
If Tina's surname sounds a bit familiar, that may be because it's a takeoff on Rhoda Penmark, "The Bad Seed's" outwardly angelic little girl — who just happens to be a ruthless killer.
On the page, stage and screen, "The Bad Seed" asked "whether the murder gene was inherited," or whether such killer behavior is learned, according to Rob Kastil, who's directing LVLT's "Ruthless!" In the spoof, however, the question is "whether talent is inherited — or learned. She just happens to kill."
Even so, "The Bad Seed's" influence on "Ruthless!" is unmistakable.
Indeed, creators Joel Paley (who wrote the book and lyrics) and Marvin Laird (who composed the music) "started out writing 'Seedless,' " Kastil notes, but eventually asked themselves " 'Why don't we just write our own?' "
So they did — and "Ruthless!" went on to an initial 1992 off-Broadway run of more than 300 performances, with Laura Bell Bundy, who grew up to play the title role in the 2007 Broadway musical "Legally Blonde," as Tina. (Her understudies had bright futures as well: Natalie Portman and Britney Spears.)
Of course, Tina's not the only memorable character stalking the stage in "Ruthless!"
There's her Stepford-worthy mom Judy (Evelyn Connors), who would prefer her little darling to stay home and have a normal childhood.
"I've had a normal childhood," Tina tells Judy. "It's time to move on."
As for Tina's teacher, Myra Thorn (Joy Demain), she doesn't regret abandoning showbiz for teaching third grade — much. After all, "who needs the limelight when you can be me?" And crabby critic Lita Encore (Andee Gibbs, reprising a role she played 24 years ago in the Honolulu and Los Angeles productions) explains — in song — why "I Hate Musicals."
But if there's one "Ruthless!" character who could possibly upstage the center-stage-or-die Tina, it's Sylvia St. Croix (Cory Benway), a flamboyant talent agent who'd like to guide the youngster's quest for stardom: "I'm your Auntie Mame, I'm your Mama Rose!" Inevitably, Sylvia has her own secrets, which she'll reveal in good time.
Speaking of time, Kastil has wanted to direct "Ruthless!" for quite a while.
"My idea was to do it years ago," he says. "Then we were going to do it last summer, but we couldn't get the rights (because of a 2015 off-Broadway revival)." "Ruthless!" marked its London debut earlier this year, demonstrating its ongoing appeal.
"It's such a fun take on old movies," Kastil says. And though it helps if you know the old movies that "Ruthless!" references, "you don't have to know the old stuff" to appreciate the show, he adds. "It's just fun."
Getting "Ruthless!"
The stereotypes featured in the campy musical "Ruthless!" — which opens an 11-performance run Friday at Las Vegas Little Theatre — are so familiar you don't need to know the originals to get the jokes about them.
Still, it couldn't hurt.
So here's a guide to some of the show's major inspirations:
■ "The Bad Seed": The classic killer-kid thriller arrived in 1954 as a novel and a play, then reached the screen in an Oscar-nominated 1956 adaptation, about an outwardly perfect little girl who's secretly an unrepentant serial killer, much to her mother's horror.
■ "All About Eve": Fasten your seat belts for this 1950 Oscar winner about aging Broadway legend Margo Channing (Bette Davis), who makes the mistake of allowing ambitious fan Eve Harrington (Anne Baxter) to insinuate herself into Margo's life, thereby threatening the star's personal and professional lives.
■ "The Women": Clare Boothe Luce's 1936 biting stage comedy about the lives, loves and power struggles of Manhattan socialites got the Hollywood treatment in 1939, with Norma Shearer, Rosalind Russell and Joan Fontaine among the title characters and Joan Crawford as a shopgirl — and "other woman." (Skip the disappointing 2008 remake with Meg Ryan and Annette Bening.)
■ "Gypsy": On the short list of Broadway's all-time greatest, this 1959 Jule Styne-Stephen Sondheim musical (inspired by the life of burlesque queen Gypsy Rose Lee) focuses on Lee's mother, the memorably monstrous Mama Rose, who's driven to make her daughter the star she never could be. Alas, you can't see the legendary stage performances of Ethel Merman, Angela Lansbury, Tyne Daly and Patti LuPone, but there's always the middling 1962 movie version (with Russell) or Bette Midler's much better 1993 made-for-TV version.
■ "Mame": Composer Jerry Herman's 1966 follow-up to "Hello, Dolly!" added songs and dances to Patrick Dennis' 1955 novel and the subsequent Broadway play (which starred, yet again, Russell) about the wealthy, witty title character — played by Lansbury in the first of her five Tony-winning performances. (The less said about the disastrous 1974 movie version with Lucille Ball, the better.)