Showcase lets Cirque, ballet dancers try new moves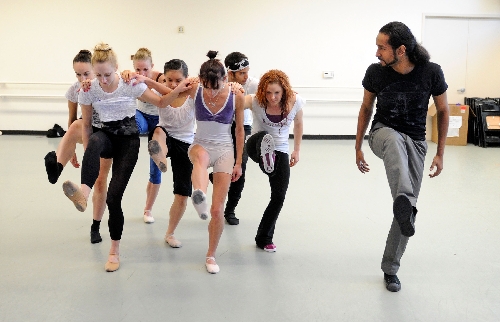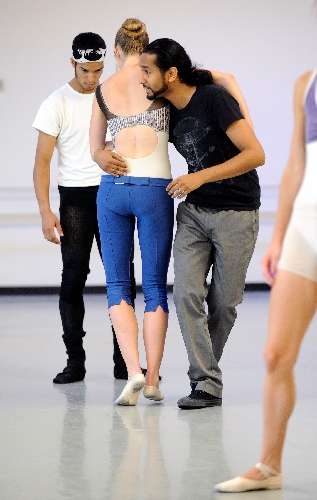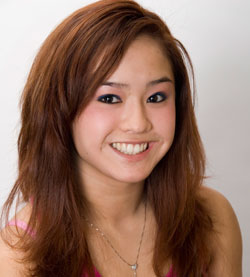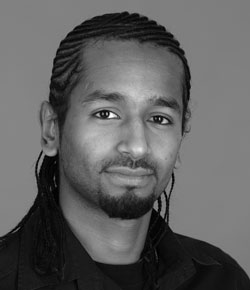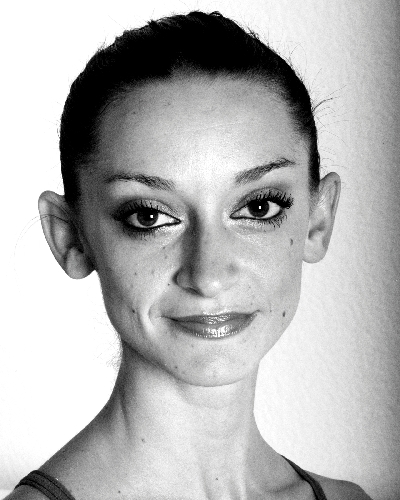 Dance lovers can see what happens when you mix Cirque du Soleil artists with Nevada Ballet Theatre dancers when the organizations present their annual collaboration at Aria today.
For the fifth year, the performance powerhouses are collaborating on "A Choreographers' Showcase: A Project Designed to Stimulate and Encourage Artistic Growth." The show is scheduled for 1 p.m. at Aria at CityCenter.
The project gives Cirque and Nevada Ballet Theatre artists the opportunity to explore other sides of their creative abilities.
Dancers become choreographers or perform in a style outside of their expertise.
Seven artists with Cirque backgrounds and 35 dancers and choreographers from the Nevada Ballet Theatre are participating. We talked to two from Cirque and two from the ballet company about their roles in this year's showcase.
Jennifer Haight Cirque du Soleil's "Ka"
An expert martial artist, Haight can make her jumps, kicks, flips and sword work in "Ka" look like a dance onstage. But looks can be deceiving.
Wushu, a stylized version of kung fu that incorporates sword work, is nothing like dancing. So when Haight had the opportunity to join the showcase three years ago, she set aside her Wushu silks and put on her dance shoes.
"It's always fun," Haight says of the showcase. "Ever since I was little, I've always loved to dance. It's not necessarily my background" but the showcase gives artists the freedom to explore their hidden talents.
Haight, 25, is dancing in a piece choreographed by an acrobat from the Beatles "Love."
In the piece, Haight represents the goddess of elements, awakening earth, fire, wind and water. She will incorporate a little ballet and modern dance.
"I'm doing a little sword work, that's pretty awesome," she says.
Haight joined "Ka" eight years ago. She and her sister, Cheri, are both experts in Wushu and were invited to promote the martial art as an Olympic sport during the 2002 Winter Games in Salt Lake City. That's when Cirque invited them to join a new show, "Ka." They play the twins, a prince and princess, who are separated after their empire is attacked.
Mukhtar Omar Sharif Mukhtar Cirque du Soleil's "Love"
Hip-hop is nothing like ballet dancing.
That's why Mukhtar, 30, a performer in "Love," wanted to choreograph a piece for the showcase. This will be his second year participating. Mukhtar's expertise is in hip-hop, particularly popping and locking. He can be seen throughout "Love" moving and contorting his body to several Beatles songs.
"I thought, 'It's ballerinas I'll be working with. Let me see if I can come up with something interesting, something to get me out of my comfort zone," Mukhtar says. "That's the beautiful thing about the showcase, you get to experiment with different things."
The piece he is choreographing in the showcase is called "Artist." It features 15 ballet dancers. The piece will explore what artists see in their minds, Mukhtar says, and how they are affected by everyday life.
"The thing that's interesting is I'm working with dancers, they're all ballerinas," Mukhtar says. "Obviously, that's not my style, so that already brings out a whole other side of my choreography."
Mukhtar joined Cirque's "Love" six years ago. Born in Somalia, he left there at 8 and grew up in London. During his first year at the University of Westminster in England, he was introduced to hip-hop.
Mukhtar was studying forensic science then. He attended a performance by a hip-hop group and became so enthralled with the dance form that he immediately started taking lessons.
He formed a hip-hop group that went on to dominate the form during dance competitions. They won the U.K. hip-hop championships three times before Cirque came calling.
He plans to leave the show in August to explore creating his own shows. The Las Vegas showcase, he says, will be good practice. And he hopes audiences take something away from the piece.
"I just want them to know, don't take life too seriously. Always be creative. Art is a good form of expression for people and that doesn't mean just dance," Mukhtar says. "I want them to feel inspired when they come away."
Sarah Fuhrman
Nevada Ballet Theatre company dancer
For the second year in a row, Fuhrman will dance in a piece choreographed by a Cirque du Soleil hip-hop dancer.
It's challenging, says Fuhrman, 30, a classically trained ballet dancer. The only advantage she has is that, as a dancer, she can pick up new styles faster than the untrained person. But that doesn't mean it's easy.
"It's different working with Cirque people. They're performing all the time and we rehearse all the time," says Fuhrman, who has been with the ballet company for four years. "It challenges me because I don't have any hip-hop in my background. It gives me a new perspective on dance, a new way to move. It's a good experience to just kind of be in their life a little bit."
Fuhrman is one of 15 ballet dancers performing in "Artist," a piece choreographed by Mukhtar. Instead of the fluid, graceful movements of ballet, she will be doing more concentrated, small moves.
"It's very sharp, small movement. It's very exact," Fuhrman says of the piece.
Fuhrman grew up in Oregon and trained under James Canfield, who is now Nevada Ballet Theatre's artistic director.
She started dancing when she was 4 after her older sister had been cast in Canfield's production of "The Nutcracker." Fuhrman stood in the doorway one day and watched the rehearsals. Canfield saw her and invited her to join them. He cast her as a tiny party girl. Her role required her to basically sit onstage.
She attended a school that was attached to a ballet company and, once she graduated, simply continued her performing career. Since she was classically trained in ballet, Fuhrman looks forward to the showcase, where she can try on other forms of dance.
Jeremy Bannon-Neches
Nevada Ballet Theatre company dancer
Bannon-Neches has done the showcase every other year, using it as an opportunity to explore his artistic side while choreographing something personal and meaningful.
This year, his piece involves ballet dancers expressing the two stages of love people experience in life.
The first love, Bannon-Neches says, is maternal love. The second is "much more specific," he notes. It's that "can't get enough of someone, head over heels" love.
"I just wanted to do a piece about something that I knew," Bannon-Neches says of his inspiration for his work.
Bannon-Neches, 25, joined Nevada Ballet Theatre in 2005. Originally from Brooklyn, N.Y., his family moved to Augusta, Ga., when he was 2. At 12, he started dancing. It was fifth grade and he was attending a fine arts magnet school. A modern dance class sounded fun to him.
In the 10th grade, Bannon-Neches moved to North Carolina and finished his high school years studying ballet.
Bannon-Neches isn't in love now. But he has been in love and knows what it feels like.
"It was everything that I'm really trying to express in this piece," he says. "I couldn't get enough of that person, I couldn't imagine being without her for one minute."
Contact reporter Sonya Padgett at spadgett@reviewjournal.com or 702-380-4564. Follow @StripSonya on Twitter.
PREVIEW
What: "A Choreographers' Showcase: A Project Designed to Stimulate and Encourage Artistic Growth"
When: 1 p.m. today
Where: Elvis Theater in Aria at CityCenter, 3730 Las Vegas Blvd. South
Tickets: $20 and $40 (590-7760)