Signature Productions is 'Singin' in the Rain'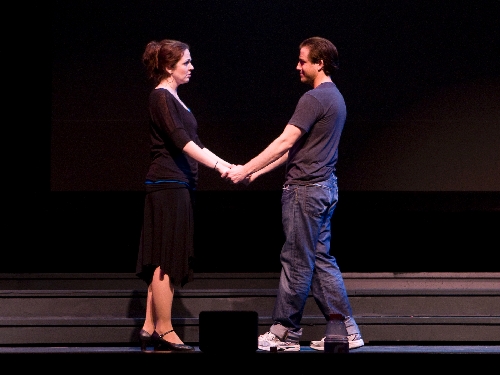 "I'm singin' in the rain, just singin' in the rain, what a glorious feelin', I'm happy again …"
Yes, he will be singin'.
Yes, it will be rainin'.
Yes … on the stage.
"When we decided to do this show a couple of years ago, we decided we were going to do rain," says Leslie Fotheringham, artistic director of Signature Productions, which goes into previews of "Singin' in the Rain" on Monday. "We'll see how far the splash will go. We talked about giving the audience ponchos."
Given how sporadically it spritzes here, indoor showers seem a reasonable alternative in the stage incarnation of the happiest movie musical ever made, the 1952 gem about the dawn of talking pictures, starring Gene Kelly, Debbie Reynolds and Donald O'Connor.
(Watching Kelly tap-splash with joyful abandon in the iconic title-song sequence, his dance partner a twirling umbrella, doesn't make you smile? Sorry, you've got rocks in your heart.)
Clacking as he strolls in tap shoes at rehearsal, Evan Litt — facing the imposing task of tackling Kelly's role of silent film star Don Lockwood — anticipates a month of dancing and drenching. "I'm looking forward to the rain and not looking forward to the rain," he says on a night before the precipitation apparatus is installed.
"I'm anxious to see if I'll be slipping all over the place. There are times when I throw my umbrella up in the air. I'm going to get soaked, especially when we have two-show days."
"I'm laughin' at clouds so dark up above, the sun's in my heart and I'm ready for love …"
Clad in very un-early-20th-century garb — jeans, Harley-Davidson T-shirt and backward Los Angeles Angels cap — Litt climbs onstage. Paired with co-star David McMullin as Don's sidekick, Cosmo (the O'Connor role), they practice another "Singin' " classic, "Fit as a Fiddle," the two fake-strumming violins, gliding across the stage in energetic vaudevillian style. (When was the last time you heard anyone utter the lyric, "Hey-nani-nani and a ha-cha-cha"?)
"We always want to rehearse, even if we can't breathe, we can't move, our legs are sore," Litt says. "Let's do it again!"
Why this sunny choice with the soggy effects? "I was thinking how much fun 'Thoroughly Modern Millie' was," says Fotheringham about a past production. "The music brought me so much joy. I thought, 'What else could I do that would bring the same amount of joy and happiness?' Oh — 'Singin' in the Rain.' I don't think anybody knew how big this thing was until we started getting into it."
Set in the fading era of silent film, "Singin' " tells a tale of Lockwood, Cosmo, dewy aspiring actress Kathy Selden (Reynolds' role) and Lina Lamont, providing the comic oomph as Lockwood's leading lady, whose grating pipes endanger her continued stardom in talkies.
"We do the original tap choreography from the movie, but the trickiest part has been singing while doing all of that," says Shannon Winkel, who plays Kathy, about a challenge never confronted by their movie counterparts, who could record their tracks separately.
"We've had to go on the treadmill and sing to be able to sing and dance at the same time, but we're getting it."
Classic Betty Comden/Adolph Green songs, beyond the title tune, include "Good Mornin'," "You Are My Lucky Star," "Would You," "Moses Supposes" and "Make 'Em Laugh" (in which dancer O'Connor scaled a wall for a midair flip).
"Let the stormy clouds chase everyone from the place, come on with the rain, I've a smile on my face …"
"One of the reasons we did 'The Sound of Music' is we knew it would make a lot of money, which would carry over because 'Singin' in the Rain' is the most expensive show we've ever had, right around $100,000," Fotheringham says.
Earlier this year, the director and her cast filmed little movies, aged and in black and white, for the show.
Indoor downpour? Farmed out as a project for engineering students at the University of Nevada, Las Vegas, who've labored on it since last August.
"There's piping and sprinklers and shower heads," Fotheringham says about the rain that will cascade down three times, including in the show's cast-filled finale. Microphones will be shielded by waterproof material to prevent short-circuiting, and Litt will wear several, in case one succumbs to the water.
"Multiple heads are going to shower the stage with rain. The deck is three levels. Under there is the water storage, so the rain will recycle back, there are heating elements and a pump. The water has to be self-contained, so we have emergency evacuation for the water. A lot goes into it."
Famed dance moves included. "It is incredibly difficult choreography because we try to stay true to some of what Gene did," says choreographer Teresa Martinez. "Some stuff, like 'Moses Supposes,' how can you change that? We want to keep some of what the movie had, but also some new stuff as well."
"I walk down the lane with a happy refrain, just singin, singin' in the rain …"
Brimming with well-loved numbers though it is, "Singin' in the Rain's" centerpiece remains — "Singin' in the Rain." Closing Act I with it gives Litt intermission to dry his hide for Act II. "I have to change right down to my socks," he says. "I bought a couple pairs of shoes. I had them rain-proofed, coated with waterproof leather."
Soaking the stage? Drenching the cast? Re-creating iconic choreography? Don't tell them not to be nervous. That's like, well, telling water not to be wet.
"It's scary, you can't even imagine what's in my head right now," Fotheringham says. "There are a lot of things in this show that are first-time tries for us. But we're community theater — where else do you try these things?"
Forecast? Heavy showers moving in — with a blast of theatrical sunshine.
"Doo-da-loo-doo-doo-doo-doo-da-loo-doo …"
Contact reporter Steve Bornfeld at sbornfeld@ reviewjournal.com or 702-383-0256.
Preview
"Singin' in the Rain" by Signature Productions
Preview performances 7:30 p.m. Monday, Thursday, April 1; regular performances April 2-30
Summerlin Library Performing Arts Center, 1771 Inner Circle Drive
$15-$23
(878-7529; signature productions.net)