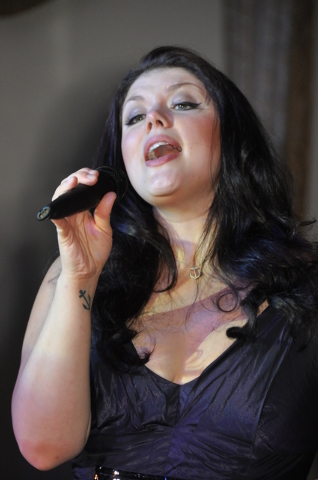 Everybody has a favorite book — one they return to repeatedly, finding new treasures among familiar, beloved pages.
Jane Monheit's no different, except that her favorite book's a songbook: the Great American Songbook.
And the Grammy-nominated singer will mine the mother lode of 20th-century popular music this weekend at The Smith Center's Cabaret Jazz, performing with longtime pianist and arranger Michael Kanan.
It's the fourth Cabaret Jazz visit for Monheit, who appeared with composer-pianist Frank Wildhorn — and resident Cabaret Jazz headliner Clint Holmes — in "Frank Wildhorn and Friends," which was presented in April 2013 and broadcast by Vegas PBS, aka KLVX-TV, Channel 10, in December. (And if you missed it, you can buy the DVD at The Smith Center box office.)
For this weekend's performances, Monheit hadn't yet decided on a set list, she says during a recent telephone interview from the road.
But she's confident it'll come together.
"The duo program is the loosest of all my programs," she says. "It's the most unthemed. It doesn't focus on any single thing."
Except, that is, for the songs themselves — and a musical relationship with Kanan both describe as "telepathic."
After more than a dozen years playing together, it could hardly be otherwise.
"Michael has been touring with me for about 13 years, and we played together in New York before that," Monheit says.
Consequently, "we've really had a chance to learn each other's style and talk about our musical values," Kanan says in a separate telephone interview.
As for those shared musical values, it all comes down to "trying to tell a story as honestly as we can, without any extra frills," he adds. "Just to let the song be what it is."
When the song in question comes from the legendary likes of Cole Porter (or Rodgers and Hammerstein, or Harold Arlen, or George and Ira Gershwin), it's a labor of love, Monheit says.
Unlike Monheit — who grew up listening to the pop classics she now performs — Kanan concentrated primarily on jazz, developing a deeper appreciation of standards only after working with the singer.
"She had the advantage of simultaneously coming to jazz and musical theater," the pianist says. And while "I always played" standards "and loved playing them, delving into them is more recent for me."
That exploration has taken Kanan from jazz lead sheets to the original sheet music, to get a sense of what Gershwin, Porter and Arlen wrote themselves, he says. "The harmonies they wrote are just phenomenal."
Those harmonies, in turn, can emphasize a certain lyric or give a musical phrase a certain color, enabling Monheit and Kanan to maximize a song's impact.
When they decide which songs they'll be performing, that is.
"Something that gut-punches us that day," Monheit says of their song selection process. "It's never anything we feel wishy-washy about.
"(And) one of the things we love to do is play tunes we've never done before," she says. "It's an interesting thing to present to the audience."
It also underlines Monheit's "very instinctive approach" to performing, by "just singing what I loved."
Monheit, 36, began singing professionally while still in high school and scored a major breakthrough — as runner-up in the 1998 Thelonious Monk Jazz Institute vocals competition — before her graduation from the Manhattan School of Music.
From there, Monheit earned plenty of attention, and accolades, for her vocal gifts — and her versatility, which enables her to shift seamlessly from exuberant, jazz-inflected tunes to subtler, more subdued ballads.
A prime example of the latter: a Rodgers and Hammerstein medley that blends "I Have Dreamed" (from "The King and I") and "This Nearly Was Mine" (from "South Pacific").
"Jane really sings both of them so beautifully," Kanan says.
Those tunes are hardly the best known melodies from their respective musicals, but "we've never tried to so something because it's obscure, or avoided anything because it's familiar," he explains. "We just do the songs we want to do.
"Because we have an emotional connection to the material, something will come out," Kanan says. "We don't have to reinvent the wheel."
When it comes to what inspires that emotional connection with a song, "I wish I could figure that out," Monheit says, settling for a simple explanation: "loving the music and loving the lyrics."
That's been "a daily thing in my life" since childhood, Monheit adds, noting that she also listened to pop music when she was growing up.
Even so, she says, "I've never been one to care" about what's in — and what's out — at any given time. "I sing whatever the heck I want."
Which is just fine with her audiences.
Just ask Smith Center President Myron Martin, who calls himself "her biggest fan."
Starting "with the gift that she has — that extraordinary voice," Martin says it's the way Monheit uses her voice that sets her apart," citing "the tone and color" of her singing "that makes her unique."
In short, "she controls her voice in such a way," he comments, that "she can make the phone book sound good."
No wonder he's glad to have her back.
Monheit and Kanan second that emotion.
"I love it there," Monheit says of Cabaret Jazz, echoing an earlier interview where she sang its praises, calling it "one of the loveliest venues in the country. And I've played 'em all."
Adds Kanan, "Oh my God, what a beautiful, beautiful venue," he says, describing Cabaret Jazz as an acoustically great space, designed for intimate music-making — and listening. "What a great room. Any city needs that, but especially Las Vegas."
Contact reporter Carol Cling at ccling@reviewjournal.com or 702-383-0272.
Preview
Jane Monheit
7 p.m. Friday and Saturday
Cabaret Jazz, The Smith Center for the Performing Arts, 361 Symphony Park Ave.
$39-$69 (702-749-2000, www.thesmithcenter.com)