Smith Center a festive place for the holiday season
December 2, 2016 - 5:46 pm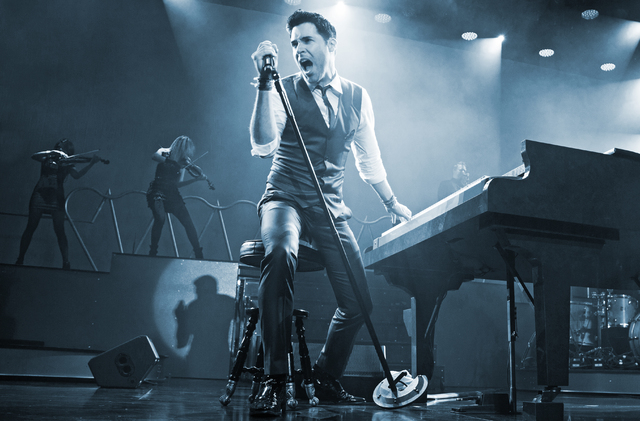 Memories are made of this.
Which is exactly what the season is all about. Just ask the holiday headliners at The Smith Center's Cabaret Jazz, Frankie Moreno and Deana Martin.
First up: Moreno returns, "With Plenty of Mistletoe," at 2, 4:30 and 7 p.m. Dec. 10. (Tickets, if any remain, are $30 to $42; call 702-749-2000 or visit www.thesmithcenter.com to check.)
Martin, meanwhile, brings "Holiday Cheer" at 7 p.m. Dec. 16 and 17, with tickets priced from $35 to $59.
It's the second Cabaret Jazz visit for Martin, who brought her holiday show to the intimate Smith Center club three years ago.
"Having audience participation and humor, you get a little more feedback," she says. "You can be right there and touch everybody."
In that sense, "it reminds me so much of the Sands hotel and the Copa Room," where her father, singer Dean Martin, held court with his Rat Pack pals, whom she remembers as "Uncle Frank" Sinatra and "Uncle Sammy" Davis Jr.
Martin's Cabaret Jazz show will feature a variety of holiday favorites, including "I've Got My Love to Keep Me Warm," "Winter Wonderland" and "Let It Snow" (all recorded by her dad), plus a "White Christmas" video duet with Andy Williams, whom she calls "Mr. Christmas."
She'll also perform selections from her new "Swing Street" album (recorded at her dad's old label, Capitol Records), from an up-tempo version of Uncle Frank's "Strangers in the Night" to in-the-groove interpretations of such post-Rat Pack numbers as "New York State of Mind" and "Spooky."
A Rat Pack vibe also infuses Moreno's three virtually sold-out "Mistletoe" shows — continuing a string of 60 consecutive sold-out performances.
Last year's holiday shows proved "really fun," so "we said, 'let's do another one,' " Moreno notes.
That one sold out, so Moreno added a second, then a third back-to-back performance.
"Nobody in there's done three shows in one day," he says. "It's good to know people care."
Although "I never repeat anything" in the regular Cabaret Jazz shows, "I'm not a big fan of trying to improve Christmas music," Moreno says. "It's already great."
So, along with his own "Plenty of Mistletoe," expect to hear the likes of "Winter Wonderland" and "Rockin' Around the Christmas Tree."
After all, "Christmas sticks out for me" as being "about the past, remembering yourself as a child, when Christmas was super-magical," Moreno says. "It's a holiday party that we're throwing," as if "we've just finished dinner and we're all gathered around the piano."
Read more from Carol Cling at reviewjournal.com. Contact her at ccling@reviewjournal.com and follow @CarolSCling on Twitter.