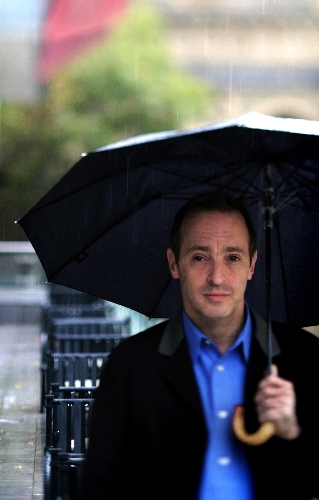 Their buffet just got bigger and your plate just got fuller.
Building on its menu of Broadway touring shows and a steady gig by Clint Holmes, the Smith Center for the Performing Arts has announced its "Design Your Own" series starting Sunday and featuring more than 20 titles mixing dance, music and special attractions.
"We plan to bring the community a wide variety of shows in order to provide cultural diversity for all," says Myron Martin, president of the Smith Center, in a statement. "The (series) has something for everyone and will allow people to customize a package that fits their interests, while allowing them to explore new acts they may not have otherwise sought out."
A minimum of three performances are required for patrons to save money in the series. Three shows will result in a 5 percent discount, five shows nets a 7 percent savings and seven shows will save ticket buyers 15 percent.
Series tickets, which begin at $24 per show, go on sale Sunday and are available by calling 982-7805 or at www.the smithcenter.com. Individual tickets go on sale in November.
Here's a rundown of the acts booked for the "Design Your Own" series at the Smith Center, which is scheduled to open next March:
■ Bela Fleck and the Flecktones arrive March 12 with their genre-busting sound that covers classical, jazz, bluegrass, electric blues and some Eastern European folk.
■ Imagination Movers bounce into town March 16 with the sounds of their Disney TV series perking up the ears of children.
■ Canadian Tenors, a quartet of vocalists from up north, show up March 17.
■ Under the guidance of a new artistic director, Robert Battle, the famed Alvin Ailey Dance Theater glides into town March 20 and 21.
■ Tossing some a cappella into the mix, the 10 vocalists collectively known as Straight No Chaser harmonize on March 25.
■ Tap titan Savion Glover, backed by a 10-piece classical ensemble, will fly across the stage March 27.
■ Classic rock lovers get a treat March 30 when "The Pink Floyd Experience," complete with a light show, re-creates band hits such as "Time" and "Another Brick in the Wall."
■ "Women Fully Clothed" features a quartet of improv comedians April 13-14.
■ Dance company Momix brings its gravity-defying new show, "Botanica," to town April 20.
■ A taste of Cleveland hits Las Vegas when the Cleveland Orchestra arrives April 21.
■ Classical goes eclectic when famed cellist Yo-Yo Ma presents Latin-American music with Brazilian guitarists, the Assad Brothers, on April 24.
■ Continuing the Latin-American theme, flamenco fires up Las Vegas April 25 with guitarist Paco de Lucia.
■ Wit and social commentary combine when humorist David Sedaris entertains on April 26.
■ Violin virtuoso Joshua Bell joins the Academy of St. Martin in the Fields April 28 for music the Times of London says "can pierce the soul."
■ African-American traditions are at the core of the repertoire of Sweet Honey in the Rock, a female a cappella group that will raise their voices May 9.
■ Cigar in place, Alan Safier will inhabit the persona of legendary comic George Burns in his one-man show, "Say Goodnight Gracie," May 11-12.
■ On the female side of the one-person show, Lily Tomlin arrives May 13 for what should be "one ringy-dingy" funny night.
■ Circus spectacle "PSY," created by Canadian troupe 7 Fingers, will "delve into the surreal underworld of the human psyche" May 15-16.
■ Finally, rock 'n' roll and blues legend Buddy Guy brings his "Living Proof" tour to town May 19, joined by 12-year-old guitar phenom Quinn Sullivan.