Smith Center, welcoming 'Weird Al' Yankovic, now a player on concert scene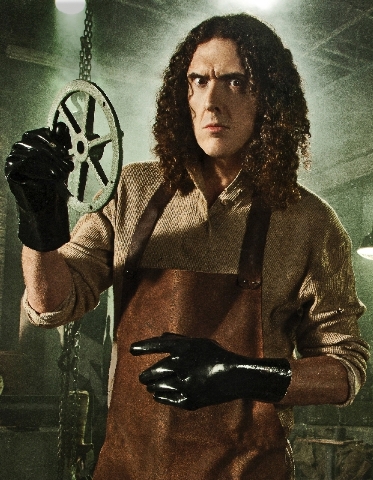 It's all a matter of choice.
But for a long time, Las Vegas audiences — and the performers who play for them — didn't have much of one.
Before last year, casinos — or, more accurately, their showrooms, clubs, concert halls and arenas — were the venues of choice for touring pop, rock, country, jazz, classical crossover and comedy acts.
The Smith Center's 2012 debut has changed all that, however, making the downtown performing arts center a definite player on the concert scene.
Exhibit A: this weekend's lineup in the center's Reynolds Hall.
Friday night, Jethro Tull's Ian Anderson checks in to perform "Thick as a Brick" in its entirety — for the first time since 1972 — along with the new "Thick as a Brick 2."
And Saturday, "Weird Al" Yankovic brings the parodies (and polkas) of his "Alpocalypse " tour to Reynolds Hall.
Although "it's harder to be unique" in this age of YouTube posts gone viral, "the thing about pop culture is that it's always a little ridiculous, so I'll never run out of source material," Yankovic says.
His "Alpocalypse" parodies target everyone from Lady Gaga ("Perform This Way") to Taylor Swift ("TMZ"), along with such originals as a hard-rockin' tribute to "Match Game" regular Charles Nelson Reilly ("CNR") and the requisite polka medley ("Polka Face").
The "Alpocalypse" tour, named for Yankovic's most recent album, has been going since June 2011 and has "developed into quite the multimedia show," Yankovic says in a telephone interview from a North Carolina tour stop.
"There are a ton of costume changes," plus multiple videos projected onto "a big LED screen," he says. "There's a lot of production involved."
As for his first visit to The Smith Center's Reynolds Hall, "I've heard it's a classy joint," Yankovic says.
Yankovic's representatives approached The Smith Center about bringing the "Alpocalypse" tour to Reynolds Hall, according to Glenn Medas , The Smith Center's director of artist services, whose duties include contracting artists and shows.
And Jethro Tull's Anderson is one performer who "prefers to play halls rather than casinos," according to concert promoter Danny Zelisko .
Zelisko regularly books The Pearl concert theater at the Palms, where recent attractions include Boz Scaggs and Bonnie Raitt.
Like Reynolds Hall, The Pearl seats more than 2,000.
"Ian Anderson would have been great there," Zelisko says. But when Anderson said "he would prefer playing a regular hall," The Smith Center became the go-to venue.
In April, Zelisko booked young singer Jackie Evancho into Reynolds Hall, reasoning "with a symphony and a 12-year-old girl, it's (a) more fitting" location.
Zelisko, who's been promoting concerts in Las Vegas since the days when Paul "Anka and Wayne (Newton) and (Frank) Sinatra" ruled Strip showrooms, is "working on a few other shows" at The Smith Center.
Ultimately, he says, "it's a question of where do (artists) want to play?"
Before The Smith Center's 2012 debut, "some artists simply bypassed Las Vegas," notes Paul Beard, the performing arts complex's vice president and chief operating officer.
And in other cities, many artists who have performed in casinos play performing arts centers, adds Smith Center president Myron Martin.
In Beard's view, Reynolds Hall appeals to artists who "respond to that opportunity to connect with an audience" and display "more subtlety and more nuance in their performance."
Steve Martin, for example, appeared with the Steep Canyon Rangers at The Mirage before bringing his bluegrass banjo act to Reynolds Hall last August.
Martin's "very serious about the banjo and wanted to play this facility," according to Medas.
Before joining The Smith Center, Medas served as an entertainment executive for several casinos.
He oversaw concerts by everyone from the Three Tenors to Prince — with a variety of other acts in between.
At The Smith Center, "we're finding a lot of agents and artists' representatives are finding us," Medas says. "The Smith Center has a great reputation in the marketplace. Several tour managers have said, 'I would like to take this building with me on tour.' "
Beyond a new, state-of-the-art facility, some performers — and their representatives — like The Smith Center's appeal to local audiences.
"We may be competing for the same talent, but I'm not sure we're competing for the same audience," Martin says.
Like performing arts centers in other cities, The Smith Center aims "to appeal to the whole community" by presenting "a broad spectrum of offerings," Beard explains.
"What we want, and what all performing arts centers want, is a very high-quality experience for both the artist and the audience."
Upcoming Smith Center concerts feature, among others, Chris Isaak , Lyle Lovett and Willie Nelson — all of whom have previously played casinos.
Nelson performed at the center's grand opening gala last year and "he loved being here," Medas says. "He wanted to come back — and we took him up on it."
The Smith Center may compete with casinos for concert attractions, but "we have really, really good relationships with all the hoteliers," Martin says. (Which makes sense, considering many of them are major Smith Center donors.)
"We're not out to poach anything," Martin says, noting the center's interest in presenting "artists who would like to play a performing arts center — and thank goodness we have one."
Some artists who play performing arts centers in other cities, however, prefer to stick to the Strip when they visit Las Vegas.
Tony Bennett, for example, "plays performing arts centers all over the country," Beard points out. "We've made it real clear to him that we would love to have him here."
So far, however, Bennett has opted to stay put in the Colosseum at Caesars Palace, which seats about 4,100.
Comedian Bill Cosby also "plays performing arts centers very regularly, but he's happy where he is" at Treasure Island, Beard adds. "For now, that's his home base, and we simply accept that."
For every Bennett or Cosby, however, there's a performer such as Jewel, who, "once she got in the building and stood onstage" for her June concert, "was extremely happy" performing at The Smith Center, Medas says.
After all, Beard notes, "we treat the artist really well, we're nice, we take good care of them."
Contact reporter Carol Cling at ccling@
reviewjournal.com or 702-383-0272.
Preview
"Weird Al" Yankovic
7:30 p.m. Saturday
Reynolds Hall, The Smith Center for the Performing Arts, 361 Symphony Park Ave.
$29-$89 (702-749-2000, www.thesmithcenter.com)