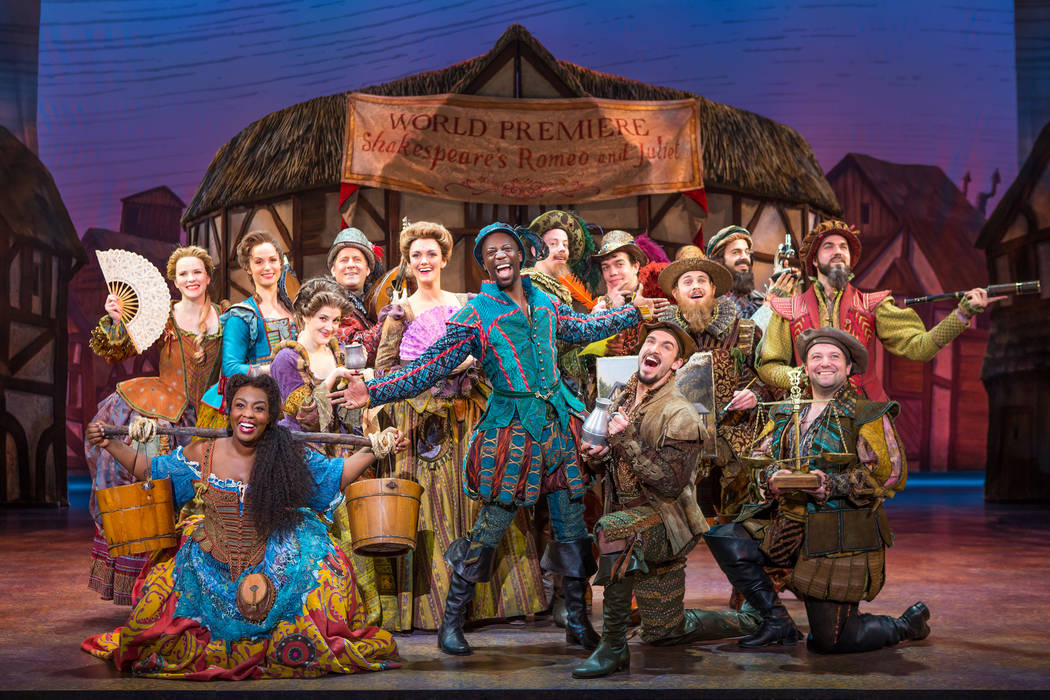 What's in a name?
That's one of the few deathless lines from Shakespeare that "Something Rotten!" skips — for obvious reasons.
But this spoofy, goofy mash-up of Shakespeare and song-and-dance (at The Smith Center's Reynolds Hall through Sunday) doesn't miss much else.
It's the kind of show where anything worth doing is worth overdoing. Fortunately, "Something Rotten!" stops just short of doing things to death, generating mirth for those who know their musicals — especially when they're snappy and tap-happy.
The show transports us to London in the '90s — the 1590s, that is — where the bottom-dwelling Bottom brothers, practical Nick (peppery Rob McClure) and poetical Nigel (nimble Josh Grisetti), struggle to make a go of their ragtag theatrical venture.
By contrast, a former member of their company happens to be Britain's reigning literary star: preening, scheming glam-rock peacock Will Shakespeare (Adam Pascal, genially spoofing his signature stage role as "Rent's" wannabe rocker Roger).
The increasingly desperate Nick consults a soothsayer (comically creaky Blake Hammond) in hopes of scooping a future Shakespeare smash.
Good thing: The clairvoyant's last name is Nostradamus. Bad thing: His first name's Thomas. The nephew of the celebrated seer, he foresees not only Shakespeare's greatest play — something called "Omelette" — but an entirely new theatrical form, where performers sing and dance as well as declaim.
Throw in the usual personal complications — the can-do 'tude of Nick's feminist wife, Bea (down-to-earth Maggie Lakis, McClure's real-life spouse); the oppressive Puritan background of Nigel's poetry-loving ladylove, Portia (dizzy Autumn Hurlbert) — and you've got your classic two-couples musical formula, not to mention nods to two memorable Shakespearean heroines. (And, lest we forget, Nick Bottom winds up a literal, as well as figurative, ass in the Bard's "A Midsummer Night's Dream.")
"Something Rotten!" piles on even more theatrical allusions, especially during a pair of delirious numbers that stop the show with cheeky citations of multiple musicals, from "Les Miserables" to "Phantom of the Opera," "Lion King" to "Cats," "The Sound of Music" to "The Music Man," "A Chorus Line" to — well, you get the idea.
Director-choreographer Casey Nicholaw (who's explored this territory before, notably in "Spamalot" and "The Book of Mormon") keeps the mood madcap and the pace borderline frenetic, allowing the musical numbers (by brothers Wayne and Karey Kirkpatrick) to land with maximum impact. (Tony-winning costume designer Gregg Barnes' uproarious get-ups get laughs all by themselves.)
The numbers may be undeniable fun, but the show's aggressively silly book (by Karey Kirkpatrick and John O'Farrell) proves an overstuffed "Omelette" indeed, piling on the jokes (and yolks) with relentless zeal, even and especially when they're well past their sell-by date.
But never mind. "Something Rotten!" never does, confident in its ability to keep slinging zingers of outrageous parody.
As the show's first-act showstopper goes, "Nothing's more amazing than a musical."
Indeed, some musicals can be amazing. Alas, "Something Rotten!" isn't one of them. But amusing? That's the ticket.
Contact Carol Cling at ccling@reviewjournal.com or 702-383-0272. Follow @CarolSCling on Twitter.
Review
What: "Something Rotten!"
When: 7:30 p.m. through Sunday, also 2 p.m. Saturday and Sunday
Where: Reynolds Hall, The Smith Center for the Performing Arts, 361 Symphony Park Ave.
Tickets: $29-$127 (www.thesmithcenter.com)
Grade: B-