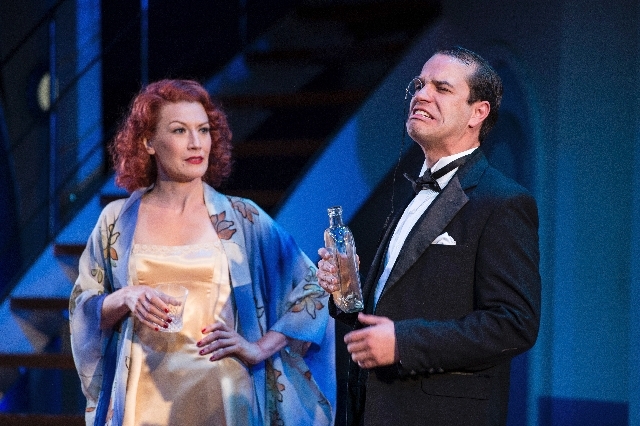 The Utah Shakespeare Festival's fizzy, dizzy production of Cole Porter's 1934 "Anything Goes" bubbles like a Champagne cocktail.
At least when there's singing and dancing in progress.
Even with an updated book (revamped for the 1987 Broadway revival), the nonsong-and-dance portions of this vintage 1934 musical creak along, making everyone (including the audience) mark time until the music starts up again.
Whenever it does, though, "Anything Goes" delivers a boatload of witty Porter tunes, performed by a snappy, tap-happy cast.
"Anything Goes" puts us aboard a luxury liner bound for London from New York.
Leading the passenger list: evangelist-turned-nightclub chanteuse Reno Sweeney (Melinda Parrett) and goofy gangster Moonface Martin (Max Robinson), alias Public Enemy No. 13.
They're joined by (among others) debutante Hope Harcourt (Elizabeth Telford), Hope's hopelessly stuffy British fiance (Aaron Galligan-Stierle) — and Hope's true love, brash young stockbroker Billy Crocker (Robert Adelman Hancock), who stows away to stop the wedding.
But there's no need to heed to the frothy plot complications and groan-inducing jokes.
Instead, concentrate on the kick director Brad Carroll and company get out of — and put into — all those entrancing song-and-dance displays.
Despite relatively limited stage, Carroll keeps his cast members hopping and popping around every inch of designer Jo Winiarski's gleaming, streamlined set.
And choreographer Rhett Guter (who also dances in the show) supplies exuberant, rat-a-tat tap numbers for the performers — that is, when he's not saluting Fred Astaire and Ginger Rogers with swoony romantic dances.
Hancock and Telford are no Fred and Ginger, but they handle their starry-eyed roles with earnest sweetness, while Robinson and Galligan-Stierle manage to generate genuine laughs — no easy feat in this context.
And the sassy, brassy Parrett (in a role created by, and for, the legendary Ethel Merman) makes Reno her own, delivering wisecracks — and raise-the-rafters routines — in irresistibly breezy style.
To quote "Anything Goes' " title number, times have changed, but Cole Porter's timeless songs will always be the top. Even if we can't quite say the same for the rest of the show.
Contact reporter Carol Cling at ccling@
reviewjournal.com or 702-383-0272.
Review
"Anything Goes"
52nd annual Utah Shakespeare Festival
In repertory through Aug. 30
Southern Utah University, Cedar City (2½ hours northeast of Las Vegas on Interstate 15)
$16-$74 (800-752-9849; www.bard.org)
Grade: B
RELATED STORIES:

'Peter and the Starcatcher' captivates at Utah Shakespeare Festival
Actor brings emotional resonance to 'The Tempest'

Cast shines in 'Twelve Angry Men'

'Love's Labour's Lost' mixes high, low comedy