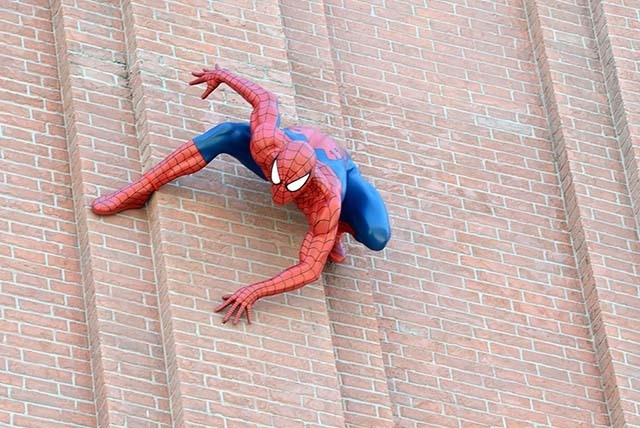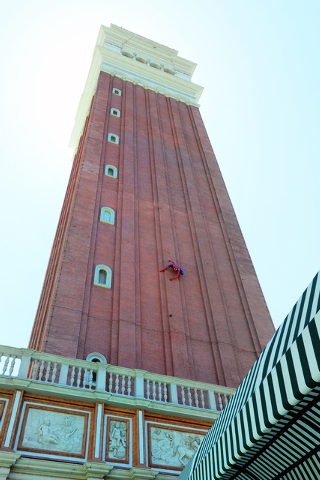 If you were driving past The Venetian Las Vegas today and thought you saw Spider-Man crawling on the side of the building, don't worry, you aren't going insane.
"The World's Greatest Super Hero," as he has been nicknamed on many covers of his own solo comic book, has been made into the newest figure for Madame Tussauds Las Vegas. He will be joining Nick Fury in the exhibition space near the new Marvel Super Heroes 4D Experience.
Before that, the Spider-Man figure will spend three days – Friday through Sunday – on the side of The Venetian's Campanile Tower approximately 35 feet off the ground. He will be on the side facing the Strip and will be near the entrance to the interactive wax museum.
The attraction comes on the heels of multiple Marvel projects for the wall-crawler. Sony's "The Amazing Spider-Man 2," came to theaters on Friday. The movie, starring Andrew Garfield as Peter Parker/Spider-Man, is a sequel to the 2012 film that rebooted the movie franchise.
Additionally, this week marked the return of Parker as the titular hero with the re-numbered comic book "Amazing Spider-Man #1." Parker had been killed off early in 2013.
Madame Tussauds recently added the 4D Experience attraction to their sizable group of wax figures. It is a 70-seat theater where guests watch the heroes, with special effects like sprays of water and smoke clouds to enhance the experience.